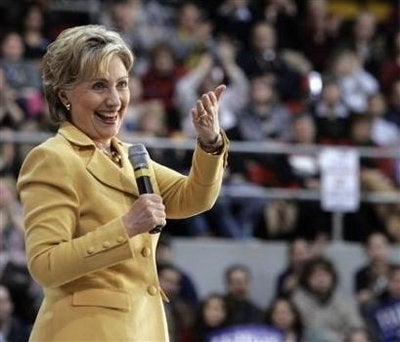 I would like to put myself among the growing chorus of people demanding that Hillary Clinton withdraw from the election. I don't really think it's fair to ask her to withdraw, and I certainly don't believe she's going to; she'll hang in there till the last dog dies, or till she runs out of money, whichever comes first. I'm not asking her to withdraw because I prefer Obama, and I don't think she should withdraw "for the sake of party unity," or whatever current bromide is being flung at her to get her to pull out. I think she should withdraw because I'm losing my mind.
Don't get me wrong, this primary election has been swell. Like Michelle Obama, I feel proud of my country for the first time in a long time. I loved Dennis Kucinich, and I had a big sneaker for Chris Dodd. But now that we're down to two contenders, it's turned into an unending last episode of Survivor. They're eating rats and they're frying bugs, and they're frying rats and they're eating bugs; no one is ever going to get off the island and I can't take it any more.
I am particularly sensitive to this because I'm a woman of a certain age, and this means that part of the pie that passes for my brain contains a large slice called Hillary. I've been thinking about her in a fairly pathological way ever since 1992 and dreaming about her as well. She is me, and then again she's not. I used to love her and I no longer do, but unlike what usually happens when love dies, I still think about her far too much. When she tells a big lie, like her recent Bosnia episode, I can lose hours trying to figure out why. I mean, why? Was it one of those things that she'd said so often that she'd come to believe it? Was it a story that had worked in the past so she thought she'd gotten away with it? Did she honestly think that no one would rat her out? Does she not understand that if you're famous, there's almost nothing you do that someone doesn't have a picture of? I have no idea what the answer is to any of this because I'm not a liar and she is. (By the way, I don't think she was always a liar, the way some kids are born liars and never get over it. I think she was once a truthful person and her lying skills were forged in the early years of her marriage, forged in the crucible of Bill's infidelities and in her role as point person in dealing with them. This is what happens when you marry a narcissist: he spills the milk, you clean it up and your love grows. And then you end up a liar, just like him.)
But the point is that it doesn't matter why Hillary lied; what matters is that I'm hooked on Hillary and on the Rorschach process that defines my relationship with her: she does something, I spend far too much time thinking about it, I superimpose my life and my choices onto hers, I decide how I feel about what she's done, I bore friends witless with my theories, and then, instead of moving on, I'm confronted with yet another episode of her behavior and am forced to devote more hours to developing new theories about her behavior. I don't have time for this.
I understand that asking Hillary to withdraw from the race has more to do with me than it does with her, but that's my point.
Popular in the Community