So far as news goes, it's been a bummer summer pretty much. Just as a reminder, in case you've forgotten already: Anthony Weiner's tweets, Casey Anthony's trial, Dominique Strauss-Kahn's lack of a trial, an earthquake on the East Coast, a historic low for the US credit rating, and a new high for the debt ceiling. Oh yes, the Dow continues its bumpy ride. After so much volatility, I wanted some perspective. With guests in tow in Los Angeles in August (not one of our cooler months) I decided to explore the murders, scandals, and deaths of old Hollywood. Even if that's not your usual cup of java -- and you claim no prurient interests -- everybody rubbernecks when a star meets a tragic end.
That took us to the Dearly Departed: The Tragical History Tour founded by Scott Michaels. This three-hour tour not to Gilligan's island but in and around Hollywood and Beverly Hills visits the former residences and death sites of various celebrities. The tour included the drug overdose sites of Janis Joplin, John Belushi and River Phoenix. We saw where Jack Cassidy accidentally performed a self-cremation. We drove by where they whacked Bugsy Siegel, the gangster and visionary force behind the building of Las Vegas.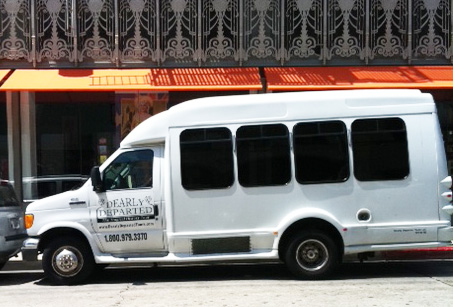 Dearly Departed Tour van, which departs from the Larry Edmunds Bookshop in Hollywood.
The month of August, it turns out, contains several anniversaries of deaths. On August 8,1969, there were the Manson murders, which included Sharon Tate, the pregnant wife of filmmaker Roman Polanski. Our tour took us by the El Coyote restaurant where Tate and friends had dinner on the night of the murder. Our guide for the tour, Brian Donnelly, said that he and the Dearly Departed Tour staff went for their usual meeting at El Coyote on August 8 this year, but some people came in with Ouja boards and creeped them out. On August 16, 1958, Béla Lugosi died of a heart attack, and his wife and son had him buried wearing his Count Dracula cape. We heard the 911 tape of Lyle Menendez from August 20, 1989, telling police about finding the bodies of his parents Kitty and Jose Menendez. The brothers Lyle and Erik lived in the fast lane with their new wealth, driving a Porsche and investing in restaurants - until caught.
Midway through the tour, we stopped for a break at Will Rogers Memorial Park bathroom where George Michael was arrested for engaging in a lewd act in 1998. And there we had a sighting of Jesus. Evidently, He wanders throughout Los Angeles, and that's where we saw Him.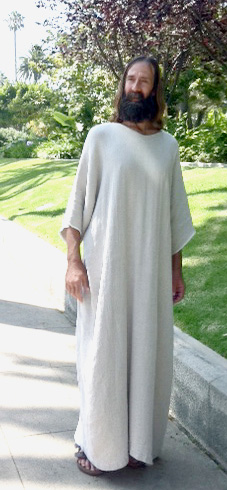 Jesus near the George Michael Bathroom in Will Rogers Memorial Park
Donnelly mentioned how we like to remember the bad stuff -- and we remember it even if the facts are wrong. The dachshund of Marie Prevost, the early cinema actress who succumbed to acute alcoholism, did not eat her. The dog nipped a little to wake her. Lupe Vélez, the Mexican Spitfire, did not drown in a toilet, which is physically impossible, but took an overdose of sleeping pills and probably banged her head on the toilet. And so on. As we learned in The Man Who Shot Liberty Valence: "When the legend becomes fact, print the legend." People remember the legend. (Visit findadeath for information about these and other celebrities.)
Before the Dearly Departed Tour, my guests and I had visited Grauman's Chinese Theater and looked at the footprints and signatures in cement out front. Shirley Temple was only a child when she was there; the tiny hands and feet are heartbreaking. Judy Garland's shoe prints from 1939 after she had finished The Wizard of Oz are also achingly small. I remember the film clip of Marilyn Monroe and Jane Russell putting their hands and feet into the cement; they laughed about how these were not their famous features. I thought about all of this on my drive home from Hollywood and the tour. Hollywood. Underneath all that phony tinsel is real tinsel. But, boy, we love them.