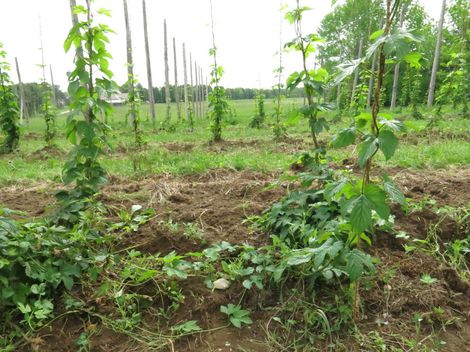 In mid-May I made the short trip to the neighboring town of Gorham, Maine to see what a couple acres of planted hops looks like. Upon arrival at the hop farm I saw the vining plants growing up twine hung on rows of high-wire trellises made with telephone pole like structures over 20 feet high.
A perennial that takes three years to mature, hops are an aggressive plant. In several weeks the plants will be to the wire with side arms 18 - 24 inches across with flowering cones everywhere.

Hops are the female flowers of the hop (humulus lupulus) plant. They give beer its aroma, flavor, and bitterness and act as a preservative and stability agent. Malt, hops, water, and yeast are the basic ingredients of beer.
Mainers love their beer. In the last decade the popularity of craft beer brands has led to the opening of more than 10 microbreweries in or around Portland, Maine. In a state that champions the farm-to-table movement, is it any wonder that with so many breweries residents would embrace the farm-to-glass philosophy?
Enter three young men in their thirties with farming in their blood and a passion for great beer -- hop farmers Ryan Houghton, Geoff Keating, and Peter Busque. The founders of The Hop Yard, these guys grew up in Maine and are committed to seeing the state become a major producer of high quality hops.
While local brewers at places like Bunker Brewing Company, Rising Tide, and Bissell Brothers Brewing Company focus on the beer making The Hop Yard is committed to meeting the demand for locally grown hops with the varieties Nugget, Sterling, Cascade, Willamette and Centennial.
The majority of the nation's hop crop is grown in the Pacific Northwest. However, back in the 1800s, hop production was based in New England and New York. With this in mind Houghton took advantage of the available acreage his family has on their former potato farm in Aroostook County, Maine and put a few hop plants in the ground to see if they would grow. That test turned into The Hop Yard's two acre pilot yard in 2011.
During a work trip to Oregon, Houghton visited Willamette Valley (one of the top hop-producing areas in the country) and developed a consulting relationship with Blake Crosby, the 29-year-old hop farmer doing what four generations before him have done at Crosby Hops. "We can pick his brain, he came out to look at the trellis design, and we get root stock from him," said Busque, who describes Crosby as a lifeline.
Heather Darby, an Agronomic and Soils Specialist for the University of Vermont Extension has also provided advice on growing hops.
Busque got involved with the project in early 2013 as Houghton and Keating were deciding to try to grow hops on a commercial scale. He grew up on his family's 4th-generation sheep farm in Windham, Maine and graduated from the University of Maine with a degree in business administration in 2004.
In his spare time, Busque (who also has a full-time job outside the agriculture sector) can be found at the project's second yard in Gorham. A labor-intensive crop, hop plants must be pruned in the spring, poles straightened, and the vining system retwined. Weeds are a constant problem. In August or September the hops will be harvested.
Busque said finding harvesting equipment for small hop operations is tough, because the average size hop yard in the United States is 30 acres, three times The Hop Yard's total acreage. The project is purchasing one from, and essentially test driving it for Steenland Manufacturing, a company in New York, which very recently began making harvesters for smaller operations.
Fresh hops must be dried, processed, and stored in optimal conditions to maintain their aroma qualities. Unless a brewer uses them in a beer within 48-72 hours of being picked, they need to be dried to a certain water density, they have to be preserved in cold storage, and then pelleted. If this does not happen, they will rot and be useless.
The owners of The Hop Yard are seeking financing to build a hop-processing facility with a pelletizer in Portland or Gorham in 2015. According to Busque, this is the primary impediment to Maine becoming a real hop-producing region. He said a brewer wants pellets, because there is loss associated with fresh hops. The equipment could cost tens of thousands of dollars.
In 2013, The Hop Yard produced 800 wet pounds of hops, but made the strategic decision to focus on quality and not sell anything the first couple of years until they knew how to harvest at the right time and make sure plant nutrients were balanced. This year they hope to harvest and sell 5,000 pounds.
If all goes well, this fall Mainers may be able to enjoy pints of locally grown fresh-hop beer.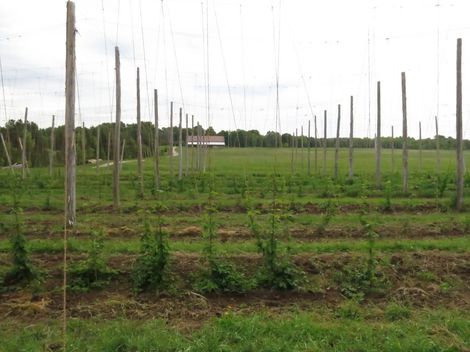 Photos by Sharon Kitchens.