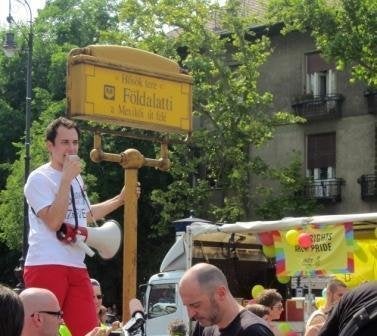 During the last decade I have had the honor and the privilege of speaking to and participating with LGBT Pride organizers on six continents, often in cities and nations facing immense societal barriers to human rights, yet I cannot remember a place with a more deliberate silence, or more indifference, than Hungary. I have seen hate in far too many places across the globe, but in Europe one does not expect to see people and large blocs of political operatives who measure their own worth by taking dignity away from groups and measure their success by crushing minority collaboration and minority acceptance, ultimately causing untold damage to community and individual hope.
Yesterday the Harvey Milk Foundation, with the generous support of the Delta Foundation, brought to D.C. Milan Rosza, a young human rights advocate from Budapest who is an inspiring example of strength and courage, much like my uncle, Harvey Milk, decades ago. As my guest, Milan attended a White House holiday reception hosted by President Obama and the first lady, and he met with House Minority Leader Nancy Pelosi and congressional LGBT rights supporters at the capitol.
I have told Milan's story frequently during my campaign work this year, to put a human face on the global challenges faced by the LGBT and other minority communities, so that Americans would have a clearer connection to and understanding of the importance of the hope and the support that the president and strong allies like Nancy Pelosi provide to the LGBT community abroad.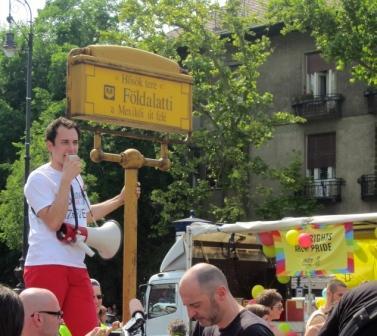 Milan Rosza at Budapest Pride 2011 (photo by Justin Knighten/Harvey Milk Foundation)
Last year Milan Rosza, then 22, led LGBT Pride in Budapest, which had been rocked by extreme violence and continued attempts by the Hungarian government to ban the event. I was Pride's kickoff speaker, and Milan was the lone Hungarian face to publicly stand up against the thousands of neo-Nazi protestors, bullhorn in hand and going as far as appearing on Hungarian TV with me. The state-sanctioned hostility, hate and violence directed at the LGBT community and other minority communities in Hungary are worse than we could imagine here across the Atlantic. Later I learned that just after the Pride march, Milan had again assumed the role of leader by standing up and speaking out against the nightclub where the Pride party was being held for their "no Roma" admittance policy. Milan organized an educational demonstration on the spot, leading a quick lesson on the need for collaboration between minority groups, a collaboration that he continues to work on to this day.
Sadly, the next day, I learned that Milan had gone home to find that his public actions and LGBT human rights leadership, widely reported on Hungarian TV, had been rewarded with his father taking his own life. Milan was shocked, weary, bruised to the bone and deeply depressed, but his courage would remain strong in the face of adversity.
A few days later, in Brussels, I received an urgent, last-minute call to come to Prague for their first Pride. They needed the support after Czech Republic President Klaus publicly told the country that "this first gay pride in Prague would promote deviancy and homosexualism [sic]" and asked people to protest.
So just days after seeing all the hate that is now rampant in Hungary, I was back in Central Europe. Prague Pride organizers met me at the airport and quickly told me they had sent out another urgent request for a street-length rainbow flag and had gotten a response from Budapest. A 22-year-old was taking 24 hours off work to take the 8-hour overnight bus ride to bring them that rainbow flag, march with them and then return home on another 8-hour overnight bus. It was Milan Rosza. I had Skyped with Milan right after learning of his father's suicide, and he was devastated and depressed, and I was worried for his own life, yet the first words he said to me as he got off that bus in Prague were, "We are here, together again, and our community has the support of those who were before us, like your uncle Harvey and now your current president Barack Obama and your congressional leader Pelosi, whose words of acceptance are stronger then the hate-filled words of President Klaus." Physically he looked so tired and defeated, very much as you would expect a young man to look after having just buried his father on the heels of his first experience of public advocacy as an out advocate, but as we headed off he turned to me and, seeing tears in my eyes, said, "I am so grateful for your compassion. This life and these days are so hard for me. Let's cry tomorrow, though. Today let's show Prague that we are all with them and do what needs to be done."
Milan does not see himself as heroic, but he is one of dozens of heroic young men and women whom I and the Milk Foundation staff have had the honor of working with abroad. These heroes face untold hostility and hatred and, in the case of Central Europe, growing state-instituted discrimination and governmental retraction of human rights. In year since that Budaprest Pride, not only has Milan continued organizing Budaprest Pride but he has been elected as director of the national LGBT umbrella group in Hungary and is building collaboration with and between the Roma, Jewish, immigrant and economically challenged communities.
With every new proposal in the Hungarian Parliament that curtails or abolishes the rights of women, Roma people or LGBT people or limits the freedom of the press, with all these life-negating elements of a "new" constitution and new legislation, the youth of the nation are fed the seeds of hatred and separation rather than those of inclusion and unity. These proposals are the modern elements of the denial of the humanity of large groups of marginalized people, bringing on a toll of sadness and sorrow and reviving dark memories of the 1930s. Youth are the most frequently victimized by these opportunistic mongers of hate, and not just the youth of families who belong to the extreme-right Jobbik party but the youth of an entire generation who see, read and hear these nationalistic "leaders" fueling fear by making lists of groups of people and labeling them as enemies of the state and blaming them for Hungary's economic struggles.
It was not the whole of Budapest on the streets protesting that Pride march; decent and humane people are a large part of the Hungarian mosaic, but clearly they have become silent. Saddest of all was the image of this silence that I witnessed while marching with Milan: all the balcony windows that would close as we approached, and all the shop doors that would shut as we passed. The already low bar of simple tolerance had been lowered to just looking away.
Human rights and appreciation of diversity have not improved in Hungary since Milan led the Pride march last year; things have gotten worse, and the shopping list of groups targeted for non-inclusion has grown. Just last week in the Hungarian Parliament the chair of the Foreign Relations Committee, MP Marton Gyongyosi, said on the legislative floor that it was time "to assess ... how many people of Jewish origin there are here, and especially in the Hungarian parliament and the Hungarian government, who represent a certain national security risk." This reactionary and hate-filled statement, with all the baggage it carries in a nation that sent several hundred thousand of its Jews, Roma and LGBT people to the Nazi gas chambers, was not met with immediate condemnation. Even Speaker of Parliament Laszlo Kover was silent, as was center-right Prime Minister Viktor Orbán. Their silence was as haunting and as large as the images of closing balcony windows and shutting shop doors that have been seared into my memory of the Budapest Pride march.
Nevertheless, as I read of the delayed responses to this latest state-level hate speech (Prime Minister Orbán and Speaker Kover eventually spoke out against MP Gyongyosi's comments after protests were organized by the Hungarian Jewish community), I am reminded of the courage that can break this silence. I am reminded by the hope offered by a lone 22-year-old, bullhorn in hand, presenting a countermessage to the anger- and hate-filled thousands -- a bruised and shaken young man who will not be deterred into silence, who is inspired by leaders across the Atlantic who are building a foundation of inclusion and celebrating diversity, and by a nation that is sending out voices of equality that can help the Milan Roszas of the world penetrate those closed balcony windows and shuttered shop doors.
Until this week Milan had never been to the United States or even traveled beyond Central Europe, and the Milk Foundation was honored to have the opportunity to bring him to Washington, D.C., to meet the strong advocates of inclusion who have inspired him from afar. He met the president and the first lady and House Minority Leader Nancy Pelosi. We took him to read the words of Abraham Lincoln and of Martin Luther King, words etched into the walls of D.C. monuments and, increasingly, into the very fabric of our society. I know that when Milan returns to the very dark struggle for human rights in Central Europe, he will take with him the images and words of President Obama, First Lady Obama and House Minority Leader Pelosi, and in particular Martin Luther King's observation that "injustice anywhere is a threat to justice everywhere." He will know that he does indeed have the support of our nation, which, though separated from him by an ocean, understands that we live in an increasingly global society and that we will not stand silently by when hate and repression rear their ugly heads anywhere.
As my uncle Harvey said, "Hope will never be silent." Milan is a reminder of that mantra. He is a reminder that the price of equality is vigilance. He is an example for those willing to lead heroically in the struggle for human rights, reminding them that this is truly a global movement, and that hope can be stronger than silence.
Popular in the Community