Last week, the BBC reported that ornithologists working in Oman might have discovered a new species of owl. The assertion was made by the wildlife sound-recorder who heard (and taped) a distinct and unusual owl call, one that was fundamentally different from other Arabian owls he'd ever heard.
That got me to wondering if that rare owl could have been the sound I heard recently on a quiet night as I stood on the shores of the Gulf of Oman in Muscat, capital of the Sultanate of Oman. Then again, maybe what I was hearing was the sound of a country, a people and a culture that is sending a call out to the rest of the world, letting it know that Oman is growing in distinct and unusual ways?
Whatever I heard, the fact is that I was able, on a recent higher education consultancy in Oman, to get a glimpse of the progress, and hope, that exists in this tiny Islamic country.
I grasped the abundance of progress and hope in just about every conversation I had with all the Omanis I met, and a few of the ex-pats too. Oman has made enormous strides in the past four decades under the leadership of Sultan Quabos bin Said al Said -- in diplomacy, health care, infrastructure, democracy and, in an area near and dear to my heart, education.
As a result, beyond the cranes and construction, the hospitals and highways, the airports and power stations, it was the optimism I witnessed in the eyes of Omanis that illustrated the country's positive developments. They were especially present in the smiling faces of the scores of Omani young women I encountered at the University of Nizwa.
Representing more than 80 percent of the Nizwa student body, these female students are receiving all their classroom instruction -- in curricula as varied as nursing, education, pharmacy, chemistry, art and entrepreneurship -- in English. When we dropped by their respective classrooms (unannounced), the University of Nizwa students, male and female alike, were relaxed and quick to welcome us. Most impressive, they were anxious to show us what they were studying, what they were learning, and, in the case of an art class we visited, what they were drawing.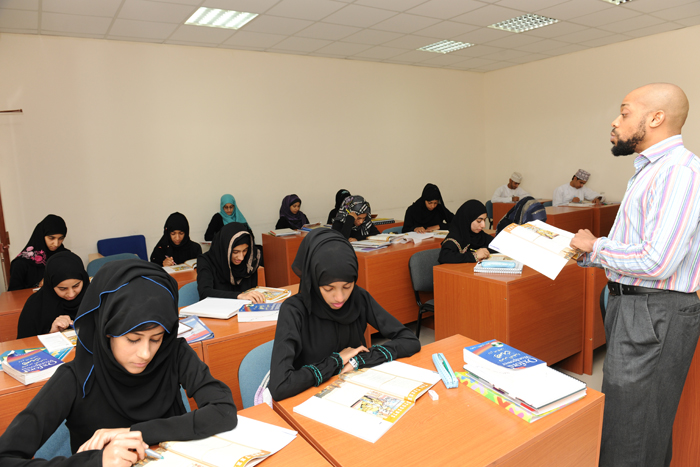 It isn't unusual for a country like Oman, with relatively modest oil and natural gas resources, to invest in its infrastructure and in its people. But it is unusual to see such an overwhelming majority of young women being encouraged, and supported, to pursue a college diploma. The University of Nizwa has become for most of these first-generation Omani students a beacon of hope, a promise of a productive and fulfilling future.
None of this will come easily. A new campus at Nizwa, for example, needs to be completed soon. Government investments in higher education need to continue and scholarships for Nizwa students need to remain available and numerous. The campus leadership needs to remain intact and must continue to deftly navigate Omani politics and convincingly advocate for the "Nizwa Idea" and its own unique take on a "land grant model," Omani style.
But you can't help but be optimistic once you've seen their faces, heard their voices, listened to their (and their campus leaders) hopes and dreams.
Yes, ornithologists may have indeed discovered a rare species of owl in Oman. But there's an even rarer breed of higher education exhilaration in this tiny nation, an excitement that is igniting a flame of hope and possibility in a world that so desperately needs large amounts of both.
Calling all HuffPost superfans!
Sign up for membership to become a founding member and help shape HuffPost's next chapter