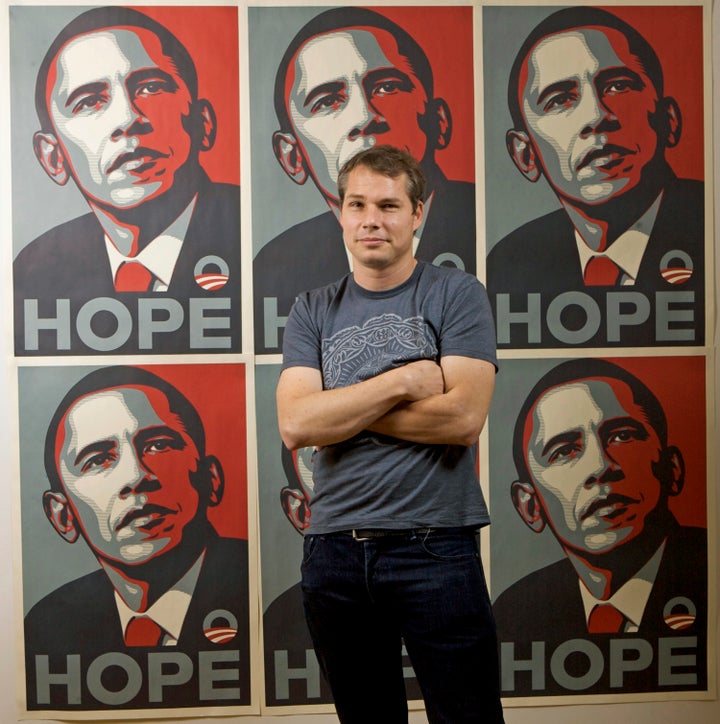 Back in 2008, the words used to describe the presidential election ― or more specifically, the campaign of Barack Obama ― included "hope," "change" and "progress." This year, with another election on the horizon, a different kind of word stands out: "frustration."
Shepard Fairey, the artist behind the controversial poster that made "hope" a ubiquitous descriptor for Obama's eventual presidency, has a hard time finding positivity in 2016's campaign season. "There's a lot of hostility, even more than usual," he told The Huffington Post in an email exchange. "Frustration," he says, captures how voters feel today.
Ahead of a Hillary Clinton/Donald Trump showdown, Fairey isn't making art for any one candidate. Instead, he's been working on a project that transforms iconic photographs of the past into potent reminders of the injustices Americans ― no matter their party preference ― face on a regular basis. He's used the work of Jim Marshall, well-known music photographer and lesser-known advocacy artist, as the basis of his red-and-black prints, tackling everything from mass incarceration to gun rights.
Fairey hopes the work, dubbed "American Civics" and on view as part of HuffPost's "If This Art Could Vote" project, highlights something oft-overlooked in heated political debates: the humanity behind America's enduring social justice issues. We checked in with the artist to talk about Jim Marshall's legacy, the lack of "hope" today, and why he's voting for Hillary Clinton.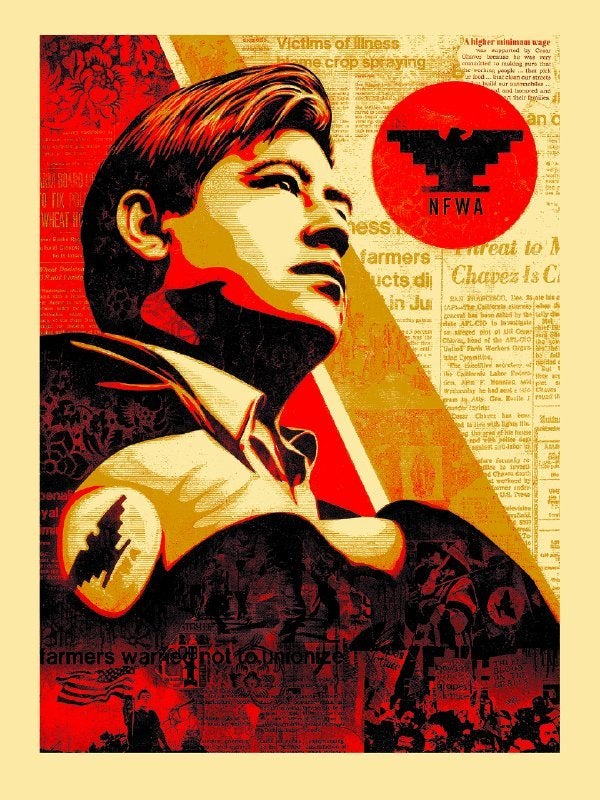 Can you tell me a little bit about the "American Civics" series? What inspired the project?
I've been making images about social and political issues for many years, and I'm also a longtime fan of the photography of Jim Marshall, who passed away in 2010. I was approached by Amelia Davis, Jim's former assistant and the manager of his estate, to collaborate on a series inspired by Jim's social justice photography rather than his the rock 'n' roll photography that most people know.
I liked the idea a lot because many of the same social problems still exist today that were problems and issues being addressed in the '60s when Jim took these photos. I felt like it was important to make art in my style inspired by these images to put in front of today's audience.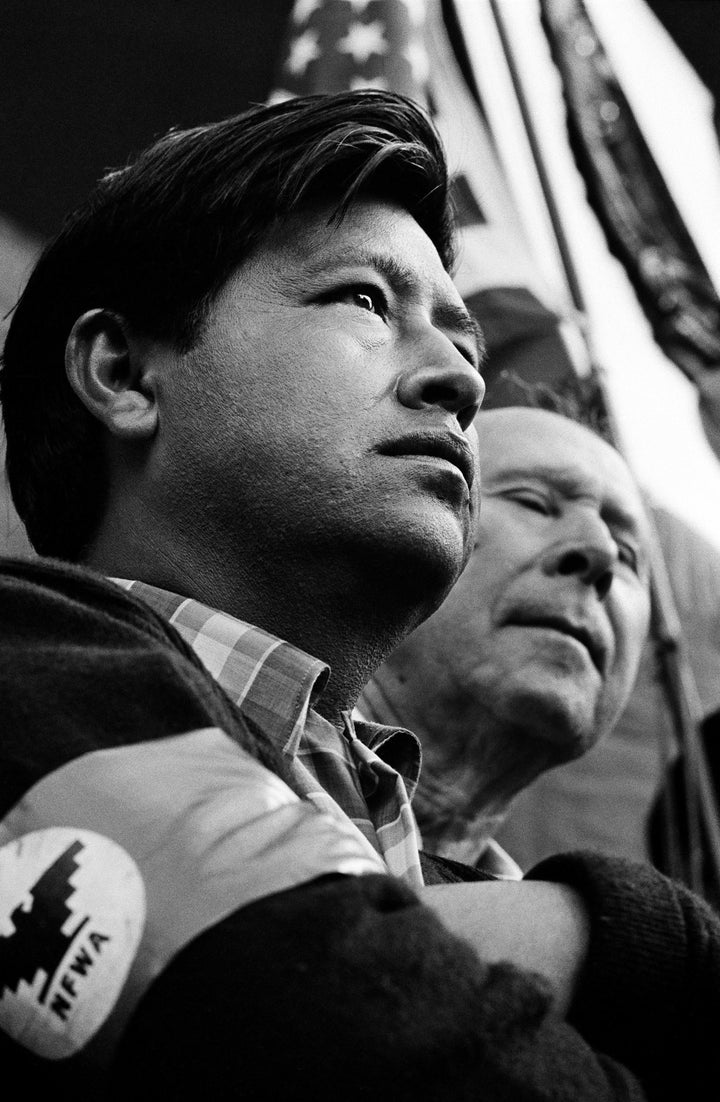 When was your first encounter with Jim Marshall or his work? What was your first impression?
Unfortunately I never met Jim, but I've been a fan of his work since I was in my late teens, end of high school or early college. I'm a big fan of Johnny Cash and Jimi Hendrix, so Jim's images of those two excited me. The more I got to know Jim's photography, the more I felt it's special for being able to capture both the iconic side and the candid side of his subjects.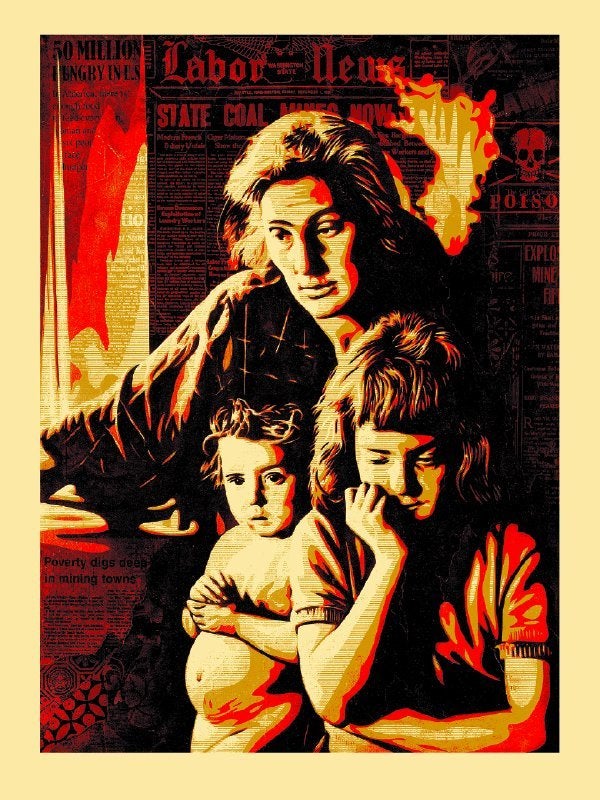 The pieces you created span five topics: Voting rights, mass incarceration, workers' rights, gun culture and the concept of two Americas. How did you settle on these themes?
These themes are themes that I've addressed in one way or another in my work before, but what solidified these specific choices were the images I thought were most powerful looking through Jim Marshall's archive of photos. It can be very challenging to make compelling images about these subjects but for each concept, I knew when I'd found something that I could work with based on both the image itself and its backstory.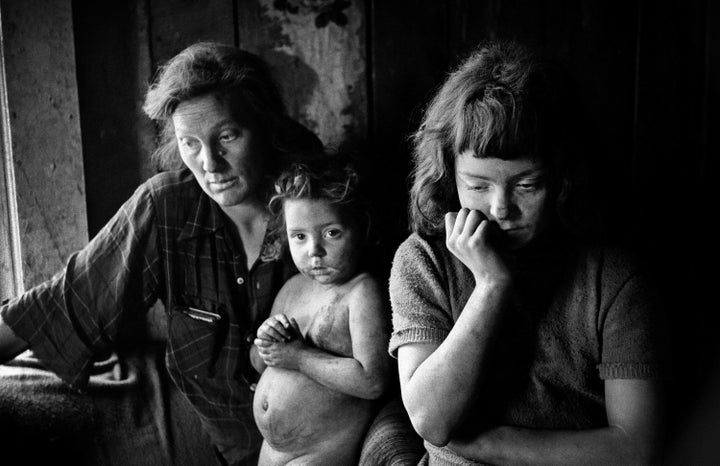 And what exactly does "Two Americas" (pictured above) mean?
I chose "Two Americas" for the coal mining family [originally featured in Jim Marshall's image] because the family of the coal miner was living in poverty but most likely the heads of the coal company were very wealthy. I think it is important to remind people that there are people who benefit from the dynamics of capitalism and people that suffer under those same dynamics.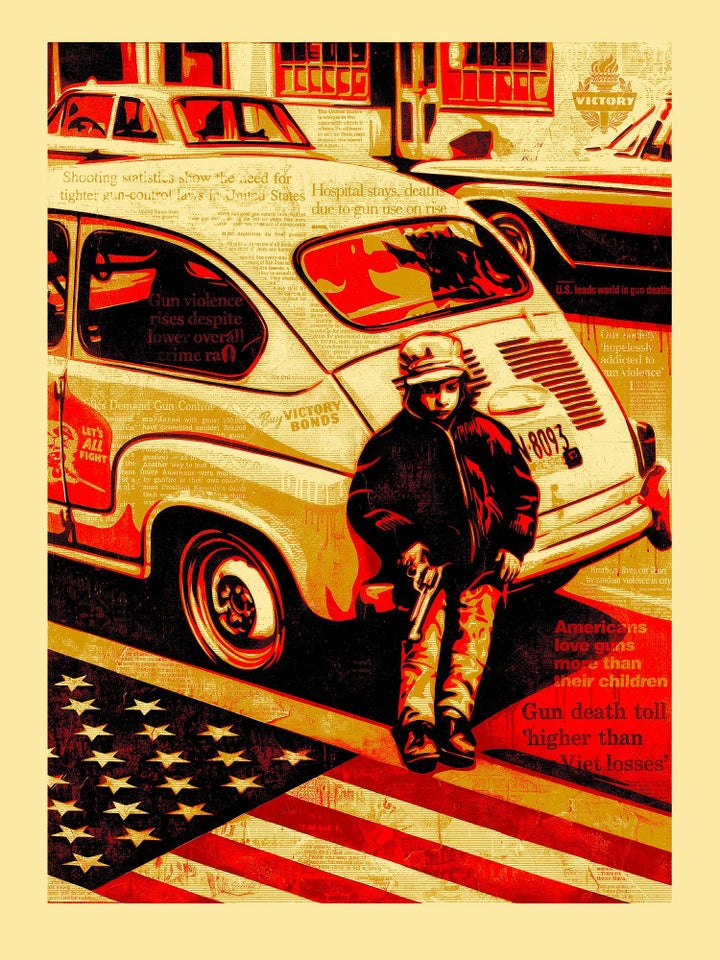 As an artist who actively participated in the run-up to the 2008 presidential election, what strikes you as most different about this electoral period?
There's a lot of hostility, even more than usual. Right now the lead candidates have the highest degree of unfavorability in history, so it's much more difficult to see a place for something optimistic in the vein of the "Hope" poster. A bright area for me in this campaign cycle has been the success of Bernie Sanders' campaign. Despite his refusal to take corporate contributions, he was able to fundraise and harness the energy of younger grassroots activists in large numbers.
Bernie Sanders supporters including myself seem to be largely motivated by frustration with the dysfunction of politics as usual in the two-party system. I think "Frustration" is a is a theme in 2016 when "Hope," "Change" and "Progress" were more positive themes in 2008.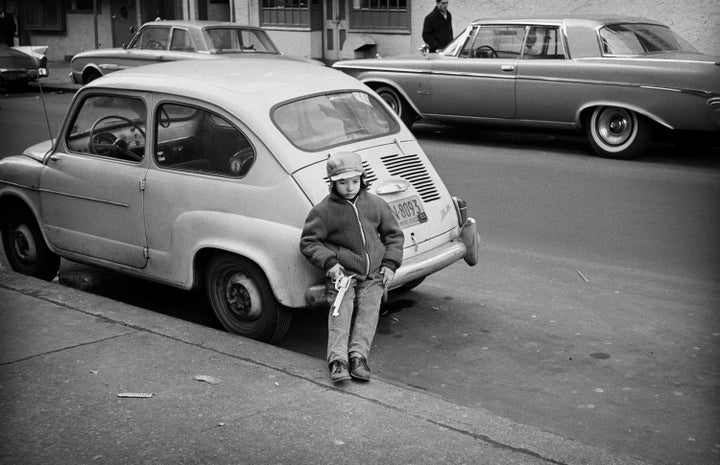 You expressed your support for Bernie Sanders on your website, stating: "I feel it's important for me to voice my support for his bid." Who are you supporting now?
I'm supporting Hillary now because I have some hope that her move further to the left under the pressure of competing with Sanders will see follow-through if she's elected. But also I'd vote for basically anyone over Trump.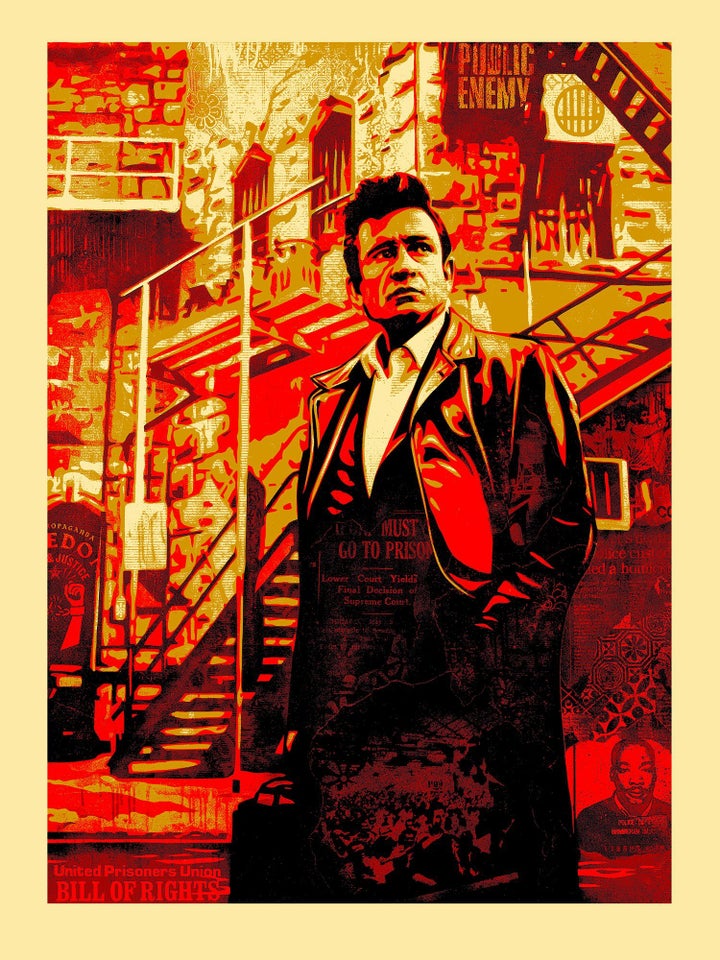 Overall, how important do you think it is for artists to weigh in on political events like presidential elections?
I think it's good for artists and everyone else to weigh in politically. The people who are greedy and will benefit from dominating the political process certainly speak up so the rest of us should, too.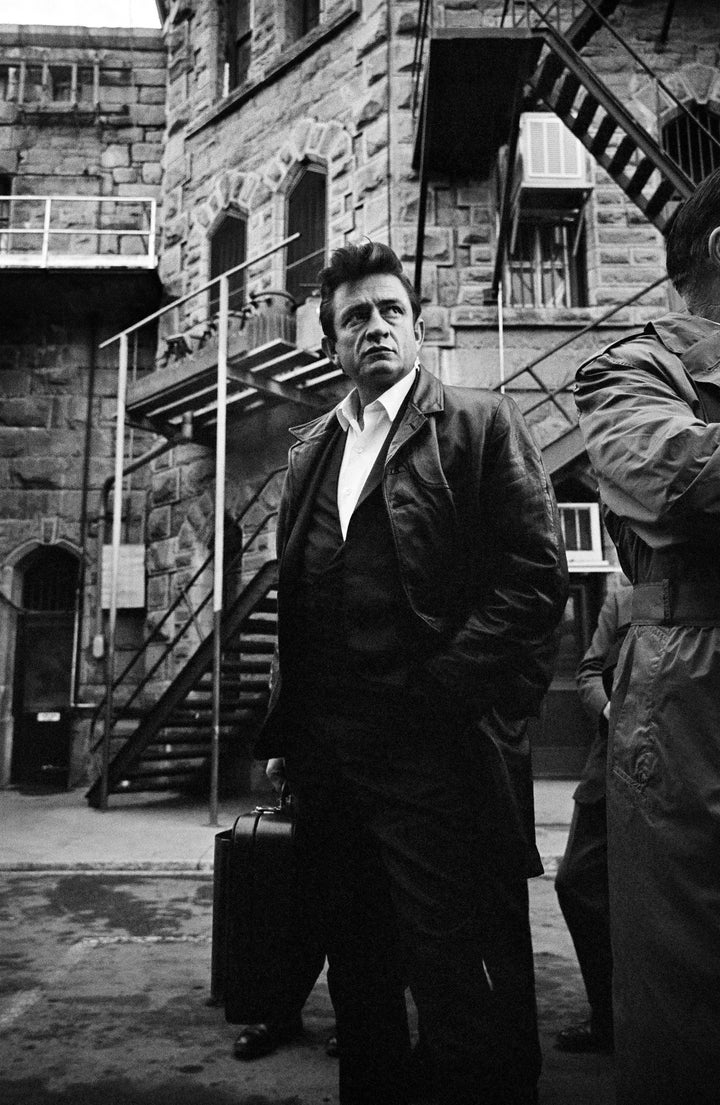 Do you feel pressure to create more political art since 2008?
I don't feel any pressure to make political art since 2008. I do it because it's important to me and for the most part I enjoy it. To me, any art about social issues or the environment is political, whether or not it's interfacing with candidates or being applied to a specific election. Voting is a specific piece of being a part of democracy, but it's only one part. I try to do things with my art that will have a positive impact all the time, not just around elections.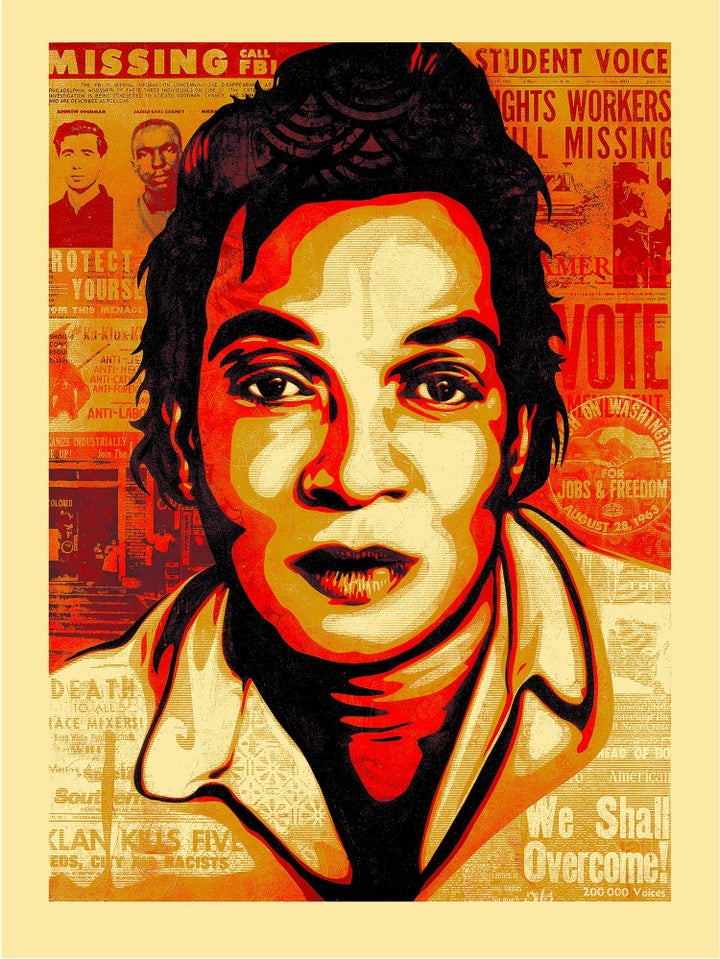 If you could choose one word that would appear above a "Hope"-style portrait of Trump, positive or negative, what would it be? How about for Hillary?
For Trump: Ego. For Hillary: Experience.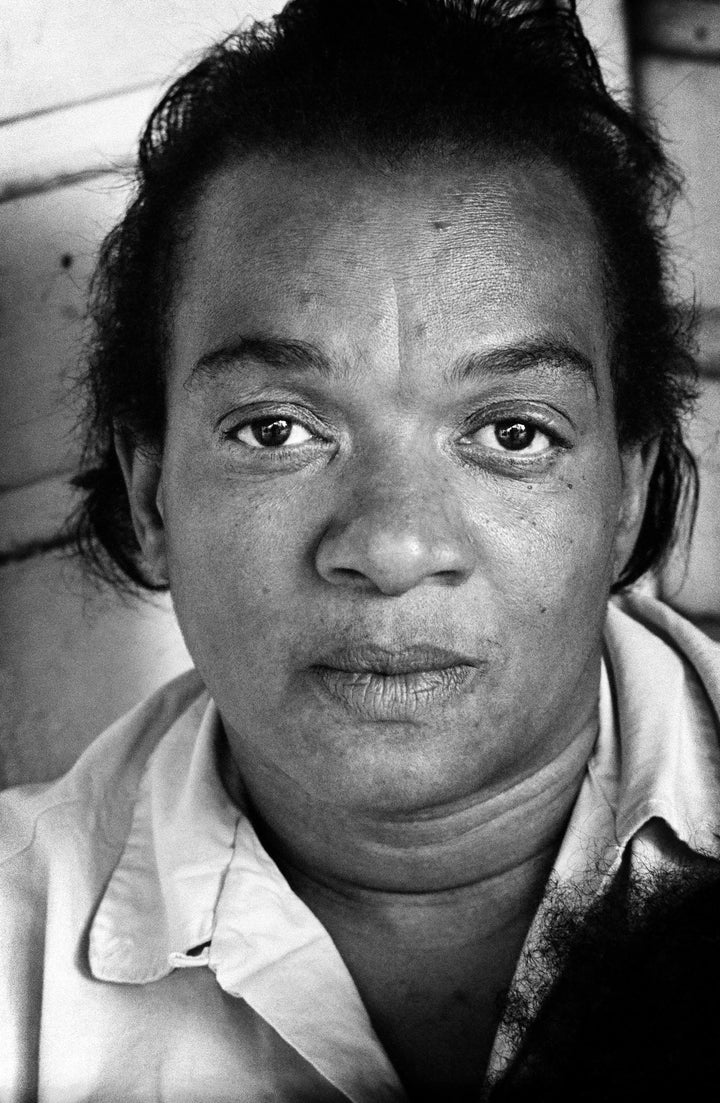 "American Civics" is on display at the San Francisco Art Exchange through September and are available for purchase here. For each issue addressed in the artwork, it is the intention of Shepard Fairey, along with Jim Marshall's estate, to donate 10 percent of the net proceeds to an appropriate charitable partner, which are listed here.
Before You Go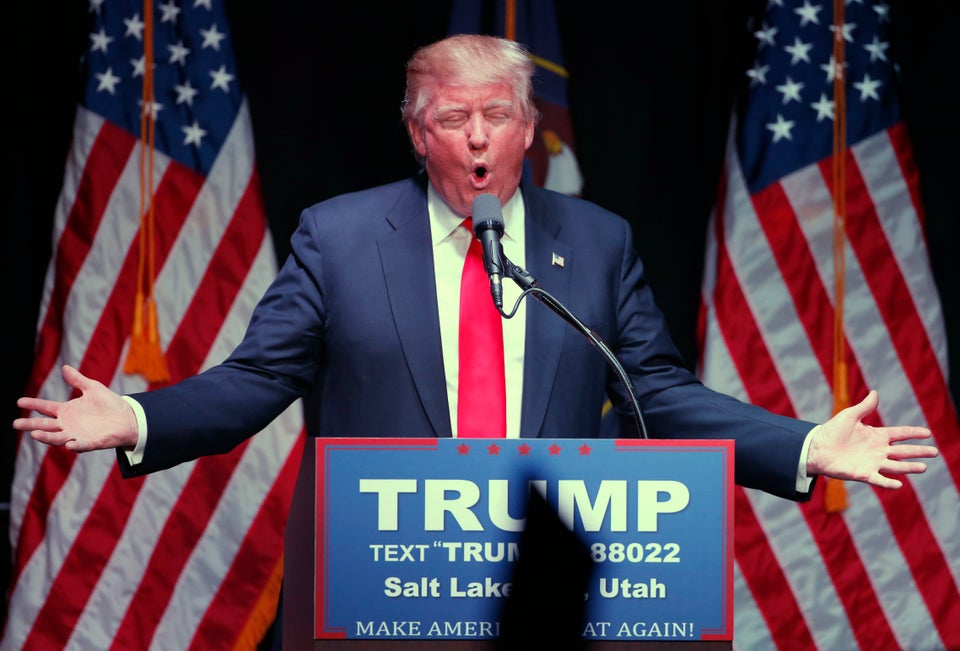 Scenes Of Hate At Donald Trump Rallies
Popular in the Community