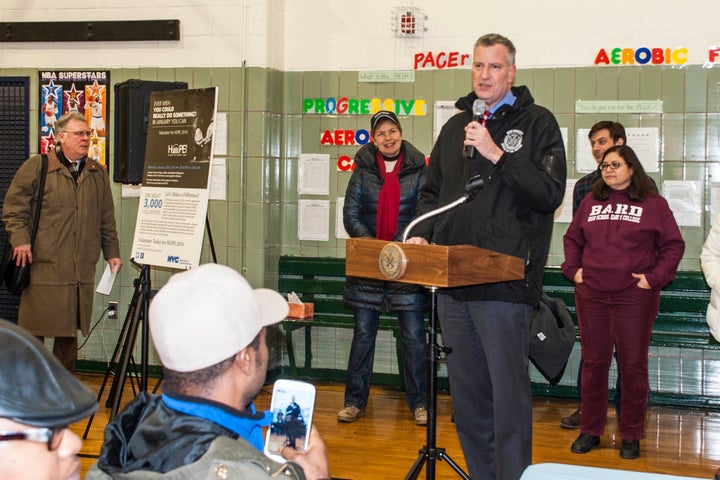 NEW YORK -- New Yorkers in every borough volunteered Monday night in the city's annual Homeless Outreach Population Estimate. Mayor Bill De Blasio joined them for an hour on the 28-degree night.
He was the first sitting mayor to join the count, which began in 2003, his staff told a press pool. 
"You represent something very good and very warm about the city of New York," he told volunteers at one of the training sites, P.S. 116 in Murray Hill. "Behind our rough exteriors as New Yorkers beat hearts of gold."
This was the last annual count, as future large-scale volunteer counts will be integrated into the city's new HOME-STAT initiative to conduct daily canvasses in order to better monitor the needs of the city's homeless and to provide help.
De Blasio has been criticized for his handling of New York's homelessness crisis, with 62 percent disapproval among those surveyed in a recent poll. HOME-STAT is part of his aggressive, $22 million program to combat the issue. At the HOPE launch event, he also repeated his commitment to building 15,000 new units of supportive housing.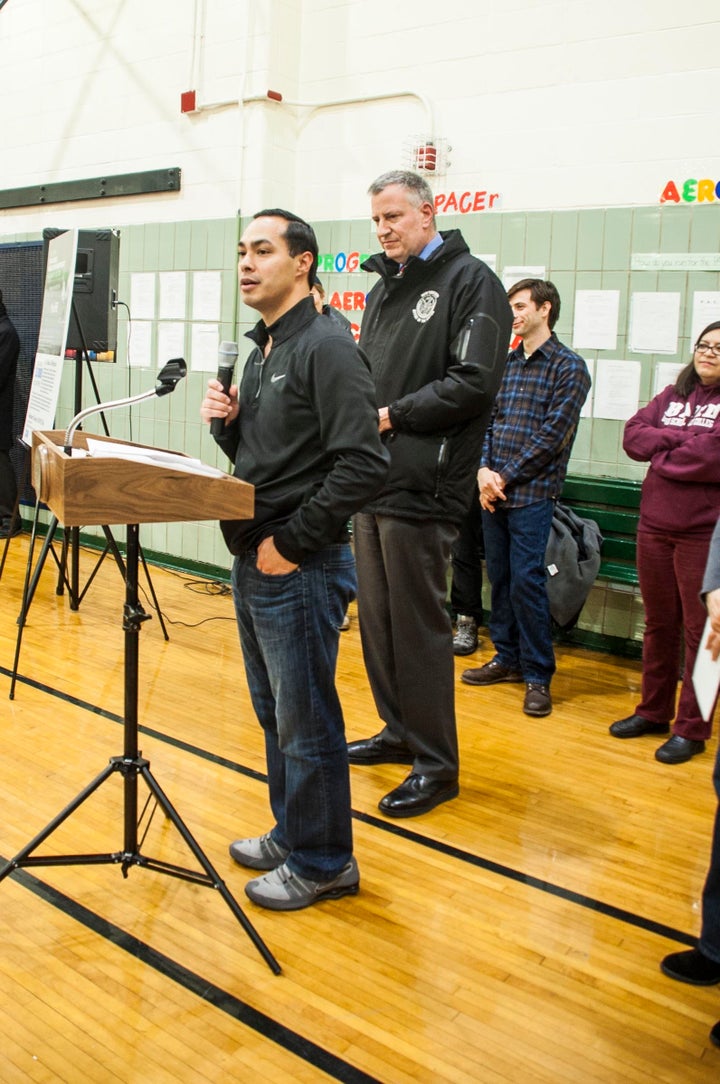 Julian Castro, U.S. Secretary of Housing and Urban Development, was also present, and said efforts like HOPE would help the country achieve a "functional zero" rate of homelessness. The city's Department of Homeless Services uses the count to estimate the number of "chronically homeless" people in public spaces, and adjust its resources and budget for the coming year.
Over 3,000 volunteers signed up to canvass city blocks in teams of five to eight. Since it was so cold on Monday night, DHS was also operating a "Code Blue" emergency procedure. This meant volunteers had to wake up every sleeping person they encountered and offer them transport to a shelter or drop-in site.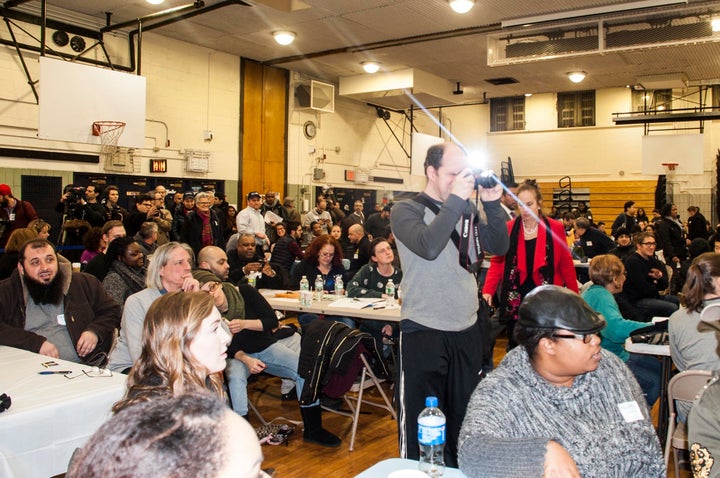 There was a collegial atmosphere at P.S. 116 on Monday night, as volunteers fought the cold with coffee, donuts and a desire to help. Many of the participants were returning volunteers, like Kenya Bryan, a four-time HOPE veteran who was a "team captain" this year. Her team included two West Point juniors and a Nigerian immigrant, Matthew Egwu, who works at the DOE. They canvassed 34th to 38th streets along the East River, meeting a number of bemused Hunter College students, harried workers en route to their night shifts, and two homeless people who needed shelter. 
One was a young man from Barcelona who spoke only Spanish and had no place to sleep. The other was a man in his fifties who said he was "shelter-hopping," and had vague plans to make his way to Harlem. The group called a van for both of them, which made stops at a nearby shelter confirmed to have Spanish speakers in attendance, and continued uptown to the Harlem shelter.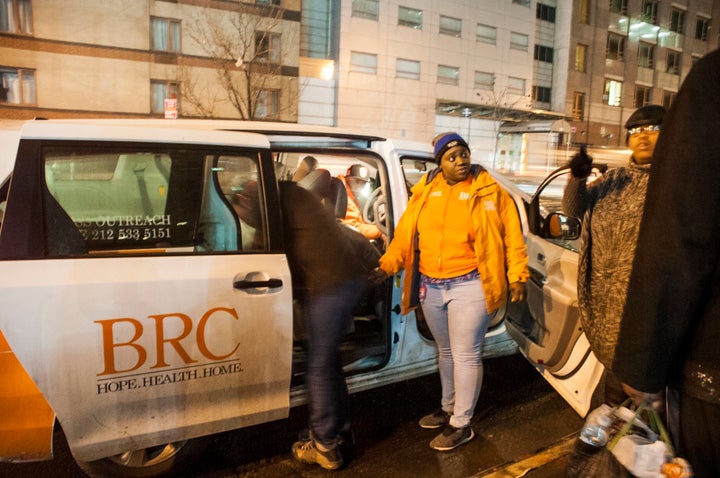 Near the end of their survey at 1:20 a.m., Kenya's group ran into a "decoy" homeless person. He was one of the paid actors deployed across the city in the "Shadow Count" administered by the Hunter College Silberman School of Social Work. The idea is that having decoys on the street on the night of HOPE serves as quality control, to ensure that volunteers do a thorough job.
"If the volunteers are missing many decoys, the assumption is they may also be missing many genuinely homeless persons," Mary Cavanaugh, dean of the Silberman School, told The Huffington Post. Cavanaugh said they trained several hundred decoys over the last three weeks.
The data from this year's count will be released in about 90 days, Nicole Cueto, the DHS media director, told HuffPost. Last year's count totaled nearly 3,200 individuals.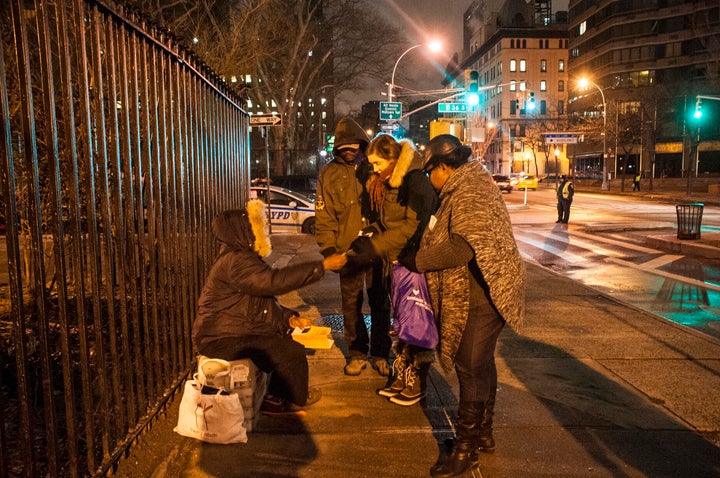 NYC's HOPE Count, in pictures:
PHOTO GALLERY
NYC's HOPE Count 2016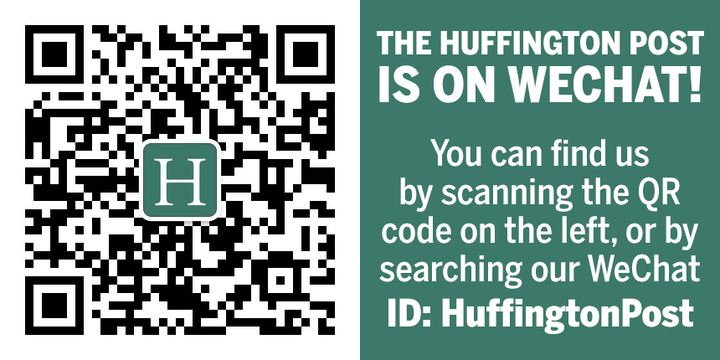 PHOTO GALLERY
Artist Redesigns Signs For Homeless People
REAL LIFE. REAL NEWS. REAL VOICES.
Help us tell more of the stories that matter from voices that too often remain unheard.