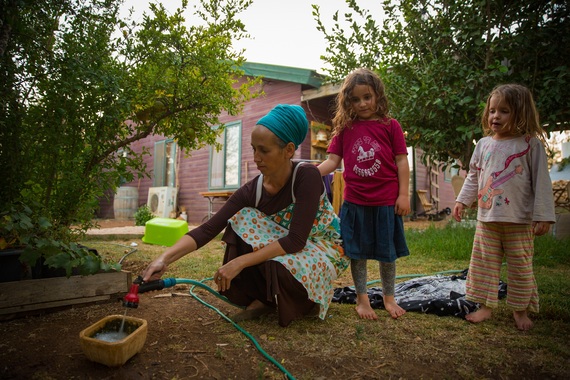 Photo: Hillel Maeir, TPS / Tamar Nizri with her children outside their Amona home earlier this year.
It is a cold, blustery day outside as Tamar Nizri straightens out her family's home, picking up her children's toys and folding the laundry. The howling wind and hail pound the windows and two of Nizri's eight children warm up in front of the Irish-made wood stove while another child plays the flute. For most of the day, rain has been pounding Amona and the surrounding, but it is not the winter storm that has the Nizri family on edge.
Residents of Amona spent hours on Wednesday, December 14, debating whether to accept the government proposal to relocate residents on an adjacent plot on the same hill, and leave their homes quietly without fight following a court-imposed evacuation.
"We put all our money, our savings and took out loans in order to build our home in Amona," Nizri told Tazpit Press Service. "We never expected to find ourselves in the situation that our home of 18 years might be destroyed. These are very stressful days."
It's hard for Nizri to talk about the impending evacuation. The 38-year-old mother of eight prefers to speak of what brought her and her husband to Amona in the first place. "When we first moved to Amona, there were only four other families but they were so hospitable and friendly. We knew this could be a place we'd call home," she recalled.
Today Amona is comprised of 40 families and 200 children. "The 200th baby was born three weeks ago," said Nizri. "And my daughter just got married two months ago. She and her husband are living in Amona."
"There is a very good community atmosphere - people can depend on each other and are very supportive," said Nizri, who works as a personal coacher. She and her husband also run a small boutique winery called Hatzor, growing grapes in a vineyard close to their home.
After midnight on Wednesday, residents voted not to accept the relocation proposal offered by Education Minister Naftali Bennet and approved by Prime Minister Benjamin Netanyahu, explaining that the proposal was a "Swiss cheese" which offered no guarantees that all the families would get new homes on the hilltop.
There are less than 10 days to the eviction deadline set to December 25. The High Court of Justice had ruled in 2014 that the outpost must be demolished by December 25, 2016. Amona, founded in 1995, is considered the largest outpost in Judea and Samaria.
Emunah Abel, 27, has lived in Amona for seven years with her family. "I am happy we are fighting, it gives us strength," she told TPS. "We are getting a lot of support from the outside, from neighboring communities who are sending food and trying to raise our spirits."
Abel, who studied political science and communications at Hebrew University, said that her hopes remain strong that Amona's residents will win the fight to remain in their homes. "We have no chance getting the mainstream Israeli media to share our side of the story but we believe that this is a moral battle," she said, playing with her blond, blue-eyed daughter, Tzion, five-years-old. "This is about the present, the past and our future. Amona needs to stay."
"I am still hoping that there will be a way to continue living in the homes that we have built and have spent our lives raising our families," added Nizri, as she stirs a pot of hot soup she has prepared for her children.
"I still pray that we will get legal recognition so that we can build new homes on this hill and plant flowers with our future grandchildren," she said.
Calling all HuffPost superfans!
Sign up for membership to become a founding member and help shape HuffPost's next chapter