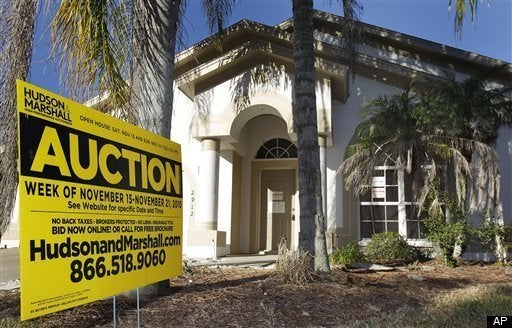 Francia is a working professional and mother of three wonderful children and lives in a suburban neighborhood in Houston. When the economy took a nose dive so did her commissions in new home sales. She held on as long as she could digging into her savings account to try to keep up. As a last resort she went sought out help from several sources, both free and paid, to help her obtain a HAMP loan modification and she found herself still working on her own loan modification even after paying people thousands of dollars. When Francia realized her home was due to go to foreclosure sale she double checked with both the company that was helping to process her paperwork, as well as Bank of America themselves, where she was reassured that her Fannie Mae backed loan was still being processed for HAMP and she was assured several times that the foreclosure sale would be postponed.
Although the latest HAMP guidelines require servicers to stop foreclosure action, it does not seem to be stopping very much because homeowners continue to be confused about what is going on when they receive the foreclosure notices and they, more often than not, find themselves scrambling to get accurate answers, and many times homeowners are losing their homes completely -- because once it the house is sold it is a complicated undertaking, but definitely not impossible especially when it goes back to the investor or bank.
Fast forward a week and Francia is frightened when a realtor for Fannie Mae knocked on her door and advised her that Fannie Mae now owned her home and she would need to move out in two weeks. Could you imagine the devastation and all of the feelings that must have gone through her mind when she was given this news. She immediately got on the phone and called Bank of America who apologized but let her know there was nothing that could be done because the house was foreclosed and their hands were tied.
She called the company that was helping her and they told her to just contact an attorney because their was nothing further they could do now that it sold. She was desperate, scared and yet she did not want to lose her family's home. She contacted several attorneys in her state and they all said it was nearly impossible and even if they could do it this could take over a year of litigation in court, and thousands of dollars of legal fees just to try to win her home back. Francia was tempted to give up because of all of the advise she was getting from everyone around her, but she had to give it all she had for the sake of her family and it paid off.
This may sound like an isolated case, and I wish I could report that it was, but this is something that happens all the time, across the board at many of our nations largest lenders. The problem is that there is no "Houston" control center to monitor the HAMP program's widespread mishandling where people can get reasonable people to listen to them and get them to do the right thing.
You have to jump through hoops, question authority by contacting everyone you could think of both at the bank and government entities to escalate your case to every level until someone will listen to you, be prepared to hit many walls yet determined to not take no for an answer and make things right. This is exactly what we did with Francia. You have to be methodical, have a strategy, have a plan, and work your plan with focused and determined action. After being contacted by Francia, together we overturned the foreclosure sale that should have never happened and her HAMP loan modification was approved and sent out within a week of focused effort to rescind the foreclosure sale.
It was not an easy feat, by any means, and several hours, hundreds of emails and phone calls were made. We were dedicated 100 percent to getting someone to listen but we succeeded and Francia's family home was saved. It doesn't have to get this far if you know your figures the way the lender knows them. Take names, send certified letters as confirmations of your conversations to the correspondence address for your lender so you create a paper-trail. When you take it on take it one with the attitude of only success.
Remember that no matter where you turn for help , the truth is that first and foremost you must be your own best advocate, because this is your home, and it matters to you more than anyone you might be dealing with.
Be aware that there are many errors made at all levels and even with entities that should really know how the program works, this is the stark reality so you must know your facts in order to know if you are being given incorrect information, if not you will accept this bad information as the truth, and it the price you pay could be very big, it could cost your your home. Desperate times call for desperate measures.
With the process and system the way that it is, there is no room for complacency on your part. Don't let fear paralyze you and focus all of your energy on fighting for your home vs frustration or anger. Confidently know your file and the rules more than anyone else. Empower yourself with information and do whatever it takes to get the job done. The worst thing you can do is to do nothing. My hope is that we could bring change to this horrible problem so that you don't ever have to go through the anguish that Francia and her family did. Question authority and save your home.
****

Anna Cuevas is an invited blogger on The Huffington Post, author of several soon to be published books including "Fight for Your Dreams" with Bestselling author, Les Brown. Anna is the Founder of www.askaloanmodguru.com a blog dedicated to empowering homeowners with free information they need to confidently apply for a loan modification and also providing the latest Do It Yourself loan modification tools to Save Your Home. Request your free copy of "Dirty Little Loan Modification Secrets You Must Know" along with free bonus materials that take the guess work out of the loan modification process to stop your foreclosure dead in it's tracks.
Calling all HuffPost superfans!
Sign up for membership to become a founding member and help shape HuffPost's next chapter