Hope Hicks, a former senior adviser to Donald Trump, fumed to a fellow White House aide during the Jan. 6, 2021, insurrection that "we all look like domestic terrorists now" and wouldn't be able to find new jobs as a result.
Text messages released by the House select committee investigating the attack show Hicks texting Julie Radford, former chief of staff to Ivanka Trump, as Trump supporters were laying siege to the U.S. Capitol.
Hicks complained that the insurrection had ruined their employability.
"In one day he ended every future opportunity that doesn't include speaking engagements at the local proud boys chapter," Hicks said, apparently referring to the then-president and the Proud Boys right-wing extremist group.
"And all of us that didn't have jobs lined up will be perpetually unemployed," Hicks added. "I'm so mad and upset."
"We all look like domestic terrorists now," she added.
Radford replied: "Oh yes I've been crying for an hour."
"Not being dramatic, but we are all fucked," Hicks said in another message, adding that "Alyssa looks like a genius" for leaving, referring to Alyssa Farah Griffin, who resigned her post as White House communications director a few weeks after Trump lost the 2020 election.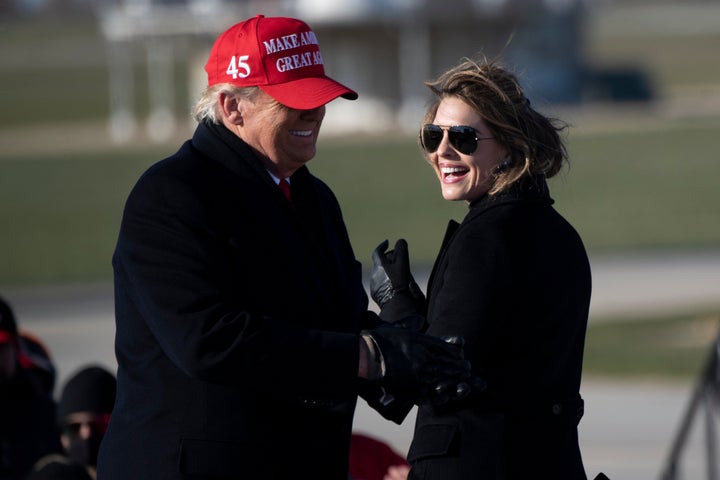 Later in the day, Hicks texted Radford: "Attacking the VP? Wtf is wrong with him?"
During the riot at the Capitol, Trump tweeted that his vice president, Mike Pence, "didn't have the courage" to help him overturn the election. Pence was inside the Capitol to participate in the certification of the Electoral College results; he was forced to flee as Trump supporters, some of whom were calling for him to be hanged, forced their way into the building.
Hicks was interviewed by the Jan. 6 committee in testimony that aired in its final public hearing last month. She said there was no evidence of widespread fraud in the 2020 election, and she was concerned that Trump was damaging his legacy by spreading disinformation about the results.
When she expressed those concerns to Trump, she said, Trump said something along the lines of, "'You know, nobody will care about my legacy if I lose, so that won't matter. The only thing that matters is winning.'"
Following her departure from the Trump administration, Hicks worked on the U.S. Senate campaign of Pennsylvania hedge fund executive David McCormick, who lost to Trump-endorsed candidate Mehmet Oz in the Republican primary.
Popular in the Community