This past Sunday I visited Haiti. Never before had I seen a place with this level of destruction. They have been left with no infrastructure: water, sanitation, electricity, schools or hospitals, and 86 percent of the population is unemployed with one million eight hundred thousand people displaced.
I saw mothers who lost their children, children who lost their parents, women who have lost their entire families forever. I saw a country that lost nearly everything, but somehow, still has its strength. I will forever remember the gaze of men and women who, despite everything, do not feel defeated. Young Haitians that are ready to start rebuilding, full of hope. Children that are still smiling and dream of a better life. That strength is the opportunity of this nation that today awaits all the international aid it can get. A nation that depends on our promises and also on our good memory - because even more tragic than the catastrophe itself would be for Haiti to be forgotten.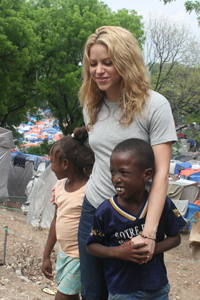 However, having met people from different places, students and professionals, anonymous or famous, who have decided to give their time and efforts to settle in Haiti and help, fills me with optimism. Sean Penn, for example, personally leads one of the largest refugee camps in the country. He has been living in a camp for nearly three months. He sleeps in a small precarious tent no different than those of the 60 thousand displaced people that live there, while he tries to relocate them. He has been able to get a considerable amount of international aid and through his daily work he continues to inspire many people that, like him, have volunteered to help. U.S., Filipino and Indian Marines, as well as many young volunteers, have mobilized to the area to join forces.
Everyday there are more and more people in the world who connect with the needs of those less fortunate. Newer generations absorb these examples and know that in today's world the problems of one group of people are the problems of the whole world. My hope is that through education and communication this message is spread and becomes the legacy we leave our children and our children's children.
I saw firsthand the needs of the Haitian people. In my meetings I understood, even more so, that simply by building schools and hospitals the Haitian society may regain their dignity and move forward.
We have visited possible locations to build the Barefoot Haiti School, modeled after Pies Descalzos schools, which provide education, nutrition and psychological support to displaced children. We met with several NGO's and potential strategic partners to start working in the coming months. We will start building a school in Haiti that hopefully will be completed later this year.
It will soon be hurricane season and I hope that the people of Haiti can find shelter from inclement weather in the coming months, and that we, as an international community, are there to support them.
I wanted to share my experience in Haiti with anyone who wants to know about it, because there is a lot to be done. Individually, we are drops of water, but together we can be a whole ocean. I learned that Sunday from an eleven-year-old boy who has seen little, but who already knows so much.
Please join me in continuing to support the people of Haiti.
Popular in the Community