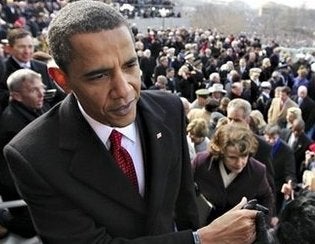 I'm sitting a couple blocks north of the White House and the buzz around here is intense. Still.
The sense that we are in the middle of a massively-historical moment is palpable, and there's a lot of talk about yesterday's inauguration ushering in new era for our country. To be honest, I'm as taken up as anyone with the hopeful possibilities that 2009 and beyond can bring.
I hear "new era," and I immediately start thinking about what those words can mean. My deep, personal hope is that this new era will be defined by the decision of our country to move boldly into the clean energy future we must achieve.
I'm even more hopeful after hearing these ideas inserted so prominently into President Obama's inaugural address.
But every time I have these feelings of hope, I'm reminded of something my dad always told me:
"Son, hope is not a strategy."
And as usual, he's right. The question clearly and powerfully before us is not what we hope for, but rather, what are we going to do to make our hopes actually happen. We need to act. Now. And just as we came together in record numbers to vote new elected officials into office, the young people of this country WILL act.
Our response is bold. It is equal to this historic moment. It is audaciously hopeful, and infused with the energy and vitality of an entire generation of Americans ready to turn good intentions and rhetoric into reality.
37 days after President Obama lost the "-elect," we are going to bring 10,000 young people to Washington to hold our elected officials accountable for rebuilding our economy and reclaiming our future through bold climate and clean energy policy.
And whether this was your first election or your twentieth, we need you to be here with us. Or at the least, we need you to support us.
Power Shift '09 will be one of the "Where Were You Moments" of our generation. You can join us in DC starting February 27th for four days of learning, connection, music, inspiration, and the largest lobby day on climate and clean energy Capitol Hill has ever seen.
There will also be many opportunities to get involved and take action locally and regionally between now and Power Shift, and we think if we work together in all the communities you represent nationwide, we'll be an unstoppable force.
One of the most important actions you can take, though, is one you can take now...
Stop a moment and think about what's happening in this country. Ask yourself how you will be involved in this special time. Ask yourself how you will be part of history. How will you act?
Whatever you do, don't do nothing.
One day, when our children pull us aside and ask us "Mom, dad, where were you when history called?" "What did you do when 'hope' became a choice to take action?" - let's make sure we can reply, "We answered."

Popular in the Community