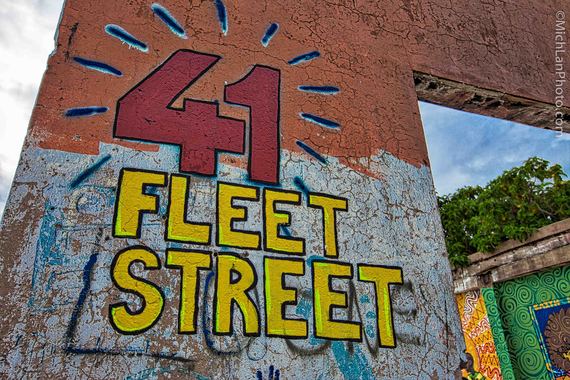 41 Fleet Street -- Hope lives here. Contributed by michlanphoto.com
Throughout my entire life, downtown Kingston has been a place plagued with many socio-economic issues that have led to near abandon of the city's prime waterfront. Home to many of Kingston's undesirable inner-city communities, the downtown area is a prime hub for notorious gangs which have led to the city being labeled as one of the most dangerous places in the world.
The plight of downtown Kingston has a very storied history. Once a thriving metropolitan area the demise of the capital city is in part the result of political corruption driving wedges between communities, which led to a stark increase in criminal activity. This led to corporate abandon for a newer fresher metropolitan dubbed New Kingston, Jamaica's current finance capital.
But thankfully downtown Kingston is currently experiencing a slow renaissance with local government pushing for the revitalization of the area, encouraging businesses to invest and inviting locals to revisit the city. Conglomerates such as the Digicel, Grace Kennedy, The Bank of Nova Scotia and Pan Jamaica Investments are leading a push to restore the area to it's former glory.
Despite the multi-million dollar investments, the area still faces critical social issues. Home to a population often seen as unemployable, there are countless stories of employers refusing applicants based on their address showcasing the misfortunes of a community that has been neglected for decades.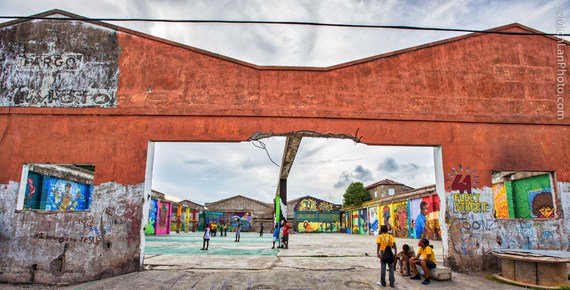 The entrance to the old warehouse at 41 Fleet Street which Paint Jamaica has used for their social intervention project. Contributed by michlanphoto.com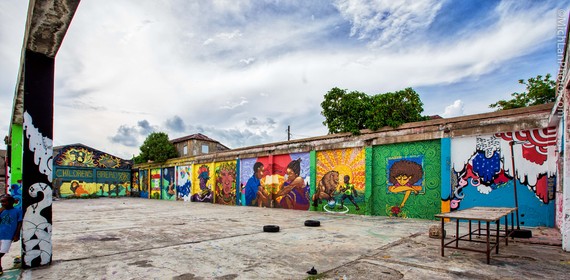 Inside the warehouse which Paint Jamaica's artists have transformed. Contributed by michlanphoto.com
Fortunately there are those who believe hope still lives here. One solution to downtowns many issues is gaining serious traction. A parallel dynamic including art and food two grassroots social initiatives have emerged with a mission to sustainably educate and empower the people of downtown Kingston. Jamaica is without a doubt one of the most creative and fertile countries in the world, but unfortunately the island has failed to truly capitalize on the real potential of either resource. Paint Jamaica and Plant Jamaica are social intervention projects birthed to provide communities with a sense of pride and independence, which have so far eluded them.
Paint Jamaica started in July of 2014 when a French traveler Marianna Farag partnered with a group of Jamaican artists to bring art to Kingston's streets and into the heart of some very unexpected places. The idea at heart is to change and revolutionize the relationship between art, talent and society. However, along with creative expression, Paint Jamaica has a greater social purpose, which is to change the negative stigma around Kingston's inner cities. With this vision in mind, the team embarked on a 10-day project, beautifying the walls of a gigantic abandoned warehouse at 41 Fleet Street in Parade Gardens -- an inner city area that few Jamaicans, myself had ever heard of much less visited -- until now.
With Paint Jamaica being a first of its kind effort on the island in decades, the initiative has created quite a stir on social media generating a significant amount of praise for the cause. The site is becoming an increasingly popular point of interest attracting locals and internationals to view the works of the artists. The project has received support from the iconic music label Tuff Gong and Ziggy Marley and other notables. The impact has been extremely positive on the local community; with their involvement, new skills are being transferred and individuals have been inspired to creatively express themselves. Between projects, Paint Jamaica has organized free yoga, BMX and capoeira sessions at 41 Fleet St for the children in the community. The mere act of changing the visual landscape has helped to reduce crime and littering, setting the tone for a beautiful future for the volatile area.
On the heels of Paint Jamaica, one local volunteer to the project Andrew Bruce conceptualized 'Plant Jamaica', which aims to create sustainable farms in small inner city communities with the aid of farmers, artists and educators. The project kicked off at "LIFE YARD" which is situated right across from 41 Fleet St where the Paint Jamaica project came to life. Behind the zinc fence walls, the Life Yard collective have transformed an empty strip of land into a small oasis of fertility. Life Yard is an oasis in a tough community. The collective serve as mentors to the children in the community, ensuring they play peacefully and do their homework, their work is totally selfless and quite admirable. Bruce's philosophy is simple "Eat what you grow, grow what you eat." Life Yard operates as an affordable restaurant, serving healthy farm to table menu items to members of the community and newly emerging visitors to the area.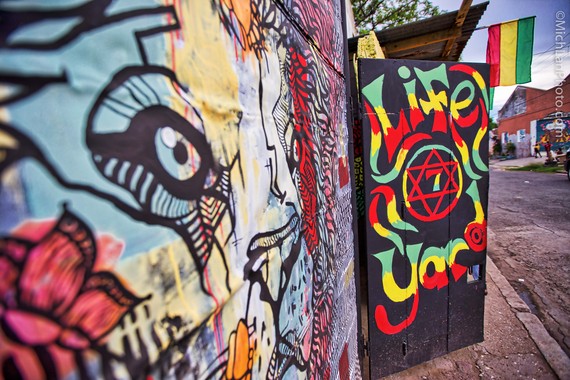 The entrance to 'Life Yard' -- sustainable urban farm and restaurant. Contributed by michlanphoto.com
It is an interesting approach to helping a highly-marginalized community gain independence with a self-sustaining food source. With global food prices rising rapidly, Plant Jamaica is a very important step to ensuring Jamaica's inner cities remain fed in a world where the poor are becoming increasingly vulnerable to a system seemingly designed to outcast them. A Life Yard member explained: "This space provides relief for the community. For example, when I'm hungry, I can just pick off ackee from the tree." The impact has already been tremendous and some transformational change has already happened in just a few months. Plant Jamaica will soon launch campaigns to promote pro-environment volunteerism facilitating demonstrations on farming, waste management, recycling, healthy eating and upcycling/repurposing in alignment with it's mission to teach these communities to be sustainable.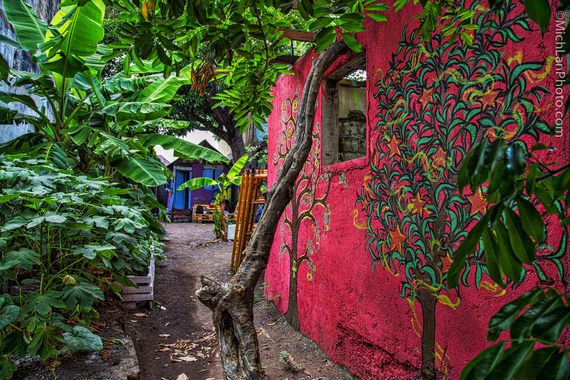 Inside Life Yard. Contributed by michlanphoto.com

Corporate Jamaica is taking some notice, both Paint and Plant Jamaica were financially possible with the support of non-monetary donations from local companies such as Diamond Paints, National Baking, True Rapid Value, Sun Island Company, Wisynco, Super Pet & Garden Center, Tankweld and Kremi. The projects also benefit from ongoing crowdfunding initiatives, welcoming support from anyone who is willing to support a vision to uplift underserved communities. Together, both initiatives have plans to carry the movement across Jamaica, having completed a second project in October.
I especially admire Paint Jamaica's and Plant Jamaica's inclusive attitude to community development. We often approach impoverished communities as dictators telling people what they need suppressing their voices and then failing to address the core ills, which drive their demise. Farag and Bruce have been very careful to listen to the members of the community, integrating their thoughts and efforts into the success of the projects. "We did not want to come in and impose a vision" explains Farag. "This is their community, and after we leave, these walls belong to them, so the community has to drive our creative vision." What has materialized is truly beautiful, softening the image of an area which otherwise would remain unrecognized by the wider community.
Remaining in the Parade Gardens area, Farag and Bruce have combined their respective projects with a focus on education -- a subject that is of critical importance to the progress of the community. They introduced street art and plants in a unique way at a Primary School on Fleet St. Artists from all over Jamaica beautified the school walls and faithful to tradition, the art was inspired by interviews and discussions held with the students in the weeks prior. Their focus remains to inspire people to embellish and transform their visual surroundings through art and nature in unexpected ways and unexpected places.
Paint Jamaica and Plant Jamaica are helping to break a deep-rooted socio-economic divide in Jamaica -- the topic of many dancehall and reggae songs. The impact so far has been felt strongly with members of the more privileged class becoming eager visitors to the project site and the restaurant at 'Life Yard'. They hang out and take pictures of the transformed area, posting on social media with uplifting messages supporting greater inclusion, appealing to others to visit and support the projects.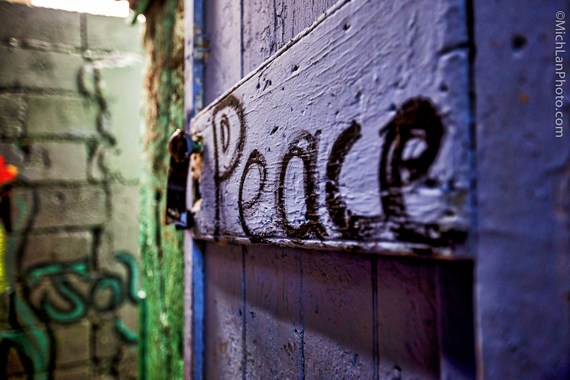 The word 'Peace' painted on a wall at Life Yard speak to Paint Jamaica's and Plant Jamaica's ultimate collective purpose. Contributed by michlanphoto.com
I took the time to visit based on all the excitement and I was motivated to write about what I saw. Fleet Street is now an oasis in a place, which would otherwise seem desolate. Inspiration lies in the simplicity of this beautiful concept. It is hoped that the projects will continue to progress to other at-risk communities -- continuing to break down barriers while transforming lives. These bold grassroots initiatives have presented a real bright spot in the drive to restore Kingston's historic downtown to its former majestic glory. Now we know hope lives here.
Calling all HuffPost superfans!
Sign up for membership to become a founding member and help shape HuffPost's next chapter