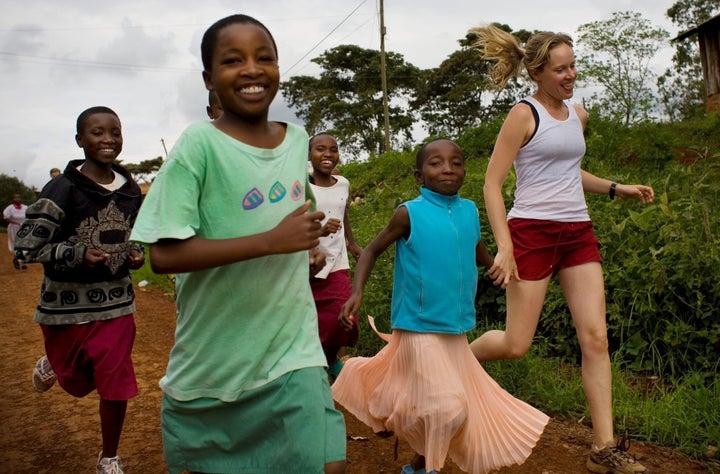 "To be successful, you only have to work half a day. And it doesn't matter if it's the first twelve hours or the second."
I wish I knew who wrote that line - it's one that a successful entrepreneur shared with me many years ago, and it's been a constant in my life ever since.
Sometimes people confide that they believe becoming a New Radical will allow them to kick back a little (New Radicals reinvent their work to find more meaning and help save the world - for more, please see archived articles). Yet every New Radical I know works just as hard as the quote suggests. "Driven, motivated, passionate" is how I'd describe the men and women in this movement. What's changed, of course, is what drives us: the desire to make a difference.
I didn't ask Claire Williams how many hours a day she works, but given what she's up to, I suspect she's a classic New Radical.
Claire, 27, and I met at the Skoll World Forum last month. She's in the MBA program at the Said Business School at Oxford University. She runs a non-profit organization in Kenya, Hope Runs, is organizing a massive fund-raising run - 7 marathons on 7 continents in 7 weeks, writing her first book (more on that in a moment), and has started a small finance company for people of her generation. She also commutes between England, Kenya, Buenos Aires (where her boyfriend lives) and San Francisco (her hometown). Heck, Claire may even work Martha Stewart-like hours (Martha famously sleeps about four hours a night).
How did a young woman end up doing all of this?
Claire earned a couple of degrees in anthropology from Stanford, and then realized that writing was her real passion. So she set out on a world tour, intending to write about her travels. Kenya was her first stop - she was going to climb Mount Kenya, and a friend suggested that she stay at a guest house at the foot of the mountain. The guest house just happened to be located in an orphanage (Tumaini), and, well, Claire never did climb the mountain. Instead, she founded a non-profit organization to help develop programs and raise funds for this home for AIDS orphans. Somebody noticed that she liked to run, and asked her if she'd develop an after-school program for the kids, something athletic. And Hope Runs has grown from there. Today, they have a great media partner in Runner's World magazine, and thousands of committed runners from the around the world. And one of the kids from the orphanage has just begun a training program with a coach at Stanford University.
I asked her where the idea for the 7 Continents run came from.
"When you're working in the non-profit world, you're always looking for people who care about your story. We realized that our niche was running, and we asked ourselves, 'How do you get a bunch of really crazy, motivated runners together to do a big challenge that would raise money for the orphanage?'" She points out that the 7 Continent challenge has been done before - in fact, it's in the Guinness Book of World Records, and each year someone tries to break it. (If you're interested, the mega-marathon happens in January, 2010, and there's information on the Hope Runs site.)
Working in the non-profit world also encouraged Claire to get her MBA. "I realized pretty early on that running a non-profit is really hard work," she told me. "I mean, I went to school for anthropology, and I didn't have a clue." A volunteer who was visiting from the U.S. suggested that she go to business school. At first she thought it was a crazy idea, given that she didn't have any of what she assumed would be required - like aptitude in math. But after doing careful research - "If you're a crazy New Radical, you can't just go to any run of the mill business school!" The Said Business School quickly became her top choice, because it's international, one year, and houses the Skoll Centre for Social Entrepreneurship. Claire applied, was accepted, and then put her name in the hat for a Skoll scholarship, one of five given out each year. "The scholarship is fantastic - comprehensive, in that it covers your tuition and living expenses. And the program is incredibly supportive, both while you're there studying, and afterward." (Claire is part of an interesting new trend in MBAs, as BusinessWeek recently reported.)

Now, what about that book? She's writing about what she calls "choysters". That is, 20- and 30-somethings raised by their boomer parents to believe that the world is their oyster. But instead of feeling empowered by that idea, they feel overwhelmed by the number of choices they have, and get stuck as a result. Her book will be published by Seal Press next January, likely the first of many to come for this New Radical.
Although she describes herself as a choyster, clearly Claire was able to make decisions and move forward with her life. I ask her what she would tell other choysters (and New Radicals-in-the-making) who really, really want to get unstuck. "You know," she said thoughtfully, "It's even more of a problem right now. With the current economy, people are turning inward, and thinking about themselves. I think the one thing people can do is go on one of these transformational trips, or volunteer to do something. It doesn't have to be Africa, it can be something in your neighborhood. Anything that will take you outside yourself and learn how other people are living. It will change the way you see yourself and the world."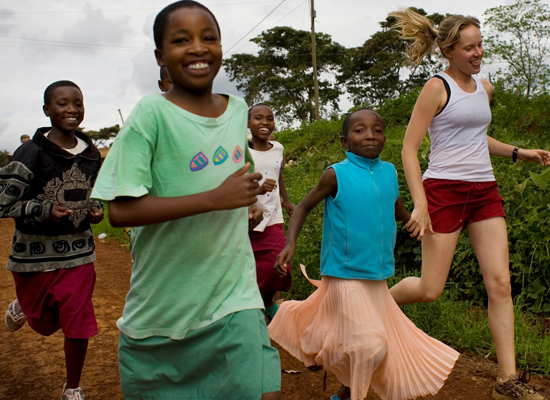 Are you a choyster (or an emerging New Radical)? Do you know someone who is? What have you done to get unstuck? Please share your thoughts with us by commenting below. Or, as always, I invite you to email me directly at julia@wearethenewradicals.com.
Julia Moulden is currently on tour talking about the New Radicals. She also writes speeches for the world's most visionary leaders. For more, please see wearethenewradicals.com and juliamoulden.com.