In the world of computer software a Virtual Easter Egg is a hidden message within the text or program that once clicked on, opens up to reveal a joke or feature. It is the modern day version of the Russian cluster egg and takes its name from the first Faberge Egg that opened up to reveal a golden egg. Recently Lady Gaga used the idea when she gave birth to herself out of a transparent Egg at the Grammy Awards. For a long time, the artist Hope Sandrow has been fascinated by this conundrum and the multi-step process of discovery, of worlds and landscapes and ideas hidden inside containers that are both virtual and real.
And indeed, entering Sandrow's world is akin to stepping inside the diorama of a sugar-coated Easter Egg or slipping into the scene of a pastoral painting where art and vision merge. (Go on a Virtual Easter Egg hunt by clicking on the word And and searching the images.)
Hope Sandrow's Open Air Studio sits up a dirt road, tucked into the side of a hill in Shinnecock, Long Island. But wander through the turn-of-a century carriage house and suddenly, her sunny living space opens up into a continuous art installation, a panorama that is both an artscape, in which to view art, and a studio space in which her art is created.
Hope Sandrow, an artist who has worked with complex photographic images, conceptual and installation art, has long been preoccupied with evolution and ecosystems. In her Open Air Studio she now raises Panduan fowl, a rare breed of exotic roosters and hens. She began this project a number of years ago when Shinnecock -- a singular rooster with a Shakespearean personality -- followed her home while she was out taking photographs. The tale of Sandrow's interaction and involvement with the rooster she since named Shinnecock is now a well-documented story on her website, and he and his flock are viewable on live feed from her webcast. Needless to say, Shinnecock was the inspiration that first pursued Sandrow. In turn, she embraced and adopted Shinnecock as part of her life and work.
Out the living room window and even sometimes in the home, chickens, landscape and the art commingle. Roosters and hens wander freely through this paradise of form following after function. In an effort to protect her flock, Sandrow planted a wide variety of feather-like foliage, ostrich ferns, corkscrew grass, tall flowering balls of purple allium and bristling shrubs of juniper and cyprus that camouflage the birds' exotic plumage thereby protecting them from the hawks circling above. "No matter where I set the camera," Sandrow said. "I could create art that examines the concept of the growth of form through function."
A creek runs through the garden, and two odd structures sit on slight rises at various ends of the yard. These are the coops constructed from drawings of a Sol LeWitt parallelogram, which Sandrow transformed into a 3-dimensional habitat. Sol LeWitt had a long history of engagement and exchange with other artists, and Sandrow has honored the spirit of LeWitt in her use of materials, for they are full of light and she even calls them her Coop LeWitts. Sandrow says her flock lives in them happily. "My approach to conceptual art, and I believe this was Sol LeWitt's approach, is that this art is not removed from nature, but connected to it."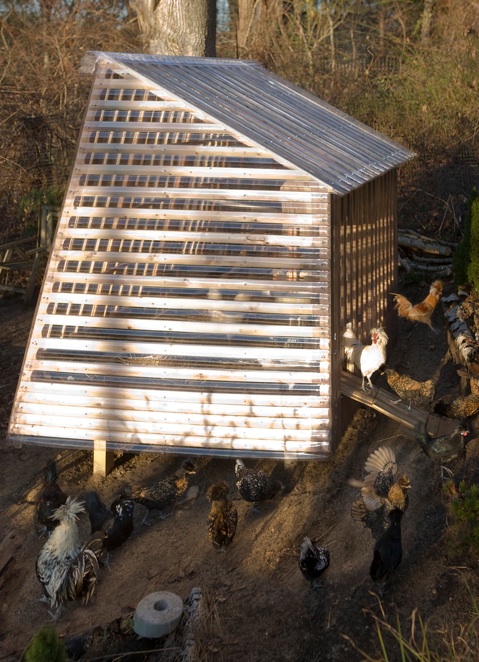 The studio can stretch away from the flock and their habitat. Sandrow has done a number of performance pieces that take the Open Air Studio on the road. In 2008 she created a tableau on the side of Montauk Highway, which borders her property. In En Plein Air, Sandrow, clad in a nude body stocking, sat with Tom Edmonds, her husband Ulf Skogsbergh, and Margaret Kelly, in a live re-enactment of Edouard Manet's famous painting of a blissful pastoral picnic, Le Dejeuner sur l'herbe. Manet's image depicting the scene of a nude woman sitting and enjoying a lunch beside two fully dressed men had caused controversy back in 1863 when it was first exhibited. Sandrow's piece was a provocative homage to pastoral art as well as to contemporary installation art and to the artist's ability to inhabit both the inside and outside of the canvas. The work fully engaged its audience. "Commuters loved it," she said. "They waved, honked their horns and even stopped to talk. We were the highlight of their morning commute."
More recently Ms. Sandrow has been producing elegant, poetic multimedia pieces that incorporate shells, feathers, even, on one occasion, a gallon container of eggshell white enamel paint. In 2010 she created Two Eggs Observational Findings from the series titled The Sky is Falling. In the description of material used to produce the work, Sandrow gives credit to the two eggs created by the Shinnecock Family Hens, which she has placed under a glass bell jar.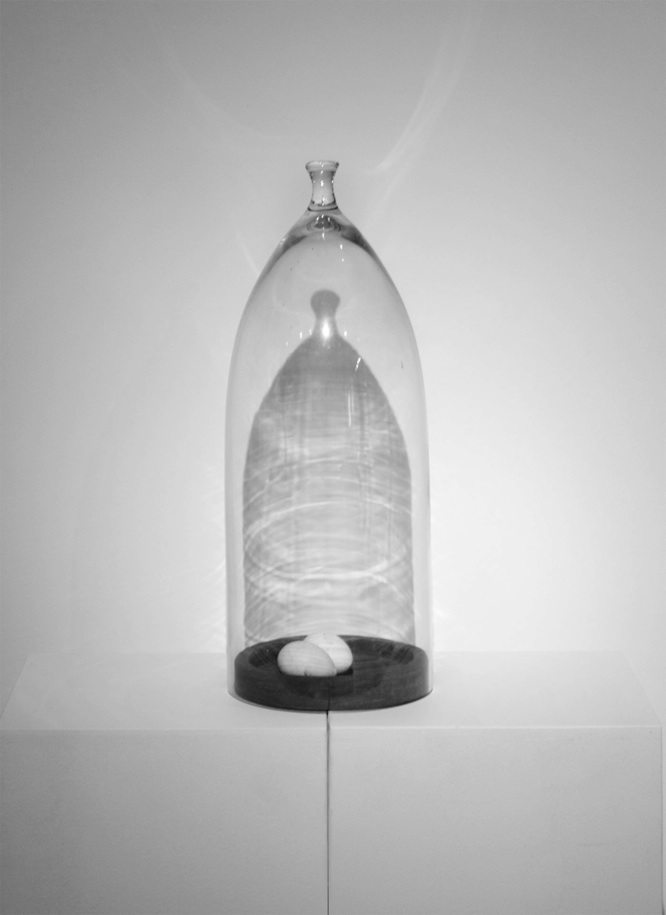 Hope Sandrow can be seen as the glass bell jar, a protective yet transparent womb. An egg, of course, is also a womb, an incubator that holds a secret, a message, a life that will hatch and transform. Hope Sandrow, in serving as a window on her own work, allows visibility into this magical world, which is constantly revealing itself both to her and to us. In examining and participating in this fragile ecosystem, Sandrow's art acts as a permeable membrane through which we witness and access her creative process, which is not separate, but in tandem with nature.
Hope Sandrow has two upcoming events: a live, streamed performance from the Open Air Studio conceived by Elke Luyten and a work titled Happening Live that will begin in summer of 2011.
Related
Popular in the Community