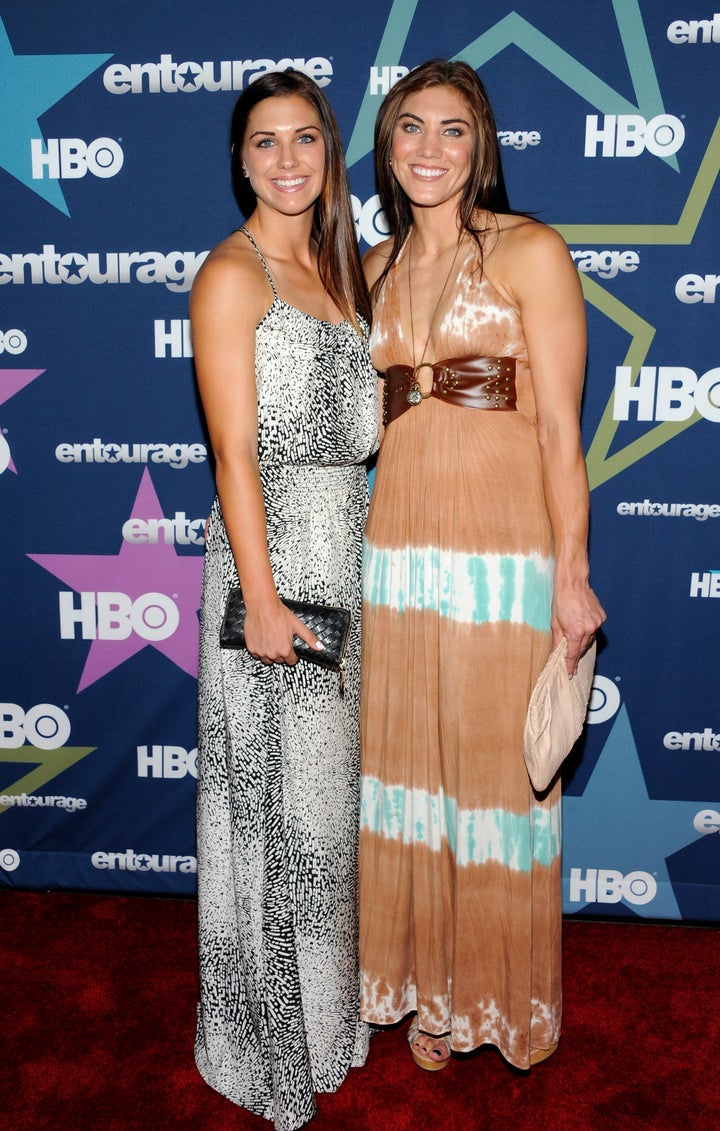 As if they weren't tired enough from running in the World Cup, US soccer stars Hope Solo, Alex Morgan and Abby Wambach have signed up for just a little more in the wake of their captivating run to the finals.
The trio have signed up to co-captain a charitable campaign launched by Bank of America called "Let's Run Together," at the Chicago Marathon this coming October.
Thirteen other people will run a relay in two mile intervals alongside the soccer stars, and BofA will donate 5k to the charity of choice for each participant.
Solo has already chosen the Seattle Human Society as her charity, while Wambach will donate to juvenile diabetes research.
The bank has raised $70 million since 2002.
The Huffington Post had the chance to talk with with the three soccer stars this past week, discussing their careers and the upcoming charitable event. Read some of the selections below:
What makes this event so special for you?
Hope Solo: We are about a month out from Germany, and it was so amazing because we captured the nation and inspired the nation. We [did so] because of our teamwork and passion for the game. The BofA Chicago marathon is truly celebrating teamwork and partnership and making such a positive impact on the community and worldwide. I've never ran in a marathon so I think it's a great way to start by captaining a relay team.
Alex Morgan: It's my first marathon, and I haven't seen my teammates, in a while so I definitely wanted to reconnect with them. This is a celebration of these partnerships and support system that we really did show during the World Cup.
What is next for your career on the pitch?
Alex Morgan: Moving forward with Women's Professional Soccer (WPS), we have our championship game this Saturday at 4pm in Rochester. After that, preparation begins for the Olympics. We'll be traveling to Kansas City and Portland with the Women's National Team. [Then], a small break and gearing back up for the qualifiers.
What made the partnership with Bank of America the right opportunity for you?
Abby Wambach: We brought women's soccer back to life with a buzz and excitement over the game. Something I was thinking about when I got home was thinking about "things that were bigger than me."
It's something that I can relate to. I think everybody should want to give back.
I've watched a few marathons and it's something really special. People of all different sizes, shapes, colors, all show up, and it's really an event that brings people together. This campaign that we're doing fits. It's just right, and it will hopefully keep the [women's soccer] momentum going. We had so much support over in Germany, and we felt it. It was almost palpable how real the support was. We felt it when we got back to the United States, and I can't say it enough; I am so proud to be an American.
How have you continued building on the excitement around women's soccer that built up during the World Cup?
Abby Wambach: Well I think that this is the perfect example of trying to continue the growth. We couldn't have achieved any of the success we did in Germany unless we did it with teamwork. That one specific play had five people touch the ball, and it had to be perfect. I think that this campaign is the perfect scenario. We'll all cross the finish line at the same time.
What do you think you could run mile wise, at least comfortably?

Abby Wambach: Well comfortably, I don't think that marathons are in that category. I think that marathons are in an uncomfortable category. I could probably do one. I've got an Achilles issue that would probably be a stupid decision, but that's why this is perfect.
Alex Morgan: Comfortably, probably, maybe 10 miles.
Alex Morgan: I don't run straight at a constant pace; soccer is always a change of pace and movement. It's always been an interest of mine to run a marathon. I definitely look into maybe running a full Chicago marathon.
Note: $70 million is the correct figure, not the $16 million originally stated.
Email me at jordan.schultz@huffingtonpost.com or ask me questions about anything soccer-related at @206Child for my upcoming mailbag.
Plus, check out my brand new HuffPost sports blog, The Schultz Report, for a fresh and daily outlook on all things sports.
REAL LIFE. REAL NEWS. REAL VOICES.
Help us tell more of the stories that matter from voices that too often remain unheard.