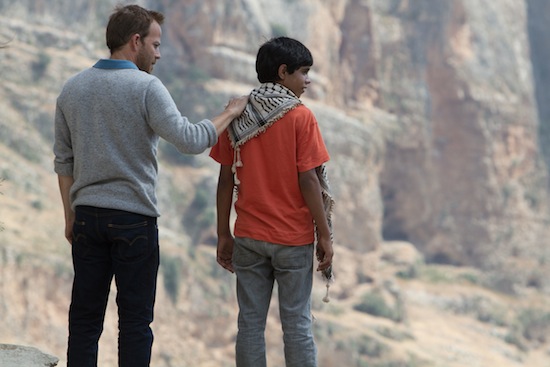 I usually look forward to receiving my weekly newsletter from The Economist, but this past Thursday I was shocked. The intro from Editor-in-Chief John Micklethwait read much like a warmongering put-down of the peaceful resolution to the Syrian crisis:
As the world's big powers settle down to the details of the deal over Syria's chemical weapons, we step back to look at the larger implications of this episode -- and we don't like them. The chances of the deal working seem slim. America has been shown up as a poor ally to its friends in the Syrian opposition, while Vladimir Putin has proved a loyal friend to Bashir Assad. And as an opponent, America has been weakened by its unwillingness to use force to back up its diplomacy. It has been a bad week for the West.
Then on Friday my favorite film from the 2012 Toronto International Film Festival, Zaytoun by Eran Riklis, starring Stephen Dorff and newcomer Abdallah El Akal, opened in NYC, to disappointingly half-full audiences. The film was singled out in the established press for being too "melodramatic" and for Riklis having been guilty of making a "wish-fulfillment" story about peace.
All these attacks on peace, and those rare individuals -- be they Presidents or filmmakers -- who believe in the power of the stuff, got me thinking. Are we really living in a society that pretends to be enlightened, spends money on yoga, organic foods and self-help, yet is only happy and engaged when negativity, gossip and war spread? Or have we really become that jaded, that a film extending a positive message seems uncool to our minds, because we're unable to view it with our hearts? I hope not. That doesn't sound like the kind of society I want to be a functioning member of...
Zaytoun is a film that needs to be watched, savored and watched again, as I often do with films that touch me profoundly. The first time, I let the film envelop me in its premise, then at the second viewing, I allow it to inspire me with its promise.
Of course, audiences that were there this Friday, for the film's NY opening at Lincoln Plaza and Village East, followed by precious Q & A sessions with Eran Riklis himself, learned the beauty of Zaytoun. And those who are still stuck in that no-man's land of following others, unable to make up their own minds and taste, have missed out on a masterpiece. A masterpiece of peace, hope and endless possibilities.
Here's to hoping that Los Angeles audiences -- Zaytoun opens there on September 27 -- will be more pioneering.
Image courtesy of Far Films
Calling all HuffPost superfans!
Sign up for membership to become a founding member and help shape HuffPost's next chapter