Who among us hasn't thought of a pivotal moment in life for which he wished he had been granted a do-over? Who hasn't looked back in anger (or regret) and wished for a second chance that might have led to better results?
There are people for whom failure is never an option. But for realists, it's a part of life. The only way to learn from one's mistakes is to "pick yourself, dust yourself off, and start all over again."
Oddly enough, many a musical contains a song whose fame and/or popularity may not have lasted much longer than the original Broadway production. Take, for example, Jerry Herman's poignant "Each Tomorrow Morning," which was sung by Angela Lansbury shortly after her entrance onstage in 1969's ill-fated Dear World.
Based on a play by Jean Giradoux entitled The Madwoman of Chaillot, Dear World was out of step with its time. However, in today's grim world of inequality, the lyrics to "Each Tomorrow Morning" seem more relevant than ever:
"If the world falls flat on its face today,
You can erase today tomorrow morning.
You'll discover all of your past mistakes
Gone when the world awakes tomorrow morning.
You will see your life in a different light,
Crystal and crisp and clear and quite worth beginning over.
There's no long lost star that you cannot reach,
For your perfect day starts each tomorrow morning,
You're brave, tomorrow morning,
You're strong, tomorrow morning
You can begin again!"
A similar sentiment was expressed in 1965's Skyscraper (the first time Julie Harris appeared in a musical). With music by Jimmy van Heusen and lyrics by Sammy Cahn, "Everybody Has A Right to be Wrong" enjoyed brief fame as a pop song.
Each year a fresh crop of newcomers arrives in San Francisco, eager to start a new phase of their lives. Some arrive in response to a job offer; others in a last-ditch attempt to escape from their past. Some see the Golden Gate Bridge as a symbol of their future; others as a means to their end. In his blog post entitled The Most Important Question You Can Ask Yourself Today, Mark Manson asks readers to consider how much pain they are willing to endure in order to make their dreams come true.
The creative teams working on Dear World and Skyscraper suffered through numerous revisions en route to their Broadway openings. However, for Stephen Sondheim and John Weidman, the Great White Way has continued to elude their most recent artistic effort. Sondheim originally became intrigued by the legend of the Mizner Brothers in 1952, but was stymied by the fact that David Merrick had already purchased the rights to their story. The journey to completion for the project once known as Gold! has taken them down a long and rocky road.
In October 1999, the New York Theatre Workshop presented Wise Guys in a workshop production at its intimate 200-seat theatre. Starring Nathan Lane as Addison Mizner and Victor Garber as Wilson Mizner, the show was directed by Sam Mendes. Among the supporting cast was Michael C. Hall, whom Mendes chose to replace Alan Cummings as the Emcee in the 1998 revival of Cabaret. Hall performed the role in San Francisco during the show's national tour before becoming famous in HBO's Six Feet Under and subsequently starring in Dexter.
Alas, things did not turn out quite so well for Wise Guys. Despite the pedigree of its creative team, the Sondheim-Weidman musical obviously needed a lot more work. Plans to bring the show to Broadway in April of 2000 were scrapped.
In June of 2003, the Mizner brothers returned to the stage at the Goodman Theatre in Chicago. With a new title (Bounce) and Harold Prince directing, the show starred Richard Kind as Addison, Howard McGillin as Wilson, Jane Powell as their mother, and Gavin Creel as Hollis Bessemer. That fall, the production traveled to the Kennedy Center but, once again, failed to make it to Broadway.
Five years later (with even more revisions), The Public Theater presented Road Show in a production directed by John Doyle that starred Alexander Gemignani as Addison, Michael Cerveris as Wilson, and Claybourne Elder as Hollis.
In past interviews Sondheim has described the Mizner brothers as "two divergent aspects of American energy: the builder and the squanderer, the visionary and the promoter, the conformist and the maverick, the idealistic planner and the restless cynic, the one who uses things and the one who uses them up..." But in truth, Road Show revolves around the affairs of three vastly different men:
Wilson (Rudy Guerrero) is the younger of the two Mizner brothers, an impetuous con man who lives for the game but frequently leaves a path of ruin in his wake. A man with an extreme gift of gab, he knows how to seduce and fleece a mark.
Addison (Bill Fahrner) is Wilson's older brother. A cautious soul who doesn't always like to rush into things, he is constantly having the rug pulled out from under him by his younger brother. After years of searching for a path to his future, Addison finally comes to realize that his talent as an architect can help him realize his dreams. As he develops more self-esteem, he also becomes more confident as a gay man.
Hollis Bessemer (Michael Doppe) comes from an extremely wealthy family (his great grandfather was Henry Bessemer). A handsome young gay man whose head is filled with liberal dreams, young Hollis has his heart set on becoming an arts patron. Naive and unfulfilled, he's an easy mark for Addison (Bessemer's entrance line is "I'm the one you fucked").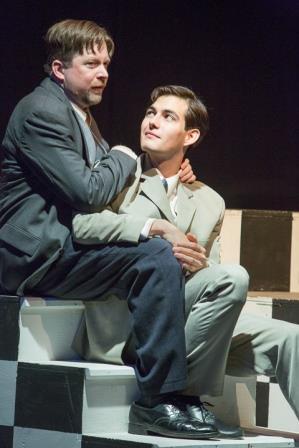 Bill Fahrner as Addison Mizner and Michael Doppe as
Hollis Bessemer in Road Show. (Photo by: David Wilson)
Road Show follows the exploits of the Wizner brothers (who were born in Benicia, California) as they head to Skagway in pursuit of Alaskan gold, try to climb the social ladder in New York and Hollywood, travel around the Pacific, and transform portions of South Florida (from Palm Beach to Coral Gables and Boca Raton) during an orgy of real estate speculation. However, as I sat in the Eureka Theatre watching the opening night of the show's Bay area premiere (presented by Theatre Rhinoceros and directed by John Fisher), I couldn't help feeling the presence of numerous musical ghosts.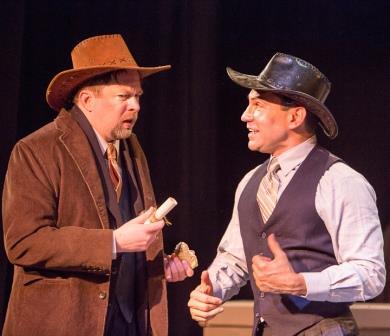 Bill Fahrner as Addison Mizner and Rudy Guerrero as
Wilson Mizner in Road Show (Photo by: David Wilson)
Let me explain. Over the course of their careers, many prolific composers develop what is commonly known as a "musical trunk." This is basically a repository of musical ideas that never found a proper home or had to be cut from a work prior to its premiere. A handy collection of "ballads, songs, and snatches" that can quickly be put to use, there are often a handful of overtures, arias, discarded musical bridges, and favorite forms of accompaniment just lying around, waiting to be called back to active duty.
Rossini was notorious for cannibalizing some of his older operatic scores and sticking previously-written music into a new project.
In Act II, Scene V of 1787's Don Giovanni, Mozart coyly quotes "Non piu andrai" from the previous year's opera, The Marriage of Figaro.
After the failure of 1966's Fade-Out, Fade-In, the creative team of Betty Comden, Adolph Green, and Jule Styne reworked Carol Burnett's comedy number ("Call Me Savage") into 1967's Hallelujah, Baby! (where it became the "Witches' Brew").
The opening number in Road Show ("Waste") is a rewritten version of "Bounce." Papa Mizner's number ("It's In Your Hands Now") begins with music that is easily identifiable from Sondheim's Assassins (1991). Throughout the score for Road Show, Sondheim fans will have no trouble picking out musical bits and phrases from Company, Sweeney Todd: The Demon Barber of Fleet Street, Into the Woods, and Sunday in the Park with George.
What defines Road Show much more than the Wizners' peripatetic road to self-awareness is the dysfunctional relationship between the two brothers. It's not just one of those "can't live with him, can't live without him" stories. Weidman's book depicts a relationship in which a self-centered younger brother constantly finds ways to sabotage any chance for his older brother to enjoy life. When Addison finds a loving partner in the naive young Hollis, it doesn't take long for the narcissistic Wilson to show up and find a way to ruin his brother's bliss.
With Dave Dobrusky accompanying on piano, the Theatre Rhinoceros ensemble worked hard to put the show over to the audience. Some directorial tricks were particularly impish (I especially liked the changing female "figureheads" for the sailing vessels on which Addison sailed the Pacific Ocean). The supporting cast (Kim Larson, Justin Lucas, Kate McCarthy, Ae' Jay Mitchell, Kathryn Wood, and Sarah Young) took on numerous roles with gusto.
Many of Sondheim's lyrics ("Brotherly Love," "The Game," "Addison's Trip," "Talent") shine with his wordcraft. However, the only time his score really takes wing is in the love duet for Addison and Hollis ("The Best Thing That Has Ever Happened"). Not only does this song bring out the lyrical sweetness in the two characters, it may be the only love song written by Sondheim for two gay men. Bill Fahrner and Michael Doppe showed strong appeal as an odd gay couple; Rudy Guerrero worked against heavy odds to be the kind of villain who did not totally alienate the audience.
As The Invisible Woman opens, it's obvious that something is bothering Nelly Ternan (Felicity Jones), an attractive Victorian woman who is stomping across a beach trying to get something out of her system. Whether her problem is rage, grief, or a desperate need for independence is hard to determine. As viewers will eventually discover, Nelly really wants to put a troubling part of her past behind her.
When she was very young, Nelly had an affair with Charles Dickens (Ralph Fiennes), the most famous man in all of England. Nelly's mother (Kristin Scott Thomas) was the head of a theatrical family who justifiably worried about her daughters' futures. Her two younger children -- Maria (Perdita Weeks) and Fanny (Amanda Hale) -- may have actually had more talent (if less intellect) than Nelly but their futures could not be put at risk.
In Victorian England, the last thing Mrs. Ternan could afford was for her oldest daughter to be caught up in any kind of scandal. Thus, it was of critical importance that any relationship between Nelly and Dickens remain invisible to society at large.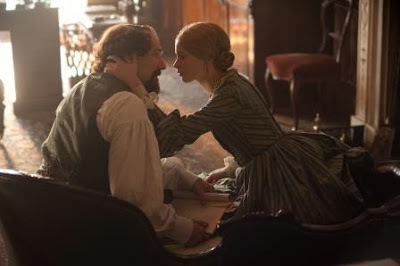 Charles Dickens (Ralph Fiennes) and Nelly Ternan (Felicity Jones)
share an intimate moment in The Invisible Woman
The fact that Dickens was married and had already fathered 10 children with his wife, Catherine (Joanna Scanlan) was not a major obstacle to the famous author, who had a ravenous appetite for life and loved being the center of attention. Whether or not his wife shared those passions really didn't matter. As screenwriter Abi Morgan notes:
"In Jo's performance, you feel Catherine's pain but you can see this is a woman who really loved Dickens, admired him, and is caught by his plight. As much as she feels pain for herself, she feels pain for his situation. That goes beyond anything I have written."
When Fiennes initially set about directing The Invisible Woman he was reluctant to cast himself as Dickens. Inevitably, however, he realized that wearing both hats would probably lead to greater filmmaking efficiency and depth of characterization. As Abi Morgan explains:
"It's very exciting when you work with an actor-director because he could literally get up, be very physical and move around the room to illustrate his point. The tenderness, the sentimentality, the viciousness, and the brutality you can see in his work, they're embodied in the man. He can be co-writer, he can be director, he can be actor, and he can be production designer. He doesn't jump through those roles, he flows, and it flows through him. It's an incredible privilege to work with someone who is not only a great director but one of the country's leading actors and to see his process. That really informed the writing process. Most directors aren't very good at saying the lines. He was very good at visualizing and understanding how a scene would play. He would be brilliant at stripping back material as he would know how little an actor actually needs."
Oddly enough, if one feels a great sense of mystery and frustration while watching The Invisible Woman, it's because the film is so much less than the sum of its parts. If one dissects this film from a technical standpoint, it's impossible to deny that each shot is beautifully set up; lighting, art design, costumes and cinematography are nothing less than magnificent.
Indeed, if one has a fetish for lace collars and heavy furniture, the appeal of The Invisible Woman is undeniable. However, as far as dramatic resolution is concerned, this film (which is based on Claire Tomalin's biography) struck me as a bit of a yawn.
Some of this is due to the constant use of flashbacks (which not only dilutes the narrative's momentum but makes one lose sympathy for its protagonists). By the time Nelly confesses her affair with Dickens to Reverend Benham (John Kavanagh) -- and returns to her husband's school to inform him that she's ready to get on with her life -- it's almost difficult for a modern audience to care.
While much has been written about the ability of Felicity Jones to capture Nelly's physical beauty and inner turmoil in sequences that may be 15 years apart, the submissiveness of the character and her basic prudishness (in accordance with Victorian standards of the period) made her less interesting to me than the tragedy of Catherine Dickens or the glib narcissism of her famous husband. Here's the trailer:
REAL LIFE. REAL NEWS. REAL VOICES.
Help us tell more of the stories that matter from voices that too often remain unheard.