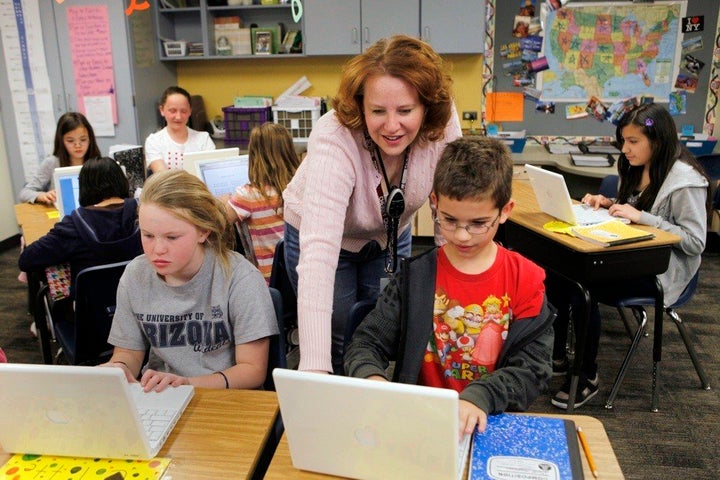 With the release of the New Media Consortium's 2011 Horizon Report for K-12 there is no doubt that the future of education is mobile. But, despite what tech-evangelists would have us believe it will not be enough to put mobile devices into children's hands and expect the education system to improve or their learning to suddenly take off. The revolution in technology, and subsequently educational technology, is an opportunity, but not a guarantee.
The most recent Horizon Report repeats what it has stated for a few years now: "Digital media literacy continues its rise in importance as a key skill in every discipline and profession." And, it is for this reason developing children's skills across multiple literacies like visual, digital, media and networking is important and using technology to do it is a no-brainer. Similarly, for mobile technology which has been placed on the "near term horizon" rating of less than one year to adoption by the global research and advisory team at the New Media Consortium the immediacy and importance is clearly stated:
Mobiles are a category that defies long-term definitions. With more than 1.2 billion new mobile devices produced each year, the pace of innovation in the mobile markets is unprecedented. Mobiles, especially smartphones and tablets, enable ubiquitous access to information, social networks, tools for learning and productivity, and hundreds of thousands of custom applications. Mobiles were listed in previous years because they could capture multimedia, access the Internet, or geolocate. Now they are effectively specialized computers for the palm of your hand, with a huge and growing collection of software tools that make use of their accelerometers, compasses, cameras, microphones, GPS, and other sensors.
It sounds impressive because it is impressive. It is also overwhelming for many teachers and administrators across the education system. Of course, there are early adopters and some school districts that are investing heavily into mobile devices, but that doesn't change the fact we need to invest much more time on the how this will be done and what it will mean.
How will we support our education system to evolve and adapt to this new technology? What do we want for our children in terms of their learning and development? And, most importantly, are we willing to allow fundamental changes in the systems that govern our children's learning and development through this technological revolution?
We don't have to evolve, and if we don't it will be a great loss. If we choose to simply go one-to-one with these devices and load them eBooks and see them as somehow being devices that save us money and paper and better help us to test and track and analyze data then we will have changed nothing. The Horizon Report demonstrates how these tools can be used creatively: using tablets to sketch self portraits, using iPhones GPS to track tagged birds flight paths and there are tools for story telling and animation that can be used at kindergarten level like the Toontastic app.
Mobile devices will not improve our children's learning on their own. We need to foster the teaching profession, to learn (at a reasonable pace) how to use and adapt these devices to best support children's learning. We need teacher's and facilitators not to feel overwhelmed, but inspired and this means not claiming the technology will save us, but understanding and respecting the context into which this change must occur and the difficulties and challenges of that change.
We need to change the way classrooms look and rethink how students are organized and what the role of a teacher actually is when a mobile device connects you to a world of unimaginable knowledge and information.
This means we need to invest not just in the technology, but invest in the change process itself. Technology won't improve our children's education, but we will and we need to think laterally and outside the box in the way the technology allows us to. Change is hard. Change is expensive. Change in systems is never as fast as outside them. Those interested in using technology to facilitate these changes in education ignore this at their peril. The imperative is right there in the latest Horizon Report and all policy makers, administrators and teachers should read through its pages and start thinking about this change. At the same time, they should consider reading a recent blog post from Will Richardson: Have schools reached their limits?
There is no limit, when you can change and adapt and have the investment to support you.
Related
Popular in the Community