Keepers were convinced that Seyia, the Cincinnati Zoo & Botanical Garden's seven-year-old black rhino, was pregnant well before tests confirmed the good news. There was no obvious baby bump, but it didn't take a reproductive scientist to notice that her behavior and attitude toward her mate, Faru, had changed (our reproductive scientists made the same observation and prediction).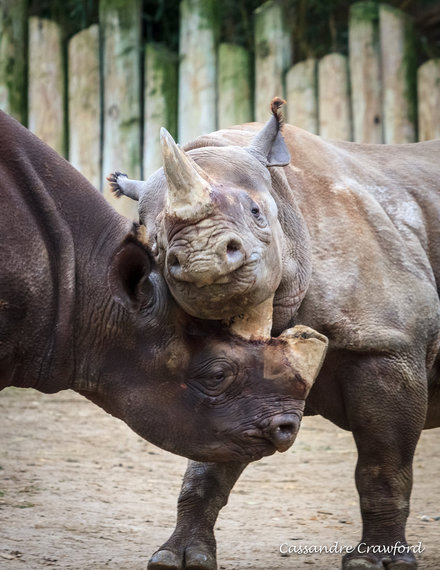 "Fecal hormone analysis was conducted by CREW, but fecal hormone results can be messy and are not always reliable until well into the pregnancy (3-5 months) so it was well after the behavioral change that we could confirm elevated progesterone associated with pregnancy," said Dr. Terri Roth, Director of the Zoo's Center for Conservation and Research of Endangered Wildlife (CREW).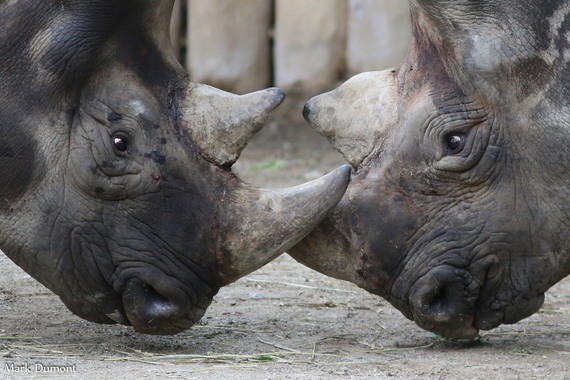 Daily keeper notes reported Seyia's intolerance of Faru and his timidity around her. "Since females typically dominate, they have the upper hand and some are more tolerant of males when pregnant than others. She clearly is not. She became very agitated with him pacing back and forth in the barn and refusing to go out on exhibit if he was already out there. Since they had been together compatibly prior to conception, one had to assume the change was due to a pregnancy and not a sudden dislike for one another," said Roth.
Faru, a proven breeder, and Seyia, a first-time mom, received a breeding recommendation from the Association of Zoos and Aquarium's (AZA) Species Survival Plan (SSP), the organization responsible for managing this population in North American Zoos. Seyia's about five months through her 15-month gestation period and is expected to give birth in July. This will be the 17th black rhino calf born at the Cincinnati Zoo. CREW will be monitoring hormone levels and performing ultrasounds once a month.
The black rhinoceros is critically endangered with more than 115 individuals being managed by the Species Survival Plan (SSP). All five rhino species - white, black, Indian (aka greater one-horned), Sumatran, and Javan - are in grave danger in the wild due to the rhino poaching crisis that started in 2008 and is now responsible for well over 1000 rhino deaths each year.
More about Cincinnati Zoo's Involvement with Rhino Conservation:
Sumatran Rhino - After years of research, CREW scientists at the Cincinnati Zoo, led by Dr. Roth, unraveled the mysteries of Sumatran rhino reproduction and, in 2001, produced Andalas, the first calf bred and born in captivity in 112 years. Andalas and his brother Harapan, also born in Cincinnati, are now at the Sumatran Rhino Sanctuary in Indonesia. CREW's ongoing partnership with SRS has produced two additional calves, a significant number for a population that numbers less than 100 individuals.
Black Rhino - CREW scientists are conducting several studies with black rhinos focusing on rhino health issues, mating behavior and hormones.
Indian Rhino - CREW's Dr. Monica Stoops' has achieved success, producing five calves, breeding Indian rhinos using artificial insemination and cryogenically frozen sperm and is sharing her knowledge and techniques with other Zoos in North America.
Using Dogs to Combat Poaching and Trafficking - Through the Zoo's Internal Conservation Grants Fund, we are currently supporting Working Dogs for Conservation (WDC) in the creation of dog-handler teams to combat rhino trafficking specifically in Zambia and Vietnam.
About the Cincinnati Zoo & Botanical Garden
Cincinnati Zoo & Botanical Garden is home to more than 500 animal and 3000 plant species and is internationally known for its success in the protection and propagation of endangered animals and plants. The Zoo's research facility, CREW, is a global leader in wildlife conservation and is dedicated to "Saving Species with Science". Zoo and CREW staff lead and support conservation projects all over the world. Learn more about ways you can support the Zoo's mission.
Calling all HuffPost superfans!
Sign up for membership to become a founding member and help shape HuffPost's next chapter