The medical press trumpeted again this month the shopworn pharmaceutical marketing message that menopausal hormones may be good for women, after all.
This is at least the eighth time researchers have tried to resuscitate the lucrative therapy, which sank in 2002 when a government study found it caused the cancer and heart disease it was marketed to prevent. Wyeth, now Pfizer, had to close a plant and phase out 1,200 employees when the highly advertised hormone therapy nosedived.
Recently, Dr. Joseph Ragaz, clinical professor at the University of British Columbia, presented at the yearly San Antonio Breast Cancer Symposium. In a re-analysis of the 2002 study, called the Women's Health Initiative (WHI), Ragaz found estrogen alone in some groups of women who have had a hysterectomy protected against breast cancer. The evidence that estrogen can protect against breast cancer has "been largely ignored" Ragaz says.
But anyone who follows medical literature knows that estrogen hasn't been ignored at all.
Just like estrogen-plus progestin also increased breast cancer that when women quit in 2002, breast cancer actually dropped, estrogen taken alone also increased endometrial cancer, endometrial cancer also dropped when women quit in the 1970s!
Both were iatro-demics -- physician caused epidemics -- says Dr. Gordon Schiff with Center for Patient Safety Research and Practice at Harvard's Brigham and Women's Hospital in the July Journal of General Internal Medicine.
In fact, the very reason progestin was added to estrogen as a menopausal remedy for women, was because estrogen inconvertibly causes endometrial cancer.
When it comes to accepting menopause and aging as a "disease" that needs pharmaceutical intervention in the form of prescription drugs, the public has a short memory. The Women's Health Initiative linked estrogen and progestin to a 26 percent increase in breast cancer, 41 percent increase in strokes, 29 percent increase in heart attacks, 22 percent increase in cardiovascular disease and double the rate of blood clots.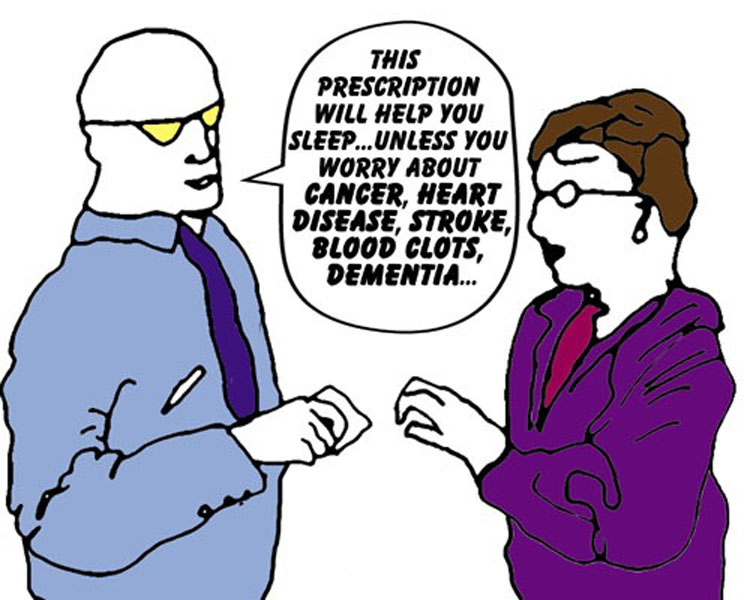 And that was just the beginning. Soon afterward, medical reports linked hormone therapy to lung cancer, ovarian cancer skin cancer, gall bladder cancer and many of the age-related conditions it was marketed to prevent like cataracts urinary incontinence and joint degeneration.
Supporters of an estrogen redux or reconsideration point out the Women's Health Initiative and the 1998 HERS (The Heart and Estrogen/Progestin Replacement Study) which also impugned estrogen only tested the Wyeth/Pfizer estrogen-plus-progestin drug Prempro. The WHI "used only one formulation of estrogen and (conjugated estrogens [CE]), alone or with one progestin (medroxyprogesterone acetate [MPA]) and only one route of administration (oral)," said the North American Menopause Society in a 31-page position statement last year.
Hormone therapy for short-term relief of vasomotor systems like hot flashes is unexcelled medical experts say and it is approved for osteoporosis, hot flashes and vulva and vaginal atrophy in otherwise healthy women by the FDA.
Still, at least 50 articles in medical journals that convinced women and doctors of estrogen-plus-progestin benefits were ghostwritten by Wyeth's marketing company. They were also wrong.
The outline for the article "The role of hormone therapy in the prevention of Alzheimer's disease," in the Archives of Internal Medicine, 2002 Sep 23;162(17):1934-42? was written by Wyeth-paid freelancer Stella Elkabes for $2,300, according to court released documents posted on the University of California, San Francisco's Drug Industry Document Archive. And instead of preventing Alzheimer disease, hormone therapy increases it and all dementias.
None of the articles have been retracted and the hormone misinformation continues. In April, The New York Times Magazine ran a pro-hormone piece called "The Estrogen Dilemma," by Cynthia Gorney, relying on five Wyeth-linked researchers whose conflicts of interest were not disclosed. Dr. Claudio Soares, Dr. Louann Brizendine and Dr. Thomas Clarkson, M.D have served on Wyeth's speaker boards; Dr. Sanjay Asthana has performed Wyeth funded research and Dr. Roberta Diaz Brinton has "previously consulted for Wyeth Research" (Endocrinology, July 2009, 150(7):3186 -3196).
And researchers at major medical centers are continuing to pursue cancer and cognitive benefits in clinical trials and on ovariectomized monkeys hoping to market a kind of hormone therapy light.
We won't even talk about the mares on Premarin farms who create the conjugated equine estrogens behind prescription hormone therapy -- kept pregnant and tethered to pee lines, their newborns sent to packers.
Why are reports that a drug that causes endometrial cancer may reduce breast cancer good news? Is the idea to switch cancers?
And why are hormones in general still re-marketed to women despite their checked past and present?
Does anyone need a second opinion?
REAL LIFE. REAL NEWS. REAL VOICES.
Help us tell more of the stories that matter from voices that too often remain unheard.