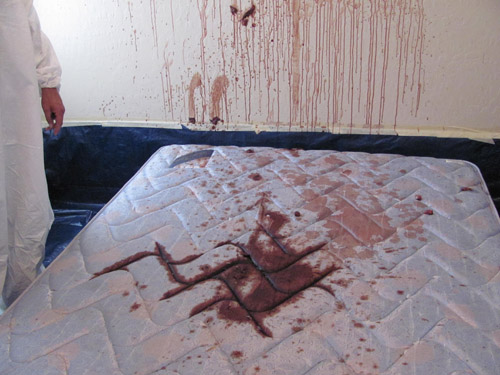 Have you ever stayed in a budget motel? It's like playing amateur forensic scientist. Depending on what things you find on your pillow and under your bed, you can almost unravel a scene to a crime. I especially hate those A&E true crime documentaries where they take the black light and investigate a motel room's bedspread and find over 47 different semen stains. Eeeeeew!
What are some of the most disgusting budget motel related mishaps? Here are a few I found on motel website complaint boards that will make you consider camping on your next road trip or when your house is 'For Sale By Owner':
When we checked in, and arrived at our room, we noticed that the bathroom was still dirty. When we pulled back the covers, there were pubic hairs on the bed sheets, and feces on the blanket. I called the office, and we were moved to another room, which was no better in cleanliness.
My 14-year-old daughter and I checked into a hotel near John Wayne Airport. It was late, and they only had one room available even with my pre-paid reservation. To start, the room was dirty: Cigarette ashes on the table, garbage in the trash cans, old coffee (with mold) in the coffee maker, dirty sheets, and the room reeked with cigarettes. I called down, and the guy said he was the only one there, didn't have another room, and couldn't clean this one for us. He said I could come down and get clean sheets. I went down to the lobby and as I waited for the elevator, the elevator door opened and a naked woman walked out! Without saying a word, she walked out the front door of the hotel. She had her arms across her chest and just kept walking. I felt like I was in a nightmare of some sort.
The first room they sent me too had been flooded, all the carpet was pulled out and they had put linoleum throughout the chairlegs were rotten about 4 or 5 inches up, you could see outside through the wall by the door. They gave us another room which was a little better than the first, bed was not clean but chair was ripped, floor dirty. The next day I had a guy come up to me and ask if he could buy drugs from me, and I do not look like I would do drugs nor have I ever done them. He said someone was cooking them and was checking around to see which room it was, so I checked out. When I left I told the girl at the front desk and she actually locked up the entrance and called the police.
Arrived and she copied all our driver's licenses saying she needed them so she could identify the bodies. Apparently they have tornadoes that kill their guests and leave the paperwork behind so they can identify stray corpse guests. THEN we saw the room. At the very most the filthy smelling room was worth twenty. In the morning we went looking for the ice machine where the clerk had told us it was and found a toilet in it's place. On that savory note we went to turn in our room keys to depart but not before I noticed the sign saying that once you check in no refunds no matter what. As a topper they also had a sign that no more locals could stay more than one night unless they had extenuating circumstances.
5. Child Chokes on Used Condom
Of course the all time worst motel horror story has got to be the 22-month-old boy who choked on a used condom in the Homewood Suites in Mount Laurel. The morning of the family's departure, the toddler apparently found a used condom in the room, left behind by previous travelers. The child's mother heard her little boy chewing and choking on the condom and tried to get it out of his mouth, but he had already "ingested the contents. " Eeeeew!

Photo by Harmon Leon
Calling all HuffPost superfans!
Sign up for membership to become a founding member and help shape HuffPost's next chapter