Over a third of the 14 films in competition at the Deauville American Film Festival this year were genre pieces--thriller or suspense or horror--from Ana Lily Amirpour's vampire flick A Girl Walks Home Alone at Night to the political thriller A Most Wanted Man featuring Philip Seymour Hoffman. "That's because to get a film produced in the US, you have to make a genre film these days," one independent director commented. Yet it is equally true that American cinema is world-renowned for the strength of its genre pieces: the more obvious reason that Bruno Barde, the director of the festival, opted for such an unusually genre-rich selection. The fortieth year of the festival closed, in fact, with an American genre piece par excellence: the action comic-book 3-D extravaganza Sin City: A Dame to Kill For, a film as exciting in its mythic turns of plot as it is laden with classic Hollywood stereotypes of powerful macho men and sexy seductress women.
Here below an overview of the top genre pieces this year.
David Robert Mitchell's, It Follows (winner of the Critic's Prize)
The storyline is so absurd, the director must be brilliant to have made it terrifying: a "being" follows anyone who has recently had sex with someone who was previously followed by this "being." As in an early Cronenberg film, sexual intercourse means contagion. The plot: a pretty teenage girl, who submits to sex in a car with her drifter boyfriend, is henceforth "followed" everywhere she goes--home or school or (in a nod to Jacques Tourneur) swimming pool--by an uncanny specter who variably takes the form of a lithe brunette, a tall old woman or a heavy-set man etc. The startling premise (much like a rule in a board game) is that the specter who "follows" can only walk slowly while the teenage girl can jump in her car--usually with her gang of teenage friends--and drive madly through her suburban landscape to escape, zooming at breakneck speed through parking lots, neighborhood streets and even the tall reeds of a beach.
The only way for Jay, our young heroine, to get rid of the specter is to sleep with someone else. Hence another layer of (ethical) suspense weighs upon the narrative: will this pretty blonde sleep with someone? But even if Jay does sleep with someone, if that person is later killed (another rule in the game), the specter will inevitably come back to her. There is no way to ever feel completely free.
As a meditation of what it feels like to be paranoid, while surrounded by an insular circle of well-meaning friends who can't quite protect you, the film works, especially since the common suburban spaces (stairwells, lawns, teen bedrooms) are shot with a David Lynch eye to making the ordinary uncanny. Throughout, the director makes evident use of the distant voyeuristic camera, spying on the teenagers to make us feel the sense of being followed ourselves. Like the main character, we too feel trapped. But what raises the bar in this horror flick is that the director masterfully managed to create a story of adolescents where adults are seemingly all absent: we never see a parent (are they all on vacation?) and only once glimpse a teacher. Perhaps what this film is really about is what it is like to experience adolescence (and new sexual experience) as a terrifying ride. A film that stays with you--or follows--long after the screening.

Carter Smith, Jamie Marks is Dead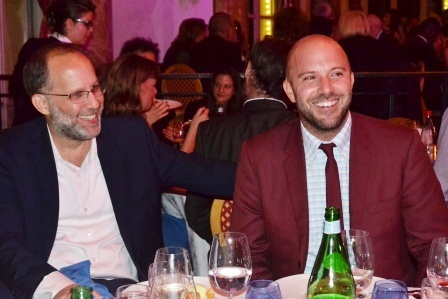 Directors Ira Sachs and Carter Smith at Festival Banquet
I was surprised that the kind modest man enjoying the foie gras and champagne next to me at the closing banquet of the Deauville film festival was the director of the unsettlingly dark new film Jamie Marks is Dead. This horror love story is about a sensitive boy (Adam) who is haunted by the ghost of an unhappy classmate (Jamie) who has suspiciously died, after being tortured by school bullies in a bathroom. Adam is also haunted by his own inner demons, those of an alienated teenager. The film is in a way to exorcise these demons--bring the help that both boys need--and swings towards a positive ending, full of light, but the first half is marked by darkness: eerie cadavers, unhappy youth and creepy morbidity.
The allure of the film, for me, lies less in the storyline than in its intriguing set pieces and costumes: the ghost is a pallid naked boy, dressed in underwear, who appears in uncanny lighting standing on a green lawn. A teenage girl--a potential love for the protagonist--has a bedroom that looks like a low-lit cave, with an intense rock collection lining the shelves. The director's background as a successful fashion photographer, who does covers for Elle and Allure, may inform this talent for creating atmospheric sets. As he confided to me over dinner, "There is a similarity between directing celebrities for a fashion shot and directing actors on a set." The similarity, I learned, lies in is the fact that both photographer and director aim to make subjects comfortable in a setting, and create an expressive emotional space. The photographic eye--and use of set and character--is Carter Smith's trademark, and perhaps the reason why Steven Spielberg nominated the photographer, who had at the time only one short film under his belt, to direct the blockbuster The Ruins in 2008. Smith's new indie film is equally atmospheric. Where Jamie Marks is Dead could take more risks is with the development of the psychology of the individual characters, who seem too much like generic teenagers we have seen, in some form, before.
Anton Corbijn, A Most Wanted Man

It's a well-crafted spy thriller, each scene clearly introducing some new twist, filmed beautifully in the blue-grey cityscape of Hamburg. But what makes A Most Wanted Man a superb experience is the acting of Philip Seymour Hoffman, who plays the well-meaning strong confident chief of a German anti-terrorist unit. Director Anton Corbijn allows Hoffman to take center stage: by focusing the camera on his brooding intelligent eyes and following his heavy-set body as he runs across a park, after a run-away suspect, or jumps in his van. While the story itself is somewhat thin---about a newly arrived Chechen émigré who is either a terrorist, tangentially related to terrorist funding, or perhaps just a lost orphan-- Hoffman as chief investigator exudes such presence that the film is gripping nonetheless. When Hoffman bursts in anguish at the end of the movie, we have a near-Shakespearian moment that makes the film verge on profundity, despite the fact that this movie is after all just a thriller based on a John le Carré novel.
It is not that deep issues are absent from the film. Corbijn brings attention to the contemporary issue of how to treat terrorists: the ethics of torture and abduction. He also delves into a side-issue about father-son relations: the Chechen boy vehemently denounces and separates himself from his defunct father, an evil Russian mafia lord, and later in the film, in a parallel moment, a young Arab does the same with his own powerful father (although it is not clear why). As for Hoffman, the substitute good father: he fails in his role, hence his anguish. Not to be missed for this final tour-de-force performance, a triumph of strength--and pathos.
Jim Mickle, Cold in July

Right before I left Deauville, I chose between a last shred of sunlight on the Normandy coast or Jim Mickle's Cold in July, knowing that the two would be opposite experiences. Mickle's previous film, We Are What We Are (2013) was a powerfully suspenseful horror piece, with striking aesthetic verve. I still remember the opening shot of a woman sobbing on a bridge, in crashing rain, in a bluish day. The story, though, was a gruesome stomach-turning smorgasbord of cannibalism: a prim and proper family eat gory "beef" bourgignon every night, in a gold-hued kitchen, the bones crunching in their mouths.
I reluctantly left the sun to set on its own--and entered the Casino theater.
From the first shot, Mickle yanks us into the story, showing once again he is a master at preying on our deepest fears and manipulating emotion. We are in a darkened house where a family sleeps, until the husband suddenly hears a noise. He tiptoes with his loaded gun to investigate in the living room and finds....(no plot spoiler!). From this climatic moment, blood begins to flow, with just a hint of the goriness of We Are What We Are (vivid shots of reddened water twirling in a toilet bowl as well as of a blood-soaked coach) and the tension of suspenseful fear is expertly maintained. That is up until the storyline shifts midway through the film and becomes slightly silly. The lead character shifts from being the befuddled father, investigating who intruded into his house, to an ex-con thug hell-bent on revenging and finding his missing son. But does this make sense? The thug (played with macho charisma by Sam Shepard) has been out of touch with his offshoot for over two decades, so why is he suddenly so interested, if not just for the purpose of the plot? The other disappointment of this genre piece is that while the director's previous gory film sustained not only a terrific (albeit disgusting) story-line, but expressed a point about the insularity of family culture, here in this film, I had the distinct impression, at least in the first hour, that I was whiling away the afternoon sun in mere entertainment.
But I did have fun nonetheless.
Calling all HuffPost superfans!
Sign up for membership to become a founding member and help shape HuffPost's next chapter