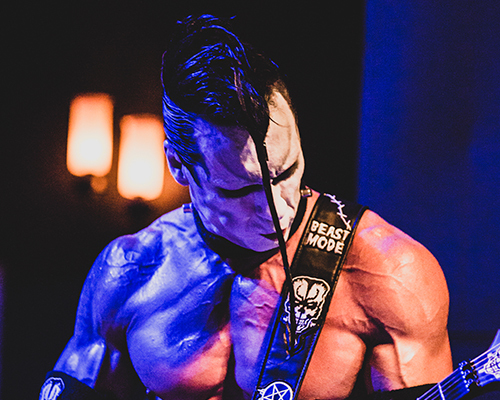 When asked about how Doyle is better than any of the other bands he's been a part of in the past, Doyle Wolfgang von Frankenstein simply says "it's better."
With a heavier, technical sound, Doyle is not just the band of an ex-Misfits member; it's something more. This isn't just Doyle's band; it's a group effort. Along with vocalist/song-writer Alex "Wolfman" Story and The Abominable Dr. Chud on drums, the trio crafted Abominator, a slick, horror-filled journey of evil heavy metal brutality released back in 2013.
Since then, Dr. Chud left the band and has been replaced by Black Flag drummer Brandon Pertzborn, and they are about to hit the road again for the Abominator Tour 2015. Before he left for the tour, I was able to chat with Doyle Wolfgang von Frankenstein over the phone and we talked about the band and what exactly inspires him.
It took you a few years to write Abominator, what were your initial ideas going into that album on what you wanted this album and this band to be?
I just write whatever I write. Whatever's comfortable for my hand movement that's easy for me to play and that sounds good. That's what I use.
This project is more heavy and technical. Was that what you were going for?
Nah, it's just the best I could do (laughs).
What does the word "Abominator" mean to you?
I don't know. We didn't have a title and I was driving down the street and I just blurted it out for no reason. I pulled over and texted it to my singer and he was like "Fuck yeah!" The next song we write will be "Abominator" and it was.
On the current tour, Alex "Wolfman" Story is still on vocals and but Brandon Pertzborn from Black Flag is now on drums, what do they bring to the band?
They are just great man. They are great musicians. Alex is a great vocalist. He's got such a great unique voice and one of the greatest writers I ever heard. Brandon is just a fuckin' beast.
Those early years, being a roadie into joining the Misfits, what really sticks out in your mind about that time?
I don't know. I just remember that's what I wanted to do. Once I realized that I wasn't going to play in the NFL, it was what I wanted to do.
What position did you want to play in the NFL?
I don't give a fuck, kicker? (laughs).
How did you first get into playing music?
My mom was like a 50s kid so she had all these 45s from the 50s, so that's what we listened to when we were really small. So we always had much playing and that made us like music. Then we got into 70s rock, David Bowie, Alice Cooper, all that crazy shit. We seen theatrical things like Kiss and Bowie and Alice Cooper. It was something you wanted to do. I got a guitar for my 8th grade graduation and Glen showed me how to hold a bar chord and Jerry showed me the notes on two of the strings.
You're like 50 years old now but looked ripped, how do you keep it up and stay healthy?
It's a costume (laughs). I stay nice and lean and fit from eating vegan. I work out like a fuckin' retard. I've been working out for 41 straight years.
Looking back, being a part of such an influential band like the Misfits, does that make it easier or harder to continue on over these years to make new music and not be derivative?
I don't think about stuff like that. I just write whatever I write. If I like it, it's good. If I don't like it, it's not good for me. My opinion and taste is #1 when I'm writing music.
What are some of your recent influences that go into making music and just life in general?
I don't write the songs. I write the music. My singer writes the words. Doyle is actually our band. He named it Doyle because it was the most famous name was had going and it was a no brainer to call it that. My influence in life is my girlfriend. She's very inspiration in many ways.
Your girlfriend is Alissa White-Gluz from Arch Enemy. You're both touring so much. How do you keep that together?
Those guys are really cool and they let me go with them. I've been on like three tours with them and I go the whole time. We do that or she'll come on my tour. Her tours are massive. That's how we do it.
I felt like when she joined Arch Enemy, she brought a new energy to the band. What is it about her that is so inspiring?
She's very inspiration with her ethics. The way she takes care of herself and her body and how she cares about the environment and animals. Her work ethic is such a great musician and great professional. She's like a rock-n-roll hero to me; she's really great.
Doyle plays the Token Lounge in Westland, Michigan on Tuesday, October 13th as a part of the Abominator 2015 Tour. For more information on Doyle, visit officialdoyle.com.
REAL LIFE. REAL NEWS. REAL VOICES.
Help us tell more of the stories that matter from voices that too often remain unheard.