They're not cheery theme parks or pristine beaches, but haunted houses are perfect vacation spots all the same. This Hallow-season, take a spooky trip to the scene of your favorite horror movie.
Legend says that if you visit one of these eerie film-inspired destinations, you might NEVER. COME. BACK.
For fans of "The Omen:"
Bishops Park in London, England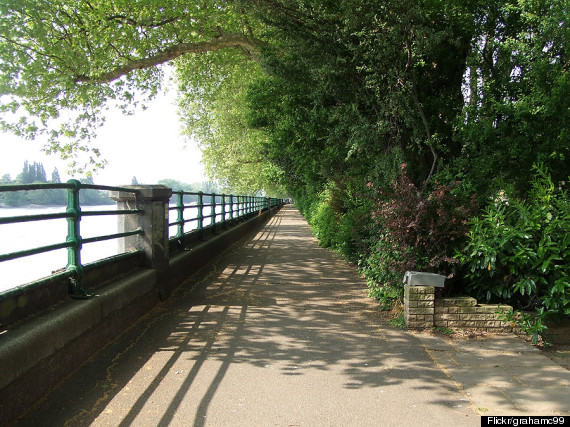 All Saints Fulham in London, England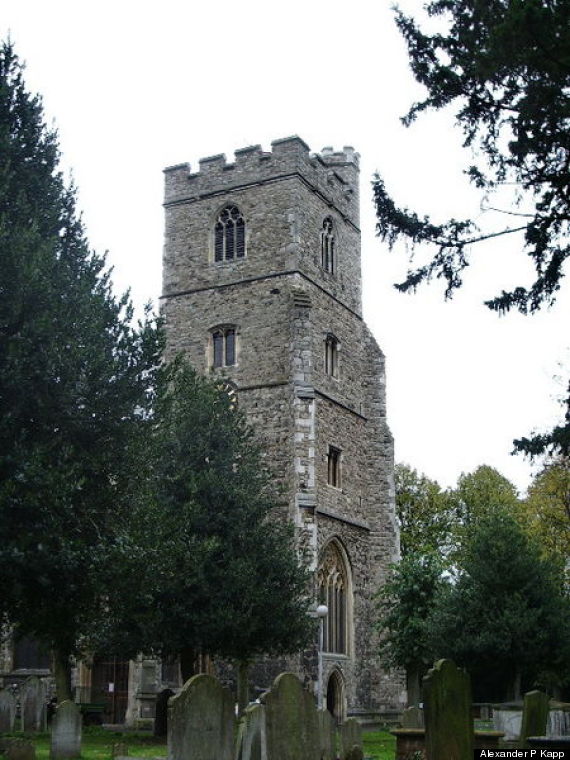 Take a (creepy) stroll down memory lane at Bishops Park in London, on the same cobbled path where, in "The Omen," Father Brennan warns Robert Thorn that his new son is a demon. Continue in Brennan's steps to All Saints Fulham, to the very spot where he was slaughtered with a lightening rod during a freak rainstorm. During your visit, you'll probably hear calm choir songs instead of thunderclaps-- All Saints is "a vibrant and growing church" with worship services every evening.
For fans of "The Texas Chainsaw Massacre:"
Grand Central Cafe in Kingsland, Texas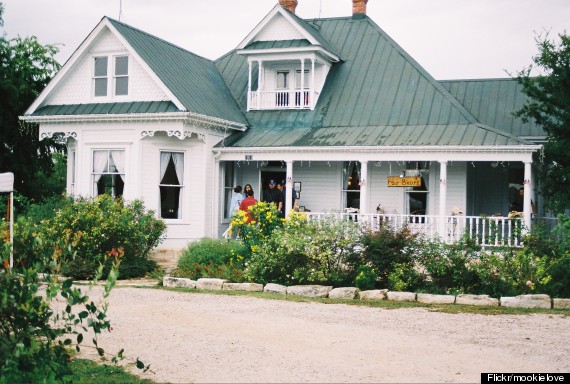 That creepy house where Leatherface impaled Pam on a meathook? Yeah, it's now serving chicken fried steak as the Grand Central Cafe. This Victorian-style house was built in Red Rock, the Texas town where "Chainsaw" was shot in the 70s. But in 1998, The Antlers Hotel in Kingsland purchased the house and moved it, piece by piece, to its new post outside their resort. Yelp users say they went nuts on a recent visit when "a male employee glowered forebodingly at us through the window. It was the best horror movie moment."
For fans of "The Shining:"
Timberline Lodge in Timberline Lodge, Oregon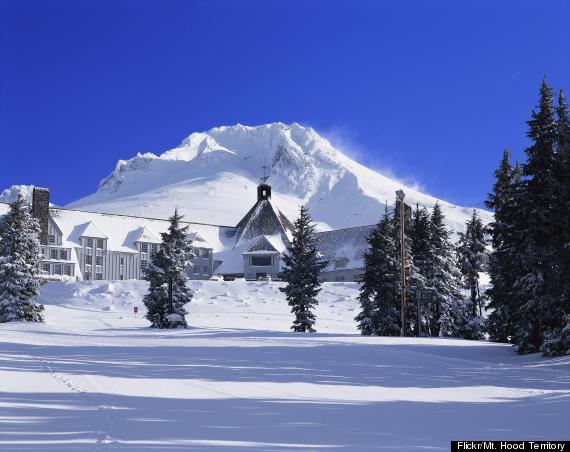 Timberline Lodge appeared in "The Shining" as the Overlook Hotel, where Jack Torrance worked as the caretaker and where ghosts tried to kill his wife and son. Don't fret-- the movie's interior scenes were shot somewhere else, so this cozy mountainside lodge isn't too haunted. Enjoy your not-so-scary stay with custom ski gear, snowman-building kits, and gourmet cheese tastings.
For fans of "Vertigo:"
Fort Point in San Francisco, California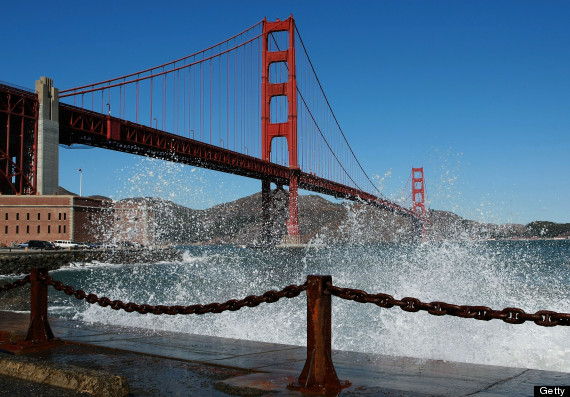 17-Mile Drive in Pebble Beach, California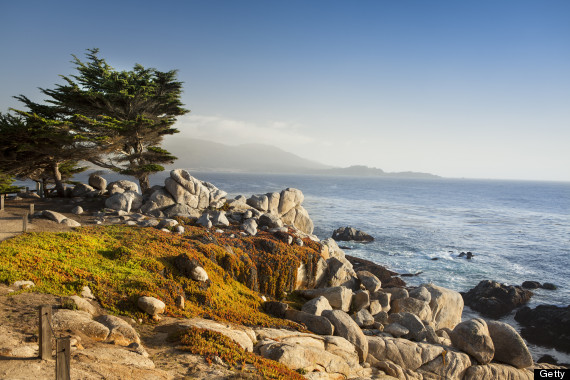 Mission San Juan Bautista in San Juan Bautista, California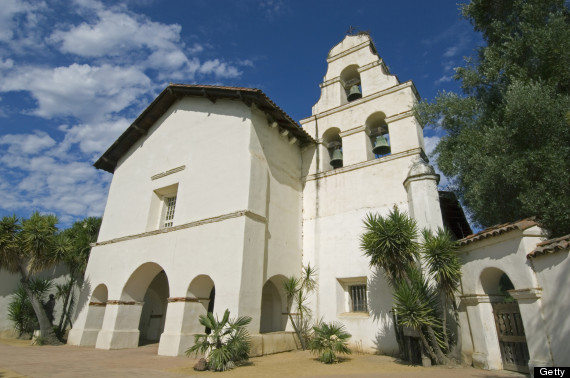 Start your "Vertigo" journey at Fort Point in San Francisco, the place where possessed housewife Madeleine hurls herself into the bay at the start of the movie. After Scottie rescues her, the two take a leisurely ride down 17-Mile Drive, a scenic, seaside strip of road that remains just as pleasant today. "Vertigo" takes a sharp turn at Mission San Juan Bautista, where Madeleine chooses to end her life. The mission's gardens and church match the movie, but one thing you won't find is the bell tower from which Madeleine jumps to her death-- it was created artificially at nearby Paramount Studios.
For fans of "The Rocky Horror Picture Show:"
The Oakley Court Hotel in Windsor, England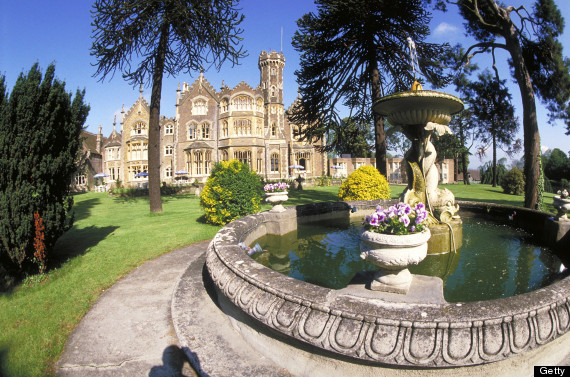 Play like the Brad and Janet when you book a real stay at this functioning hotel outside London. The lost couple sought solace in this quaint country house on a rainy evening, only to get tangled in a freaky world of Time Warp and murderous transvestites. Things aren't so trippy at The Oakley now-- as a modern guest, you'll be treated to a beautiful indoor pool and nine-hole golf course. If you dare, though, scout out the "Rocky Horror" staircase or say hi to the creepy griffins out front.
For fans of "The Exorcist:"
3600 Prospect Street in Washington, D.C.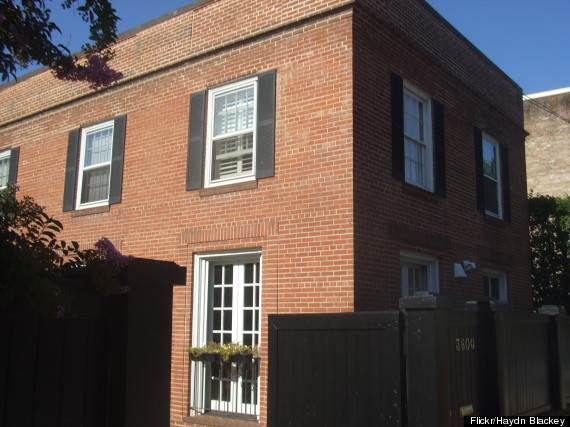 Dahlgren Chapel at Georgetown University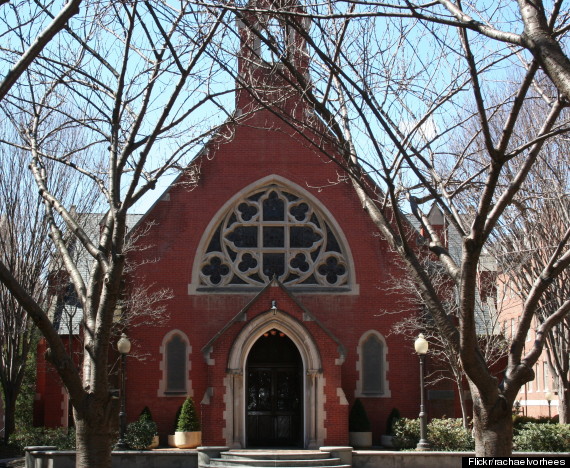 M Street Stairs in Washington, D.C.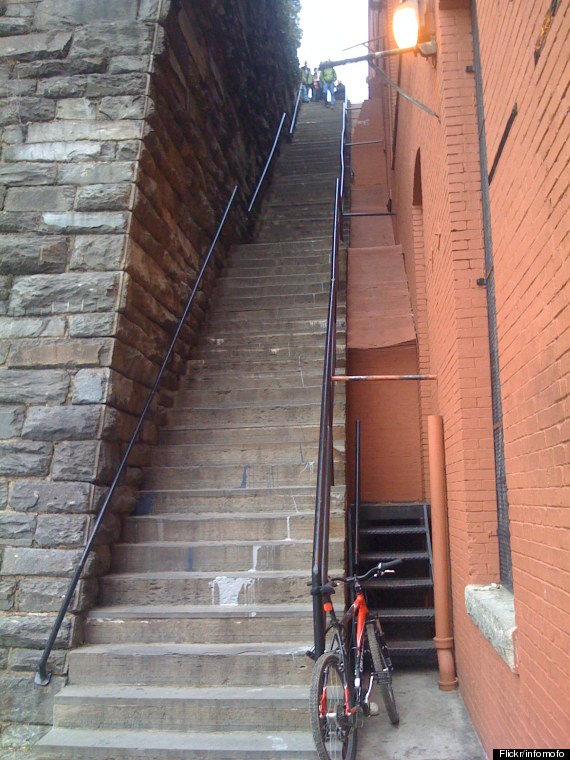 Start your "Exorcist" tour on Prospect Street in D.C.'s pretty Georgetown neighborhood, at the house where possessed 12-year-old Regan MacNeil lived in movie. Continue your walk to Georgetown University's Dahlgren Chapel-- the exterior was used in the film, but crews weren't allowed to shoot inside the church due to the movie's morbid subject matter. Make your way to the ulta-eerie M Street Stairs, where Regan's demon throws Father Karras to his death. During filming, Georgetown students reportedly charged people five dollars to watch the scene from campus buildings.
For fans of "The Silence of the Lambs:"
Carnegie Museum of Natural History in Pittsburg, Pennsylvania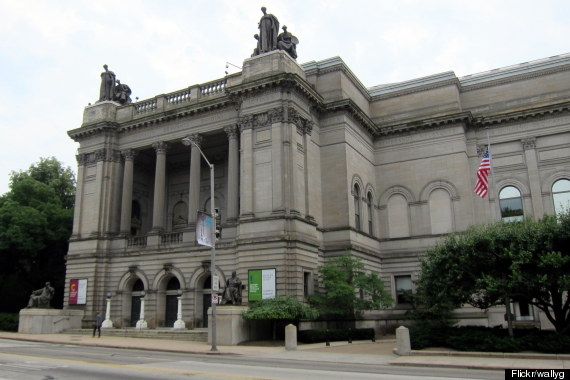 Here's where FBI agent-in-training Clarice Starling meets with an entomologist to identify some strange moths in the movie. On your visit, you'll find creatures bigger than insects in the museum's famous Dinosaur Hall.
For fans of "A Nightmare on Elm Street:"
1428 N. Genesee Avenue in Los Angeles, California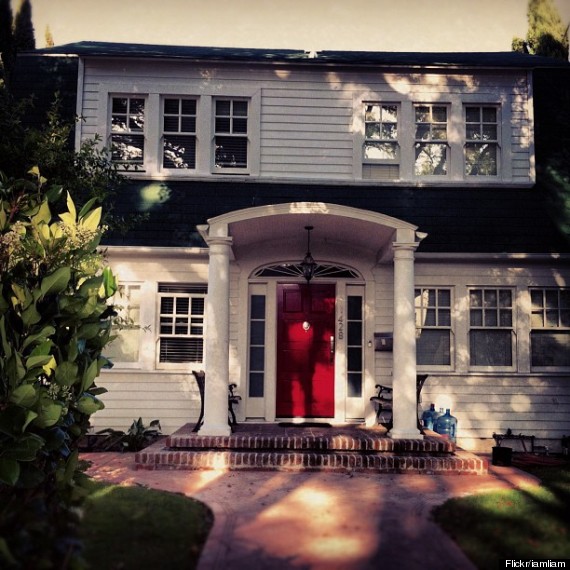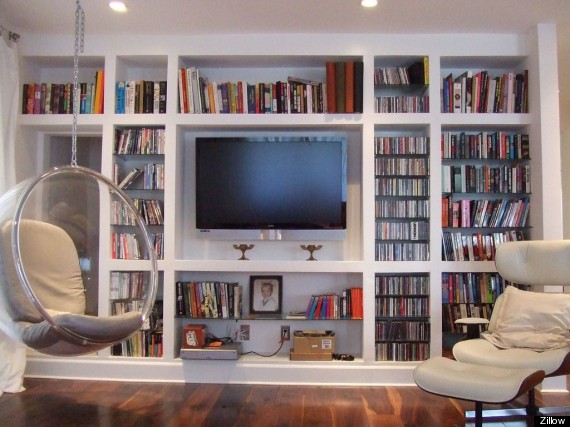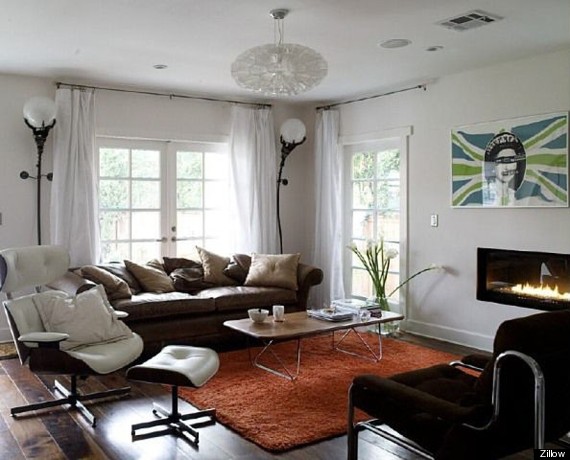 The house where Freddy lives in the film is now enjoying life as a pretty private residence on a tree-lined street in Los Angeles. You clearly can't go inside, but thanks to a recent for-sale listing we know the interior is far from creepy.
For fans of "The Blair Witch Project:"
Burkittsville, Maryland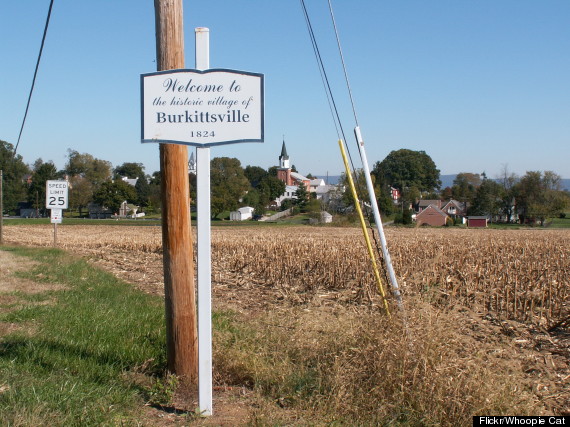 Seneca Creek Park in Gaithersburg, Maryland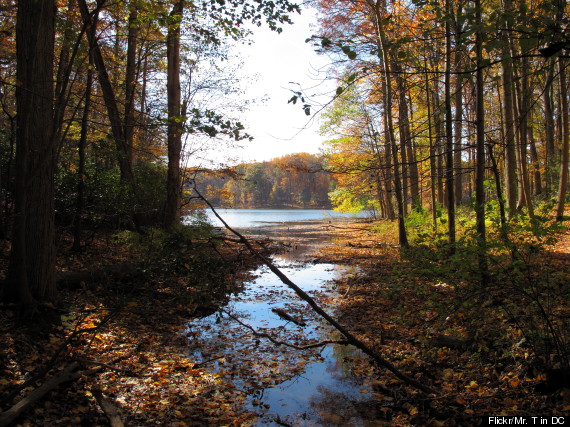 Follow the route of "Blair Witch's" young ghost hunters to Burkittsville, a real town in Maryland with fewer than 200 residents. Stroll the streets and meet some locals-- many of the townspeople interviewed in the movie weren't actors. Though you might be tempted to romp in the trees around Burkittsville like "Blair Witch" fanatics before you, take a 40-minute drive instead to Seneca Creek Park, where the bulk of the movie was actually filmed. To get into character, the cast roamed the park for eight straight days with nothing but a handheld camera and walkie-talkies, improvising their scenes and collecting food at designated checkpoints.
For fans of "Carrie:"
Palisades Charter High School in Los Angeles, California


You'll probably have to work to get past the front office, but visit this high-end high school -- whose graduates include Christie Brinkley and Jeff Bridges -- to see the spots where Carrie caused her antics in the 1976 version of the film.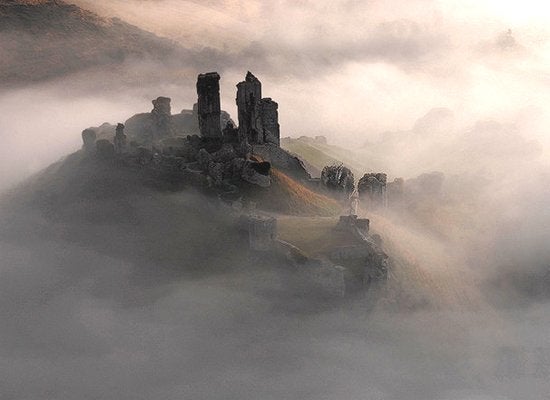 10 Places You Wouldn't Want To Be On Halloween