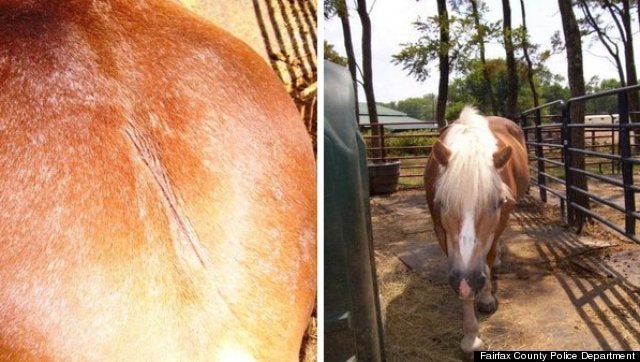 WASHINGTON -- Lucinda, a therapy horse in Northern Virginia, has been attacked for the second time since late April.
At the end of June, police arrested a 17-year-old who they believe is responsible for Lucinda's first attack, and a spate of others. That teen is still in jail, leaving authorities -- and Lucinda's caretakers -- wondering who cut the horse this second time, and why.
One month later, at an adjacent barn in Frying Pan Park, two goats, a chicken and a calf were discovered by farm staff to have been "cut by an unknown object during the nighttime hours," according to a statement by the Fairfax County Police Department. Police said that the calf and one of the goats were bottle fed, and would "have no fear of humans and would approach anyone who came near thinking they might be fed."
The Herndon teen was arrested after an informant told police that the suspect had gone to the park in April to film himself riding a horse, according to a search warrant filed in Fairfax County Circuit Court. The teen was thrown from the horse, became angry and began to hit the horse, according to the warrant.

Police said in the warrant that the teen later took the informant to the paddock and said he had cut animals with a machete.

Police "recovered a 22-inch machete when the arrest was made," per WJLA-TV/ABC7.
The teen is still in jail and Patch reports he has been charged with "with four felony counts of maiming animals, three misdemeanor counts of cruelty to animals and two counts of unlawful entry."
Police responded to a report of a horse that was cut over the weekend in a paddock at 2625 Centreville Road. The horse, Lucinda, is one that was previously cut on April 26. The wounds were described as non-life-threatening.

Detectives believe that the attack took place between 8 p.m. Saturday, July 7 and 10:30 a.m. Sunday, July 8. The incident did not occur in Frying Pan Park; however the location attached to the property.

The teen police arrested in connection with the previous attacks is still incarcerated in the Juvenile Detention Center.
Police spokesperson Lucy Caldwell told The Huffington Post that Lucinda's new wound is "a bit different" from the machete attack, "more of a cut" than the previous slashings. Caldwell said this new attack may be a copycat crime, but that "police don't know what the motive would be" for attacking Lucinda, nor have authorities released information about what weapon may have been used in the attack.
Caldwell said that police "certainly feel confident" in the charges filed against 17-year-old for the previous attacks.
Davorka Suvak, founder of the SPIRIT Open Equestrian Program -- the therapy program Lucinda is part of -- told HuffPost on Monday afternoon she is unnerved by the new attack but that Lucinda is "doing well, thank god."
"She is still trusting," Suvak said.
Police are asking that anyone who saw anything suspicious, or who has information to provide, to contact Crime Solvers by phone at 1-866-411-TIPS/8477, email at www.fairfaxcrimesolvers.org or text "TIP187" plus a message to CRIMES/274637. People with information or tips can also call Fairfax County Police at (703) 691-2131.
Related
Popular in the Community