Connecticut state cops are probing an elderly author after pictures surfaced of his horse being dragged behind his truck on Sunday.
Culver Modisette, 86, told CBS 3 that he meant no harm when he pulled Annie -- his purebred Arabian horse -- by a nylon strap after she escaped to romance horses in on a neighboring property.
"I was just trying to get her down in her stable for her breakfast and apples and so forth," Modisette told the station. "No malicious intent."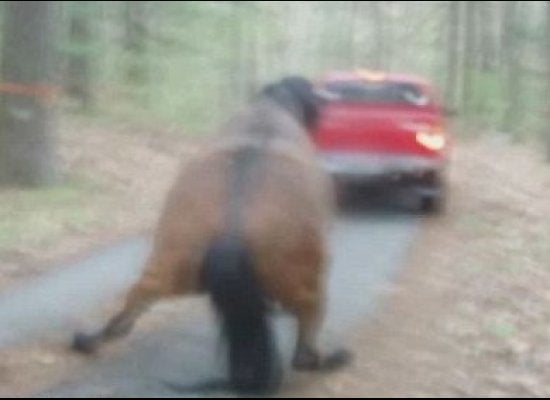 The mare in heat had reportedly been disobeying Modisette's orders to walk back to his Stafford Springs home, so he grabbed his rope. Neighbor Helen Kelley said she saw Modisette tie Annie to the bumper of his pickup, and started snapping photos. She said the horse was stumbling and even fell on its side at one point.
"I started screaming to him, 'Stop, you're killing your horse, cut the rope!'" she said.
Modisette reportedly did cut the rope -- and denies dragging the horse after she fell -- and walked her back to the stable.
Annie was not seriously injured.