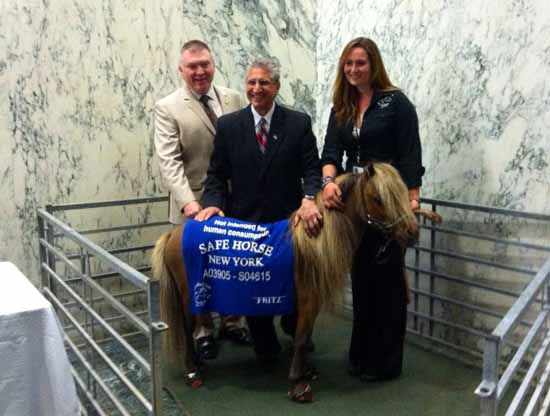 Fritz the miniature horse pleads his case at New York State Animal Advocacy Day with Assemblymembers Jim Tedisco (center) and Mark Johns (left) with Summer Brennan from Little Brook Farm
Photo courtesy of Nancy Andrews
As the 2013 session comes to an end for the New York state legislature, horse owners, breeders and advocates are raising the profile of legislation aimed at banning the sale and transportation of horses to slaughter, as well as banning the sale of horse meat in New York.
Assemblymember Deborah Glick, 66th Assembly District-Manhattan, is the prime sponsor of bill A03905 that prohibits the sale and trafficking of horses to slaughter and of horse meat in NY. State Senator Kathleen Marchione, 43rd Senate District (Saratoga Springs and Hudson) is sponsoring the Senate version of the legislation, S04615.
Boots-on-the-ground members of the horse community have come together in a grassroots movement to educate legislators and policy makers about the reality of horse slaughter. The brutal and inhumane treatment of horses in the slaughter pipeline is well documented. What is becoming increasingly clear is that meat from horses raised in America is unfit for human consumption.
Safe Horse New York had a legislative awareness day on May 22 to raise the knowledge about the dangers to humans and horses associated with horse slaughter. Also, the pro-horse legislation was a focus of New York State Animal Advocacy Day, June 4.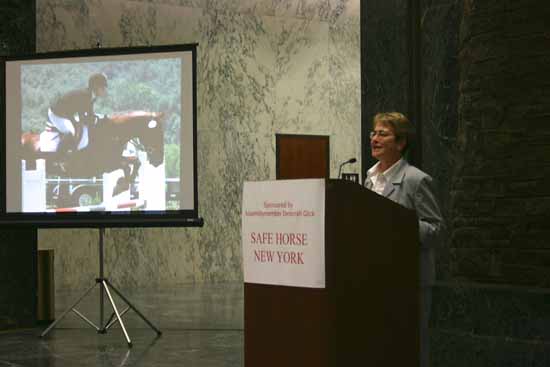 Assemblymember Deborah Glick addressing the May 22 Safe Horse New York rally. On the screen to her right, Hamlet competes in a horse trial. He was purchased off a truck headed for a horse slaughterhouse.
Photo courtesy of Barbara Kellogg
In New York and across America, horses are not raised for human consumption. From birth horses are given medications that are not allowed in the human food chain; medications like nitrofurazone ointment (furacin) that is universally used on cuts and scrapes and phenylbutazone (bute), an NSAID, used for everything from muscle soreness to fever. Furacin is a human carcinogen and bute can cause fatal aplastic anemia. There is a long list of drugs forbidden in meat animals that are routinely used in horses. In fact, labeling and directions for medications clearly state "not to be used in horses intended for food."
Slaughter horses are not tested for medications prior to slaughter. The kill-buyers who supply the slaughterhouses vouch that the horses are drug-free. Since horses' records do not travel with them, there is no way a kill-buyer can legitimately attest that the horses are clean of all banned medications. Many horse medications, including bute, have no withdrawal time, meaning that one dose of bute at any time in his life makes that horse ineligible for slaughter.
Conveniently, Canadian slaughterhouses and the Canadian Food Inspection Agency take the paperwork submitted by kill-buyers as valid. Unless the plants and CFIA are specifically alerted, horses loaded with drugs are routinely slaughtered, butchered and sold into the human food chain.
Currently, NY kill-buyers frequent D.R. Chambers Livestock Auction in Unadilla, NY, as well as smaller livestock auctions throughout the state.
The New York Farm Bureau has written a Memorandum in Opposition to the New York anti-slaughter legislation (see below). Statements in the memorandum are misleading and dated. For instance, it cites a 2005 survey of horses in New York, maintaining that the state horse population is over 197,000. There is a 2012 study, that the NY Farm Bureau co-sponsored, that gives the number as 157,543. It's hard to argue an increase in "unwanted" horses in the face of a decline -- there are over 39,000 fewer horses in the state now than there were in 2005.
Further on in the memorandum, the New York Farm Bureau berates slaughter-ban supporters for being ethnocentric for depriving the horseflesh-eating citizens of the world of the choice to eat American horses. Perhaps, the author of the memorandum should look up xenophobia. Because knowingly supplying horses loaded with drugs harmful to the human food chain, isn't ethno-friendly, it's downright ethno-hostile.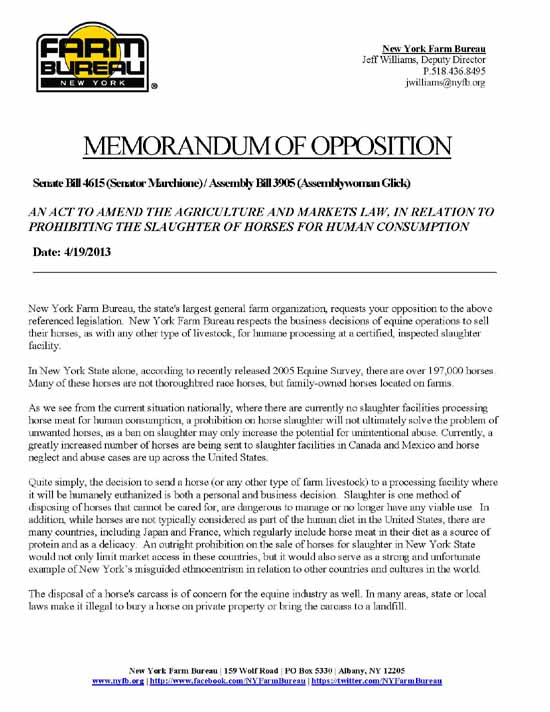 This is a digital image of the NY Farm Bureau memo in opposition to "An Act to Amend the Agriculture and Markets Law, in Relation to Prohibiting the Slaughter of Horses for Human Consumption."
Disclosure: Liz O'Connell participated in the Safe Horse New York rally.
REAL LIFE. REAL NEWS. REAL VOICES.
Help us tell more of the stories that matter from voices that too often remain unheard.