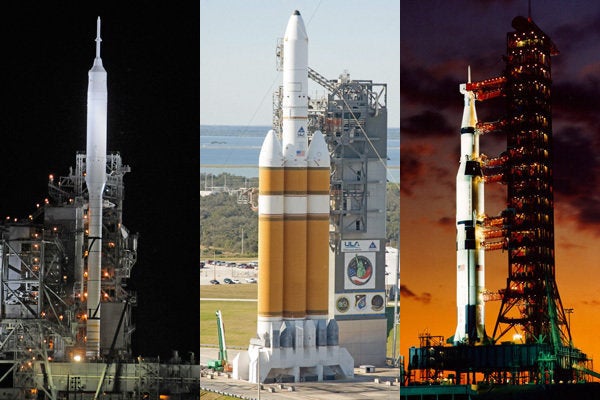 Everything is better with a little competition: sports, free markets, and now, rocketry.
No, we're not talking about a new space race between China and the USA. Instead, we're talking about a new era wherein entrepreneurs try their hands at building rockets large and small, pitting their best ideas against each other in an effort to win contracts from NASA as well potentially lucrative tourist and scientific customers.
We're clearly coming into an era where commercial competition will have a major impact on the aerospace community -- and on the financial community as well. The Augustine Commission, a blue ribbon panel recently commissioned by the Obama Administration to analyze the options for the future of NASA's human spaceflight program, mentioned the word "commercial" more than 200 times in the 120 page final report it released last week, a dramatic change from previous such reports. A lot of that attention stems from the recent Commercial Resupply Services contract, in which NASA awarded $3.5 billion dollars to two companies--Orbital Sciences Corp. (NYSE: "ORB") and Elon Musk's SpaceX--to carry cargo to the International Space Station on a commercial basis for the first time. The Falcon 9 rocket, the largest rocket yet produced by Musk and his crew at Space-X, will be shipped to Cape Canaveral within the next few weeks in advance of its first test launch. Coming just on the heels of the launch of a much-criticized new NASA test rocket, the Ares 1-X, the Falcon 9 launch will be a major milestone for proponents of the emerging entrepreneurial space sector.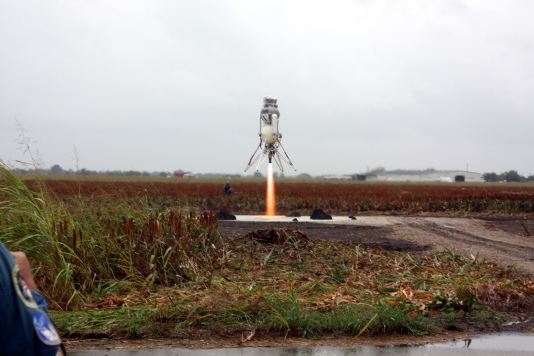 But the most exciting competitions may well be between the entrepreneurs themselves. That type of competition will be played out in dramatic style this week in the form of the Northrop Grumman Lunar Lander Challenge, a $2 million incentive prize program funded by NASA and operated by the X PRIZE Foundation. That competition aims to create an industry of American companies capable of routinely and safely flying vertical take-off and landing rocket vehicles useful both for lunar exploration and for a variety of other applications--an industry niche that was mostly empty when the competition was announced in mid-2006.
In the early running, the Challenge was dominated by one team: Armadillo Aerospace, a Dallas area group lead by famed game developer John Carmack. In the first two years of the competition, Armadillo was the only group to make a serious run for the prize money, and in 2008, they took home a $350,000 check for being the first group to complete the requirements for the competition's relatively easier level. But increasingly, Armadillo is finding other companies giving them a run for the money.
The first group to do so was TrueZer0, a four-member team from Chicago, IL, who adopted the simplest possible design and were able to mount a serious attempt, albeit an unsuccessful one, in 2008 (one of the team's co-founders was quickly swooped up by Scaled Composites, to work on the Branson-backed SpaceShipTwo effort). The trend has continued into 2009--and now, we may even see Armadillo relegated to second place.
Armadillo completed the requirements for the competition's relatively harder level with two picture-perfect flights in early September, putting them in position to win the prize's largest award, a $1,000,000 purse. They are now in wait-and-see mode, as teams have until October 31 to best their performance by accomplishing the same flights while demonstrating superior landing accuracy. Two teams are slated to make attempts to do so this week. First up is Masten Space Systems, a small company founded by Cisco veteran David Masten. Masten's "Xombie" rocket successfully completed the requirements for the relatively simpler level three weeks ago, putting them in position to win $150,000--and demonstrated a landing accuracy superior to Armadillo's while doing so. They'll be debuting a new rocket, "Xoie," on Wednesday in an attempt to bump Armadillo down to second place.
After a two-day flight window for Masten, the focus of the competition will move just a short distance up the road, from Masten's flights at the Mojave Air and Space Port to sparse chunk of desert in Cantil, CA, known as the Friends of Amateur Rocketry test site. Unreasonable Rocket, a father-son team lead by embeddable electronics entrepreneur Paul Breed (founder of Netburner), will make attempts unseat both Armadillo and Masten on Friday and Saturday--the final two days of the 2009 competition season.
Regardless of the outcome of these flights, it's clear that we're seeing something new here. An industry niche that has sat wide open for decades is suddenly growing active--and the perceived market leaders are finding that even smaller and newer groups are pushing the pace even faster. The competition has helped, too: in the words of Frogkin Ventures' Joel Scotkin, an investor who has stepped up to take an active role in Masten Space Systems, "While winning this prize was not part of the original business plan, it has certainly has been a core driver for us to hit a number of deadlines we may not have hit any other way. There's nothing like a real external driver to force a time table, so I think that this competition has been tremendously effective in getting us literally off the ground."
One the eve of a stressful week where his company will compete to win as much as $1.15 million from NASA--or potentially to be beaten out by rivals and walk home empty handed--Joel says "I feel great about my investment. Between the recent NGLLC success, the bigger vehicle coming together in our shop, and our opportunities for real customer-supported launches, both near-ground and, eventually suborbital, I feel really good. It's great to be in on the ground floor of an innovative industry."

Popular in the Community