Compared to last year, participants and stakeholders in thoroughbred racing see a positive change in the sport. From more broodmares filling pastures in New York to network broadcasting of benchmark races, the thoroughbred industry is in a healthier spot compared to 2010. As president and CEO of the National Thoroughbred Racing Association, Alex Waldrop has a broad perspective on the industry which he shared in a wide ranging conversation.
Where We Are. The economic downturn of the past few years has negatively impacted all types of sporting industries, and horse racing is no different.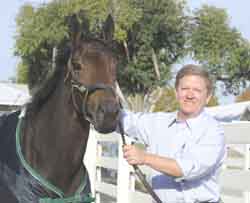 right: NTRA President Alex Waldrop with constituent
Photo credit: Horsephotos.com
Breeding: down. Ownership: down. The betting handle for racing: substantially down. According to Waldrop the closure of the New York City Off-Track Betting (NYC OTB) outlets has had a huge impact on the amount of money wagered nationally this year. The overall decrease in handle is one of the forces that resulted in a significant contraction in the number of race days at tracks throughout the country.
"We are seeing positive trends," Waldrop contends. "Watching carefully, we see upticks in the major yearling sales this year -- these are important early-indicators that there is demand returning for horses. There was strong business at boutique meets this year. Saratoga (NY) was strongest ever, and Del Mar (CA) had a big meet; Churchill Downs and Keeneland have been good too. It looks like we are stabilized as an industry and are going start seeing some positives."
A Seismic Shift in New York's OTB Landscape.
"The closure of NYC OTB a good thing. The ability of NYRA (New York Racing Association) to come back in to New York and put in its own boutique off track facilities would be a great plus to the industry. We support NYRA in their efforts to replace the large unwieldy poorly run NY OTB parlors with small, intimate friendly venues, like restaurant based sports bars. Best of all they would be industry owned and operated," maintains Waldrop.
The old NYC OTB parlors were the posterboys for how-not-to-do-OTB. The NYC OTBs weren't motivated to see that racing was well-presented; dingy and decrepit were the norm. One of the problems with the NYC OTB was that racing lost control of its product. "It's important that tracks and horsemen have a say in how these OTB's are operated. Our customers' front line experience is important to us. We have not had that in New York, -- racing was presented by the NYC OTB and they did a poor job by all accounts," says Waldrop.
A Change in Paradigm, Without a Change in Fees. Fifty years ago, racing sold itself as a major revenue source for government. In return for paying substantial franchise fees, on top of regular business taxes, racing was granted a monopoly for the betting public and the sport has been intertwined with government since. In New York, the government quickly gave racing's monopoly away and went to the lottery. Currently racino's proliferate throughout the state, competing for discretionary dollars, too. Although it is in an increasingly competitive environment, NYRA is still paying the original, monopoly-granting franchise fees.
The revenues to states' coffers generated by racing are one of the impediments to developing a national, centralized racing governance. "There is resistance from states' governments that traditionally regulate gambling matters and rely heavily on the excise taxes they levy on horse racing to fund other state programs and services. Following its failed experiment with prohibition, the federal government now leaves gambling and other similar controversial matters to the states to regulate," explains Waldrop.
Thoroughbred racing is conducted in 38 states and, unsurprisingly, there is a lack of consensus among all participants concerning how to centralize the business.
The most elusive central governance opportunity is in the commercial realm. Other sports have successfully used the league model to centralize the commercial aspects of their business through pooled media rights and other forms of revenue sharing. These types of efforts have proven to be harder to replicate in horseracing but national organizations like the NTRA and the Jockey Club and others in racing continue to look for national opportunities to market and promote horseracing.
"The clearest benefit to the would be greater uniformity in the regulation of horse racing although it is easy to overstate the benefits given the disparity in enforcement that would inevitably result from a massive regulatory organization spanning 38 states. The sheer size and geographic expanse of our industry makes uniformity a major challenge but worthy of pursuit," says Waldop. "Every industry has to adapt to changing environments and racing's no different. There is wide agreement that we must to use every industry resource available to horseracing, including the Racing Medication and Testing Consortium, the Association of Racing Commissioners International, the NTRA's Safety & Integrity Alliance, the Thoroughbred Safety Committee of The Jockey Club and the Racing Officials Accreditation Program, to further progress toward national uniformity in drug and medication regulation, testing and enforcement, race officiating, wagering security and other similar regulatory matters."
A Trying Cycle -- Short Fields Lead to Contracture. Filling races is a challenge every race track is facing. With the economy, there has been a loss of race horse owners - the discretionary income to buy horses and wager on horses diminished or in some cases was eliminated altogether. Easy access to credit has away - there are fewer people who buy and campaign horses which leads to smaller fields, and which in turn leads to a lower handle and the decision to cut back on race days.
According to Waldrop, "To see cycle the recover we are going to have to see a contraction of race day, so that we do have fuller fields and betting handle can return. That's the way the economics works in this business. It doesn't always work to the benefit of horsemen. I hear many horsemen complain they don't have sufficient opportunities to run their horses at many of the tracks where they normally can reliably get races on a horse. Even Churchill Downs went to four days a week of racing and they did so to punch their field size up. It worked. They saw larger fields, stronger handle, attendance came back a bit. But there were horsemen that complained vociferously because they couldn't get in to a race.

"The recovery will start with owners getting back in the game, buying horses and putting them in training. With the sales seeing the uptick, people are seeing a great time to buy a horse which means more horses are put into the racing population, which means field size goes up, handle goes up, purses go up. All of a sudden we are seeing a positive cycle. That's where we see this going."
Where Stakeholders Agree. "The vast majority of fans and industry stakeholders agree we need uniform race day medication rules, uniform drug testing and uniform penalties. More than anything else," Waldrop emphasizes. "The Rick Dutrow situation is a prime example of whatever the rules are we are not enforcing them tough enough. That's where the strongest cry is right now and where we need to be focused."
Together with 24 other racing industry groups, the NTRA is an active member of the Racing Medication and Testing Consortium, the mission of which is to strengthen the integrity of racing by "Striving to develop and promote uniform rules, policies and testing standards at the national level; coordinate research and educational programs that seek to ensure the integrity of racing and the health and welfare of racehorses and participants; and protect the interests of the racing public." (RMTC mission statement)
To leverage scope of research and funding, the RMTC is considering joining the Partnership For Clean Competition to take advantage of the research being done where there is a similarity between human and equine drugs and their pharmacological effects.
In recent years testing for prohibited substances, including steroids, EPO (erythropoietin, a blood-doping agent) and milkshaking (baking soda solution administered via a stomach tube that enhances a horse's ability to perform under racing conditions) has gained traction. What needs to be addressed now is uniform testing for these substances - which is regulated on a state by state basis, and may vary in rigor by jurisdiction.
Waldrop acknowledges the NTRA found there was irregular testing for milkshaking (TCO2 testing) around the country, "With the RMTC and the NTRA Race Track Accreditation process, we've implemented pre-race TCO2 testing on every major racing circuit and we have seen a drastic decrease in the 'super trainers' who have win percentages that no one can understand."
Nationwide, a consistent policy of permitted levels of therapeutic medications (certain NSAIDS, etc, are allowed at micro-levels), and consistent testing laboratory protocols and equipment, would give a baseline to horse trainers to make sure their horses were within the permitted parameters.
Waldrop maintains that around 94% of trainer drug violations are for medication overages, which are legal, therapeutic medicines at concentrations in excess of permitted levels,
"It's important that we explain to the public that medication overages are not horse doping, these are incidences that shouldn't happen and they should be punished. But the fact that someone gets an overage for Butazolidin, which is essentially an aspirin for horses, is not the same as putting cocaine in a horse's body in order to give that horse an advantage. It's wrong, it shouldn't happen, but we should not equate the two. We need to make sure the horsemen have clear uniform speed limits nationwide -- so that they know how and when to use these therapeutic medications and when to withdraw so that they don't get these overage positives. These violations do the industry no good and they do the horsemen no good -- they ruin reputations"
The racing industry is governed by state-by-state regulations and oftentimes states mandate that all testing be conducted by an in-state lab. It's Waldrop's experience that some labs are very good, some are not -- still implementing older ways of screening for drugs that aren't as proficient and things may not be detected. The RMTC is pushing for uniform testing, uniform detection limits, uniform withdrawal times.
"Safety and integrity underpin our marketing efforts, our promotional efforts, our advocacy efforts in Washington. If we don't have that bedrock of safety and integrity it hard to promote the sport, hard to advocate for it in Washington," says Waldrop.

"We want the horses to be safe as possible. A large number of our fans may not understand the minutiae of integrity issues, they do understand that they impinge upon the safety of the horse. In 2008 when we had Big Brown and Eight Belles coming so close to each other, fans were concerned about Eight Belles from a safety perspective and with Big Brown from an integrity perspective - steroids. We are equally passionate about wanting the business to be run correctly, that's why we formed the NTRA Safety and Integrity Alliance."
The scope of the Safety and Integrity Alliance covers six areas - after racing career care of retired racehorses, injury reporting and prevention, safety equipment and a safer racing environment, medication and testing, jockey health and safety, and, wagering security. The Alliance works with race tracks to achieve accreditation, major facilities like Woodbine and Santa Anita, and smaller venues like Canterbury Park and Turfway Park, participate.
Marketing and Growing the Sport. This year the McKinsey & Company report, Driving Sustainable Growth for Thoroughbred Racing and Breeding, commissioned by the Jockey Club identified television as a key component of growing the audience and fan base for racing. Following successful network broadcasts of the Saratoga and Keeneland race meets, there are plans for increased network coverage of the 2012 Kentucky Derby prep races.
Engaging new fans is a key initiative for growth, and social media is an essential tool. Waldrop outlines the NTRA efforts,
"More than any other sport I can think of, our fans are true participants,People engage with horse racing in very strong ways. Every time you bet on a horse you engage. These participatory aspects we trail over to the social media. We have beefed up our social media presence as part of our broader initiative to engage fans -- especially to reach younger fans where they live, which is online.

"Many of the tracks are using social media right now to reach the younger demographic. It's a demographic that will engage online more so than they will engage at the betting window, because they do not have a great deal of discretionary income. But we have to start -- someday these online fans are going to be at the point where they do have that discretionary income and we want to be on the list of things they are going to do.

"Keep in mind too social media is not just for young people. People are engaging online across the spectrum, and we see people in their forties and fifties who use the internet information and for wagering online. That's the growth area and where we think racing is unique in its ability to access fans.

"This focus is not to the exclusion of the live event, but I think it is a way to get people to the live. They start online and then they gravitate to the experience at the track. Ultimately because it is hands-on direct engagement at the racetrack, that's where people really fall in love with this business, this game. We engage them where they are, bring them to where we are and see them enjoy a day at the racetrack, enjoy a morning on the backstretch at the local track. This is how we will have people that last a lifetime with racing."
Related
Popular in the Community