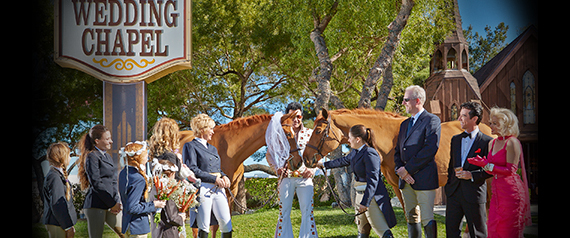 What do Judy Garland, Cindy Crawford, Angelina Jolie, and two horses named Romy and Rocky all have in common? I would normally come up with many witty, even snide retorts, but what I now know for sure is that they were all married at the same famous "Little Church of the West" in sunny Las Vegas. Yes, you read that right. A few weeks ago, my mailbox was graced with an invitation to the marriage of Romy and Rocky, definitely the most unique wedding invitation I had ever received, but as weddings go, anything can happen. My readers will know that I love to be at the center of the world's most important moments, so how could I possibly miss this?
At a time when world events have become so appalling and unbelievable, I thought it would be a nice respite to momentarily say 'neigh' to political articles, negative thoughts and applaud this union. I urgently needed to know if the bride would toss her bouquet or eat it. Would the groom be skittish and bolt? Would they serve hors-d'oeuvres?
Romy, a stunning bride wearing a classic formal chiffon wedding veil (she refused to disclose the designer's name) and Rocky, her handsome groom, have been inseparable for as long as they've known each other. And while our initial instinct as humans is to be skeptical if this is even possible in the equine species, I don't think we are quite in the moral position to know or judge what these horses may feel for each other, nor do we need to. When you look out on a grassy paddock, you may find it normal to see horses grazing together, seeming to be just one unit dining at pasture. Often, however, if you look closely, you will see couples pairing off - a gelding and his mare; a mare and her best girl; or even two gelding buddies kicking up their heels playing in the open lawn. We assume horses cannot fall in love, but what is our authority on love? We do not shy away from using words such as "scared" or "mad" or "feisty" to describe a specific horse's behavior, so who gave us the expertise to say "love" is not there?  
 
Horses have a structured social order based on relative dominance. It includes deep mutual understanding built on trust and respect, and though the details may be more simplistic, they seem to succeed in this more than many humans. As humans race to compete with each other, horses have a gracefully simple set of needs and priorities - food, shelter, comfort, and companionship. "It's the little things that matter to a horse," says the late Ronnie Willis. 
 
Romy and Rocky did not need to worry about whose family would arrange the wedding; this was an event put on by the Fédération Équestre Internationale (FEI) as part of its leadup to the prestigious Longines FEI World Cup™ Jumping Final and Reem Acra FEI World Cup™ Dressage Final, when the world's best athletes will battle it out from April 15-19 in the entertainment capital of the world. The event had previously been held in Las Vegas, but not since 2009. The wedding was a fitting "welcome back" to Vegas style, as the gorgeous couple walked down the aisle peacefully toward the Elvis impersonator who would join them in matrimony.
Looking at these two creatures expressing their love non-verbally, with a deep respect for each other, made me understand why this was not just a glib event.  Not only were they happy with each other, but everyone in attendance was having such a joyful time. Smiles were beaming. Whether the horses knew it or not, they were making all of us overcome with giddiness at the possibility that love, that most universal emotion, can simplify our connections if we allow ourselves to lead with love in our humanity. The romantic Valentine's Week wedding, within the grander spectacle of the FEI's celebration of equestrian sport and beauty, was superbly fitting for understanding how much the animal world can teach us about ourselves, and about the different ways in which we can understand each other without judgment. Even though this official marriage may have been human-imposed, the love and affection on display were genuine, and served as an event that made us all happy amidst times where we are faced with tragic news on a daily basis.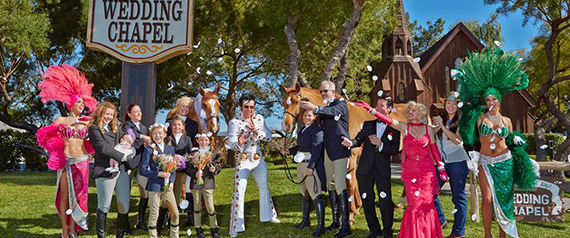 Liz Gregg, the event's photographer charged with capturing this unique union, was all smiles behind her camera. "It's just like photographing a human wedding," she commented, "only less stressful and much cuter." According to FEI Director of Corporate Communications, Richard Johnson: "We at the FEI and our sponsors, Longines and Reem Acra, love the sport and love horses. We organized this event because it puts a smile on everyone's face, starting with the horses, who sense the happiness of the people around them, giving us all true joy and laughter."  And isn't laughter at a deficit in our world today?
 
By the end of the wedding day, I had learned something about humanity, through the love between two animals. I was reminded of our tendency to dismiss or become skeptical of pure love or true joy, and how many of us would be quick to laugh at the idea of wedding two horses in holy matrimony, or quick to judge anything that may seem outside of our culture's general way of thinking. We too easily forget that everyone needs love, and more importantly, everyone has it within them to share; sometimes we just need seemingly innocent events such as this one to remind us that there is much more within humanity and the world than the negative events we are constantly bogged down with proliferating. Occasionally, all it takes is a glance into the soul of someone who is different than us to be reminded that we are all bound by the same basic need for love and connection. I know I was definitely overdue for such a reminder when I boarded that plane to Nevada, and I encourage everyone, especially during this week of St. Valentine, to look for love - of any kind - someplace where you would not normally expect to find it.
As for Romy and Rocky, they've asked me not to share their honeymoon plans (the paparazzi can be brutal after such an event), and we were not allowed a peek at the bridal (or bridle) suite... Besides - "What happens in Vegas..."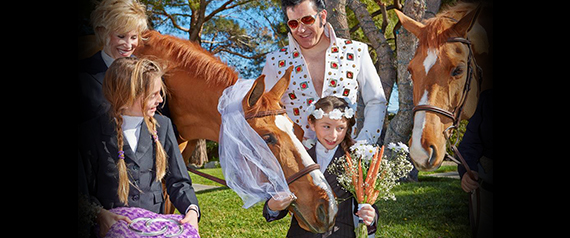 Calling all HuffPost superfans!
Sign up for membership to become a founding member and help shape HuffPost's next chapter