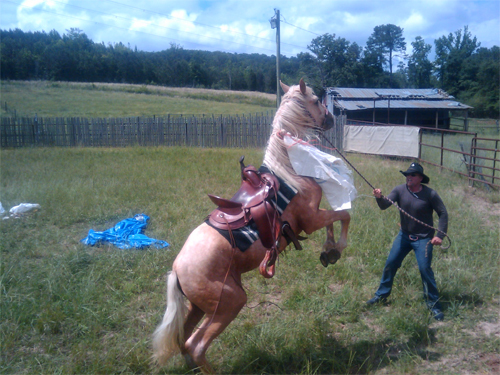 At first glance Joe Guy and Ron Johnson are literally worlds apart. Guy is white, grew up in suburban Sydney Australia and Johnson, African American was raised in one of the roughest housing projects in North Memphis. When they met last week neither expected to have much in common.
In spite of the 9000 miles that lie between them -- both culturally and racially -- after listening to them discuss their passions for their work with troubled horses and at-risk youth, you might think they were related.
Addicted to drugs, Guys mother left him at age three with his brother and an alcoholic father. By age 12 he was living on the streets, drinking, stealing cars and running wild. At age 19, Guy says he hit the end of the road and made a choice -- that to this day he is extremely grateful for. With needle in hand and a rubber band wrapped around his arm about to shoot heroine for the first time, he glanced around the dirty apartment where he was squatting with some friends and realized that all the people he was hanging with were, what Guy calls "dead behind the eyes". At that moment Guy, put down the needle, walked across the street to a gym and started working out and, eventually, hanging out with horses.
Guy is now what many call a 'horse whisperer,' who came to the United States several years ago in search of 'throw away horses' that have been neglected, abused and/or never broken. With his wife and three children (traveling in their RV bus) Guy travels from state to state depending on where he is needed hoping to save horses from being sent to slaughter houses. This week they are in Lebanon Tennessee.
Convinced that there is no such thing as a 'bad horse' (only horses that have had bad things done to it) Guy thrives on gently (and firmly) guiding the animal through a unique training process that reminds it who it was before the trauma occurred.
Watching Guy's process involves psychology, reverse psychology and a lot of patience and curiosity. He says that 98 percent of the time the result is a horse that is no longer afraid of humans. Guy's training not only makes the horse a better companion but one that can be trusted not injure the owner because of its' own fears. "Breaking a horse is easy. I can break most horses in less than an hour, but it's the owners that take a bit longer," says Guy.
Guy says "the great thing about horses is that they serve as a mirror for humans and often in addition to resolving the issues with the horse, you end up dealing with the personal issues of the owner."
In trouble early like guy, Ron Johnson started selling drugs at the age of 13, and running the streets in North Memphis where he says he survived the violent life of the projects and poverty by carrying a pistol. It wasn't until one of his closest friends died in his arms at 17, that he swore to 'get out'.
Fortunately for Johnson, being athletic allowed him to make his way to college and become a Football star at Tennessee State University and for a while, everything seemed to be going his way. But in his sophomore year -- the day after his mother had traveled from Memphis to see him play the best game of his college career -- Johnson received word that his mom had been murdered on the front steps of his house in Memphis. The killer was Johnson's best friend's mother.
Devastated and grief stricken, Johnson was determined to get revenge and after failing to find his mother's killer, he pushed on, and managed to graduate and qualify for the Atlanta Falcons practice team.
But trouble continued to follow Johnson and within a short time he received a pink slip for showing up late and hung over for practice. With his dreams of an NFL career over, an angry Johnson moved back to Nashville, picked up a pistol and for the next several years did what he knew best -- selling drugs. Within 5 years he was arrested and spent the next four years in a federal prison where Johnson said, he learned who he really was -- a child of God. But it was only after several years of counseling post prison, Johnson said he understood the pain and fear that lived inside of him was reflected in his outward actions.
For the past twelve years, Johnson has shared his story with young men like himself and is now partnering with Oasis Center Inc. and Reverend James Turner, founder of a Nashville program called "Alternatives to Detention" that focuses on youth in Juvenile Justice who have been locked up for serious offenses. The two are experts in gang awareness and violence and their main goal is getting young men with weapon charges to college -- something they have managed to succeed in doing.
But just like Joe Guy's work with horses, Johnson and Turner understand what some people consider "bad kids" or "throw aways" are often troubled young men who need someone to reflect back to them who they really are -- before the trauma, pain and disappointment that caused the bad behavior to begin with.
After listening to Joe Guy and Ron Johnson, somehow Australia and Memphis and horses and humans don't seem all that far apart.
Molly Secours is a writer/thinker/filmmaker living in Nashville TN She can be reached at: www.mollysecours.com
Support HuffPost
A No-B.S. Guide To Life
Related
Popular in the Community