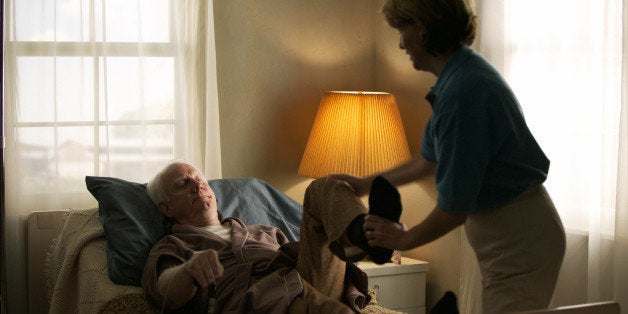 Ask anyone who knows her, and you'll hear that Denise Smith is compassionate, direct, skilled, and knowledgeable with a calm and reassuring presence. Of course she is, she's a hospice and palliative care nurse. As part of a larger hospice team that surrounds and supports the patient and family, Denise does extraordinary work every day, helping people through a human experience that is at once universal and rare.
"I am constantly educating people about an experience that they themselves have never experienced before," says Denise, a hospice team manager in Queens who has been in the field for more than 20 years. This education--especially delivered with the kind of compassion and empathy Denise is known for--is invaluable in the actual moment of death, when even families who are informed and prepared find themselves anxious and deeply uncertain. Denise was recently with such a family as the mother was in the active stages of dying.
"She was not responsive," Denise recounts. "She was breathing fast and at times stopped breathing. I helped the family understand exactly what was going on at every stage. They kept asking, 'Is this it?' and I would calmly answer, 'No, not yet.' I stayed with them through the whole process, until the color drained from their mother's face, until I could tell them, 'Now. Your mom has died.' I try to use the word 'died,' because it's reality. They appreciate the clarity."
As the mother passed from life to death, the family, with Denise as a guide, went from anxious to relieved. "They knew it was coming and were anxious in the moment," she says, "but once I told them, there was a sense of relief that now the suffering is over."
She also vividly recalls being at the bedside of a patient whose family was away at work at the moment he died. "I looked at him, put my hand under his pillow and picked his head up a little," she says. "He turned his head and looked at me. It was the most peaceful look I've ever seen. He died in that moment, and I gently laid his head back down." When she called his daughter at work, "She was so grateful that someone was there with him."
Sometimes Denise is an active guide, suggesting a remedy for the "gurgling" sound that can accompany the process of dying, encouraging family members to refrain from giving ice in the final moments (dehydration is not a bad thing near the end), and letting families know when the patient has died. (For more information on common situations in the final hours of life, read more here.) Other times, she finds herself as more of a witness, supporting family members by following their lead.
This was the case with one of her favorite patients, a young woman with Down's Syndrome and heart failure, who was not expected to make it out of childhood but lived until 26 and died peacefully at home. "I was in awe of those parents," says Denise, noting that they knew exactly what they wanted for their daughter, first and foremost that she stay home and out of a hospital. "We ordered her a big hospital bed to keep her comfortable. Well, she was a tiny bit of a thing, and towards the end her father picked her up and put her on the couch, held her hand and she died that night. They gave that child a wonderful life and a good death."
One of Denise's colleagues, VNSNY Hospice nurse Luis Leighton, articulates very well what we strive for in hospice and palliative care each and every day--bringing our experience and expertise to bear in order to help a patient and their family realize a "good death" as they define it. "Because we are in this field day in and day out for years, we have such an understanding of death, what it is and what it means," Luis says. "But I don't go in with my feeling of what it should be. Only the patient, the family, can say that."
Hospice care calls for a skillful balance of leading and listening. Because hospice workers have knowledge and expertise in caring for people at the end of life and in the moment of death--a singular event that the layperson has no previous experience with--nurses like Denise and Luis, and other hospice team members, serve as invaluable guides. But to truly be effective leaders for patients and families in difficult times, hospice workers must also be highly attuned listeners.
As Denise says, "Even if those goals at the end of life are a little unrealistic, like a trip to Europe, we want to make sure our patients have a voice, are listened to, and feel some control over their lives until the very end." This is indeed at the core of what all our hospice nurses endeavor to do: work with people and their families to meet the goals they set for themselves.
Is there a hospice care provider who has helped you or a loved one honor life by understanding and honoring the process of death? I encourage you to share your experience and continue this important conversation.