A recent competition to design new hospice uniforms, which we ran in partnership with a leading arts school in New York City, presents an opportunity to shine a light on how incredibly multi-faceted hospice care is on the broader scale, and how what might seem like smaller details can make a real difference in the dignified and peaceful end-of-life care hospice patients receive.
To begin, it was fascinating to see hospice care through the fresh eyes of students at Pratt Institute, many of whom had known very little about hospice before participating in "Designing for a Difference: New Approaches to Hospice Uniforms," for Haven Hospice Specialty Care Unit, Visiting Nurse Service of New York's 25-bed in-patient hospice facility in midtown Manhattan.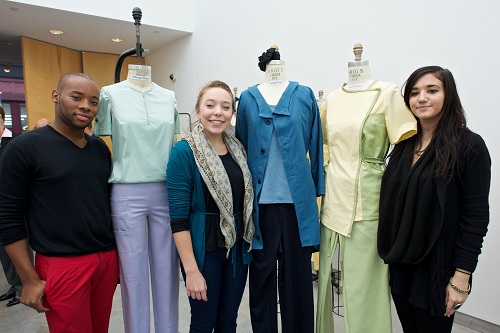 Photo credit: Kevin Wick. From left to right: Pratt fashion design students and competition winners Jefferson Musanda (2nd place), Hannah Ross (1st place) and Alicia Arlotta (3rd place).
After 30 years in hospice and palliative care, I know hospice workers to be compassionate, talented team players who often go above and beyond in their care for patients and families. But Jefferson Musando, a Pratt student who had no experience with hospice before the contest, saw hospice workers in a way I never have. "We saw that these nurses are always moving, helping patients into bed, out of bed, reaching for things," says Jefferson, whose design placed second. "I think of them like athletes, and I gave my design an aerodynamic look, sleek and clean. The shirt has a three-quarter zipper like a track suit, with elastic at the bottom."
Currently, Haven's staff wear a combination of street clothes and uniforms from a big corporate supplier -- not the right fit, we thought, for a workplace focused on attending to the human spirit in addition to the human body. The winning design, by 20-year-old Hannah Ross, is an organic cotton tunic t-shirt and knit pants, topped by a buttoned and pocketed smock that's inspired by a lab coat but looks like a stylish jacket. The uniform will be produced and worn by Haven's nurses and nurses' aides.
I've been delighted throughout this process by how mindful the students were about the central tenets of hospice and how they strived to capture and further them in design. Hannah learned that contact -- the power of the human touch -- is a vital part of hospice care. At the same time, the nurses asked for a uniform that could hold all the instruments they need on hand.
Her solution: deep pockets in the uniform's jacket -- but on the side. Not in the front. So they won't interfere with the nurse-patient contact.
She also aimed for a design that could make the transition once the staff leaves the hospice floor. "I wanted them to be able to wear this on the subway or streets of New York and still fit in," says the Washington, Connecticut, native. "The detail in the styling and the give in the fabric make it possible. When I see people with scrubs on the subway, I think they must be uncomfortable; they certainly don't fit in with street style."
Her fashion choice reflects a subtle insight into hospice care and allowed me to see with fresh eyes something we believe the best hospice care programs strive for -- continuity, even in dying, with daily life and the world outside.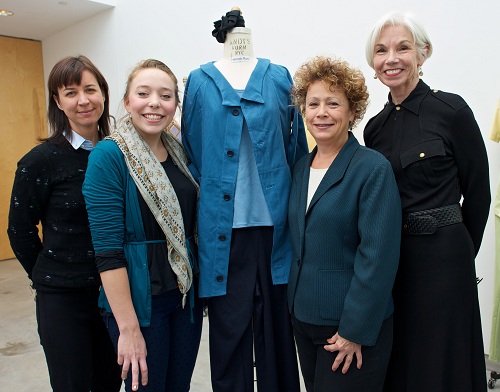 Photo Credit: Kevin Wick. From left to right: Jennifer Minniti, Pratt Institute Department of Fashion Design Chair; Hannah Ross, Pratt fashion design student and competition winner; Concetta Stewart, Dean of Pratt Institute's School of Art and Design; Jeanne Davis, Senior Vice President of VNSNY Hospice Care.
Providing for those in hospice care who need to be hospitalized briefly, Haven Hospice Specialty Care Unit is a peaceful oasis in the middle of one of New York City's busiest public hospitals. "I knew my design had to be really far removed from a typical hospital uniform," says Hannah. "The hospice looks like a hotel, a spa, something really calm and comforting, and I wanted to capture that."
She, like her classmates, bore in mind the unit's serene and light-infused color palette, inviting gray-blues, muted yellows and soft greens. Hannah's uniform offers a range of blues that call to mind the light, lived-in look of denim -- a harmonious complement to Haven's homelike (or, as Hannah notes, hotel-like) atmosphere and the tranquility and beauty with which it surrounds patients and loved ones.
Hannah also aimed for maximum comfort, which was a guiding word we heard again and again from the students -- and saw clearly in their designs. "Watching and talking to the nurses, I realized hospice care is all about comfort," Hannah says, noting that her top has a back pleat for maximum fluidity of movement and the coat offers deep side pockets, an unadorned front, and a back pleat for extra reach.
Comfort is in fact a word that guides us in hospice care, day in and day out, regardless of the setting. Whether at home or in a hospice specialty center like Haven, the aim is to bring comfort to patients, both by alleviating their pain and by reconnecting them with the simple comforts that might otherwise feel lost to them. A trip to the park on a sunny day, keeping up a lifelong watercolor hobby, the joy of petting a dog. Comforting families is a priority too, unburdening them as much as possible from the business of dying so they can focus on the business of living, in their loved one's final days.
Our Designing for a Difference competition not only resulted in a great new uniform design for our unique Haven unit, but also -- perhaps even more importantly -- the young designers learned valuable lessons about life and about design that will influence their work in the years to come. "There is nothing more important for Pratt students than to go out into the world and engage in the broader community -- beyond their immediate community and the trends that exist on 7th Avenue," notes Jennifer Minniti, Chair of Pratt's Department of Fashion Design, who was key to the project's success. "The VNSNY competition provided our students with the opportunity to engage in a very meaningful project that makes design matter."
Says Hannah, "It's great to create design for good."
We'd like to encourage others to share ideas about how what we wear as healthcare providers can impact those we care for. We welcome input from those who've cared for a loved one in the final days, have had loved ones in hospice care, or have worked in hospice care. How does what you wear affect the care you are able to give?