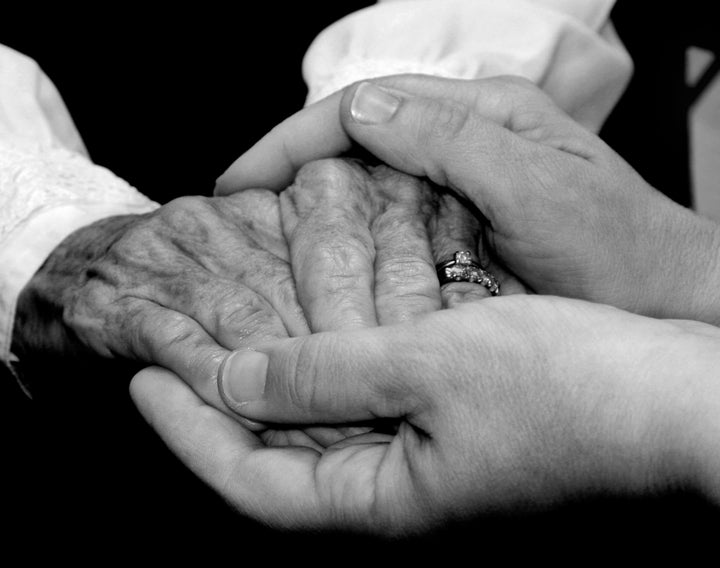 If I can stop one heart from breaking,
I shall not live in vain;
If I can ease one life the aching,
Or cool one pain,
Or help one fainting robin
Unto his nest again,
I shall not live in vain.
-- Emily Dickinson, "Complete Poems"
Hospice volunteer Linda Harris spent many a recent hour typing up poems and, in the process, learning about life and death, love and family, honesty and what it takes to make a difference. Written over time, some in the final months of life, the poems are the legacy of a remarkable 80-something woman Linda calls "The Poetry Madame."
Linda met the Poetry Madame on Christmas Eve, when she first visited her at home as a hospice volunteer. The following week, New Year's Eve, Linda began what would become a tradition, helping her new acquaintance "get gussied up" and giving her a haircut -- a service she provides regularly to other hospice patients as well. ("I'm the best price in town," she says of her free service.)
Hospice care is an end-of-life-care model that focuses on enhancing quality of life when time is short. It involves an inter-disciplinary team -- including doctors, nurses, social workers, bereavement counselors and nutritionists -- working together addressing the medical, physical, social, emotional and spiritual needs of the patient, as well as providing bereavement support to the family. In keeping with hospice's deeply humane and community-service roots (the word stems from the same root as "hospitality"), the team also includes volunteers like Linda -- more than 460,000 other hospice volunteers across the country.
In fact, volunteers are mandated by law. Organizations that receive hospice Medicare benefits from the government must have 5 percent of their direct services come from volunteers. Volunteers provide nonprofessional services but are required to undergo intensive training, including interviews and background checks. Our organization asks volunteers to commit to at least one year of service, visiting with one patient one hour per week in the home. Volunteers who visit patients in a residential facility have a small "caseload" per week.
Volunteer services can be as varied as those of any personal relationship and can include:
• Respite and support for family members
• Vigil services (when death is imminent)
Volunteers might sing show tunes with patients, talk about the Yankees, share in watching a favorite soap opera, help compile "final projects" or life reviews and bring in pets for comfort (only at the patient's request, of course). Fundamentally, volunteers provide the most elemental of life's needs, a hand to hold or an ear to listen. "It's really about showing up and being present that day, that minute, that hour -- meeting the patient where they are," says Taren.
"As a volunteer," adds Linda, "it's so important to listen. Someone is welcoming you into their home, and you are just there for them."
Hospice volunteer Abby Spilka describes in her blog what she has spent over a year (more on that in a moment) doing for her extraordinary 101-year-old patient, Hazel: "I have been opening her mail, paying bills, filing, writing letters and thank you notes and serving as her social secretary."
A remarkable part of Hazel's story is that she has been in hospice for longer than most patients, defying all prognoses on life expectancy. Patients enroll in hospice when doctors determine they have six months or less to live, although they can re-certify for hospice care if they outlive the prognosis.
Now, writes Abby, Hazel (a pseudonym to protect privacy) is at the end, "transitioning from living to dying." And Abby, too, is making her own transition. "I am no longer a hospice volunteer sitting with her patient," she writes. "I am a woman watching her friend die."
I am sometimes asked if it is difficult to be a hospice volunteer, to get to know someone only to have them pass away. The short answer is no. It is rewarding, transformative and life-affirming. The longer answer involves death as part of the continuum of life, understanding expectations, maintaining personal boundaries and undergoing adequate training and education.
"The surprising secret of hospice care is that it's not depleting," says Taren, who herself has been so moved by the hospice experience that she has written a one-woman show about it, called "180 Days." "It's energizing. What you are doing is useful, and someone needs you. These patients would be going through what they're going through whether or not you're there." She adds that hospice volunteers, as with all those involved in hospice, understand that death is a part of life. "We accept the process," she says.
Linda, who was inspired to become a volunteer because of the immense support she felt from hospice when her father and her mother died, calls the work "a gratifying, loving experience. There's no pretense, no façade -- just honesty. The bond you have with a patient usually escalates because of the limitation of time, so you have to seize the moment."
That's just what she did when the Poetry Madame asked Linda to help with a final project, culling, organizing and preserving a lifetime of poems -- including those written in her final three months of life, which provided a powerful salve. "Poetry allowed her to work through so many things," Linda says. "It helped heal her, helped her feel things most of us might otherwise run away from. She shared her poetry with the nurse, the social worker, the chaplain -- it helped all of us."
The Poetry Madame died in June, and Linda plans to present the scrapbook of poems to the family as a legacy of the robust, artistic life of their loved one. "She was, simply put, an exceptional woman," Linda says.
Whether you've had a family connection to hospice care and want to give back, or are interested in learning more about how to support and comfort those in their final days, I encourage you to explore this truly rewarding volunteer opportunity. Visit the Hospice Foundation of America for hospice care volunteer opportunities in your area.
Read more here about volunteer opportunities in New York, with VNSNY Hospice and Palliative Care.
Related