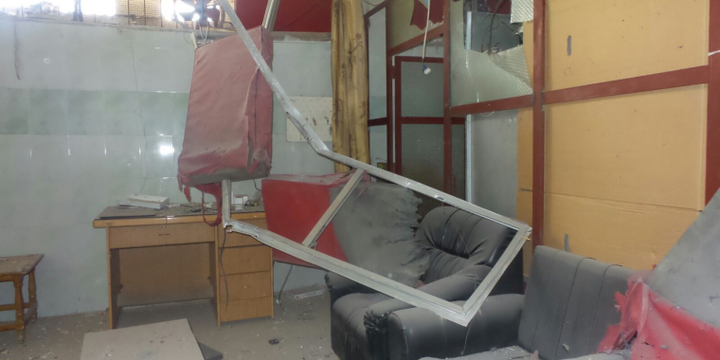 Three died and six were wounded Friday when airstrikes in southern Syria hit a hospital supported by the international aid group Doctors Without Borders, the organization said Tuesday.
A nurse was among those wounded at the field hospital in Tafas, a town roughly 10 miles from the Jordanian border. The nighttime raid partially damaged the hospital building and took the "heavily used" ambulance service entirely out of commission, the group said.
"I was on my way to the hospital to help admit people who had been injured by the airstrikes," an unnamed hospital staffer told Doctors Without Borders (also known as Médecins Sans Frontières) in a statement. The hospital worker was injured upon reaching the building. 
"It all happened very quickly. I saw what looked like an explosion and then a flash of light, and then I lost consciousness for five minutes," the staffer said. "My colleagues saw me lying on the ground, bleeding, and rushed me inside. I was injured in both my arm and leg by shrapnel."
The organization did not immediately say who was behind the bombings. 
Friday's tragedy is just the latest to befall the organization. Doctors Without Borders staff and hospital workers have been killed and injured in airstrikes over the past few months in countries including Afghanistan, Yemen and Syria. 
In December, a Doctors Without Borders-supported hospital in the western Syrian city of Homs was hit by what the group believes was the Syrian air force. 
Two months earlier, an hour-long airstrike by U.S.-led coalition forces bombed an Afghan hospital and left 23 people dead, including three children. 
Doctors Without Borders has spoken out against what it calls "indiscriminate bombings" amid Syria's protracted civil war. Less than two months into the year, 13 Syrian health care facilities have already been struck, the group said.
Last month, Vickie Hawkins, the executive director of Doctors Without Borders' U.K. group, penned an op-ed declaring such hospital bombings in the area cannot become "the new normal."
PHOTO GALLERY
Inside Syria's War
Calling all HuffPost superfans!
Sign up for membership to become a founding member and help shape HuffPost's next chapter