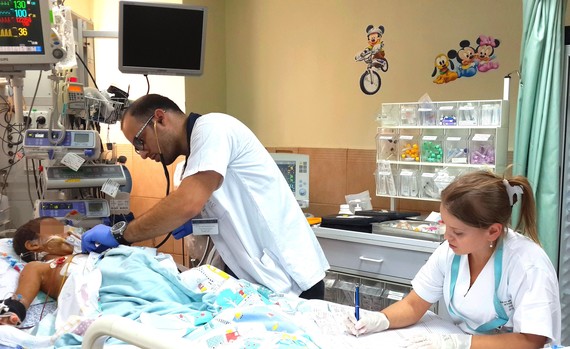 In Galilee, an Israeli hospital 30 kilometers from the Syrian border treats wounded Syrians from the bloody civil war happening there. Some of them children. On February 16, 2013, a quiet Saturday, the 331 bed Ziv Medical Center in Zefat began treating seven Syrians . "Saturday is the day when the hospital has a very skeleton staff because most people don't work on Saturdays," Linda Futterman, Director of International Relations told our group of visiting journalists. "So they called in all the trauma staff to treat these seven patients. We thought OK. We have never treated Syrians before. This is a one-time event. It's very unusual."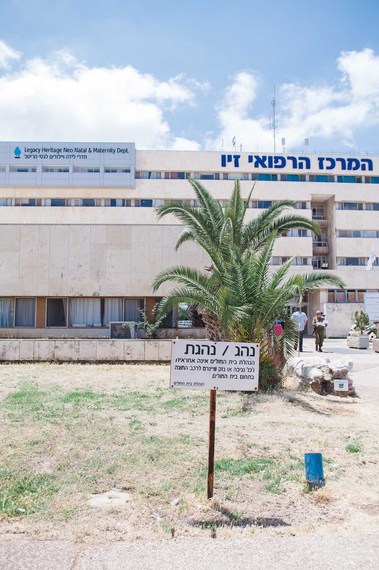 Israel considers Syria an enemy country. With no diplomatic relations between the two nations, treating these causalities was previously unheard of. "For us to suddenly have seven causalities was quite an amazing thing. They were very afraid of us at first. Expecting us to do bad things to them. Now, they try and come here because they know they are going to get top medical aide. Since then, they have been coming in sometimes more, sometimes less."
Now, two years and 500 patients later, the hospital continues to take these wounded in. Brought into the country by the IDF army, there are three other hospitals in northern Israel treating these patients. But Ziv's close proximity to the border with Syria makes them the sought out and preferred destination for treatment.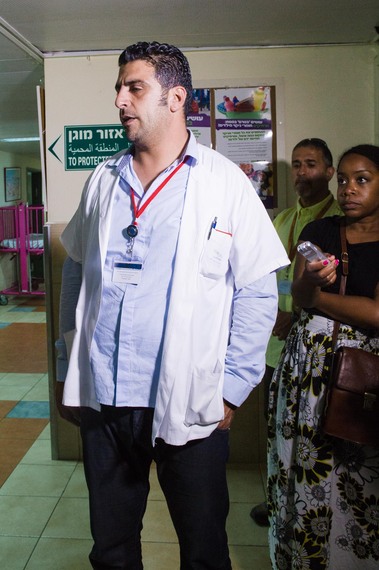 Fares Issa, an Arabic speaking social worker, is one of the hospital workers helping these patients. "I talk with them. Give them more information. Make them feel relaxed. So they feel in control of what is going on around them while they are here. I am with them. All the way. Until they go home. Bringing them all that they need. For example, for the kids, we bring them things to paint or to play. We take them to the market to buy ice cream and sweets. We try to give them a normal life in the hospital. Sometimes they are alone without family. Sometimes with family. If they are alone, than it is more of a problem because the have no one can to take care of them."
17% of the Syrian patients treated by the hospital are children. One of the children we met while there was a shy three year old boy suffering from a torn liver due to shrapnel after an explosion. Quiet and stoic for a three year old, the boy hasn't spoken since he arrived at the hospital one week ago. His uncle joined our group after a shower. Stoic and quiet as well. Answering our questions with only one word answers.
When asked what qualifies certain Syrians for treatment in Israel, Issa responded quickly. "I don't know. I don't have the answer to this question. I am working in the hospital. Every patient who comes here. It doesn't matter if he is Syrian or Palestinian or Lebanese, I have to do my work. I am not asking them many questions because I am in trauma. They are afraid to say their real name or where they come from because they are scared of their safety."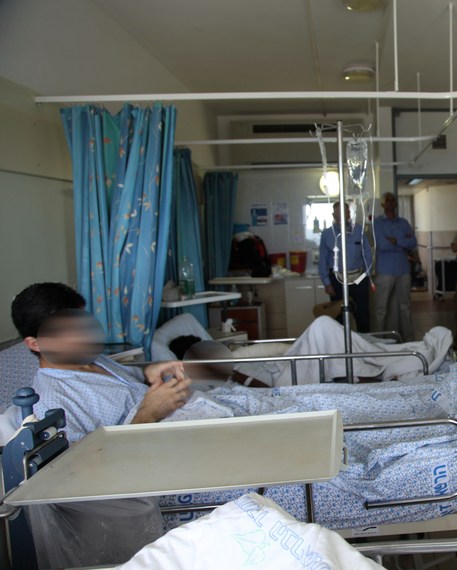 Another patient, a 20-something year old male had been working in Lebanon for six years and returned home to his family in Syria a few months ago. While in Syria, borders between Lebanon and Syria closed, preventing him from returning. After a bomb exploded near his home, he suffered severe injuries to his left leg.
The IDF brought him to the hospital into the care of Professor Alexander Lerner, Head of the Orthopedic Department. Lerner's department has treated approximately 100 Syrians with these type of extensive injuries. "Unfortunately, we have some experience in treatment of war trauma from the chronic ongoing Mideast conflict," he said.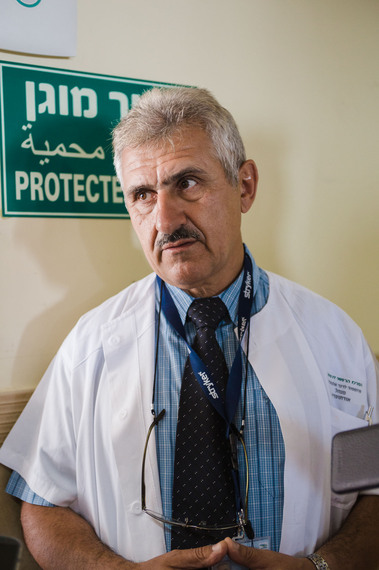 "We started with attempts for limb salvage," Lerner explained. "It is better if we can try and save the limb. In his case, due to extensive damages, it was not possible to save his limb. Finally, the decision was, "I'm sorry. We have to amputate." Life before limb. Now, his condition is relatively good and stable." Like most of the Syrian patients in Israel, he wants to return home and to his family. But if the Syrian government finds out he received this treatment in Israel, they will kill him. "It's dangerous," Issa explained. "If the Syrian government finds out he was here, they will kill him."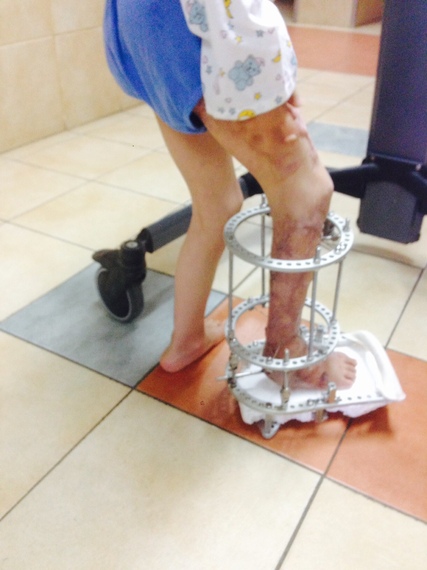 When I was invited on this blogger delegation by New York based non-profit America-Israel Friendship League, I had no idea I would be exploring a hospital treating these severely wounded people far from their homes. I expected sugary parties at Tel Aviv Pride and touristy excursions of the Old City in Jerusalem. The experience was extremely emotional for all of us on the trip. Especially when we were paired with an obnoxious news reporter shining a bright light and sticking a big microphone in the face of the three-year old boy we sat with. This visit, (and trip in general), seemed propagandizing at times. But that artificial intent shouldn't deter from the incredible work this hospital is doing.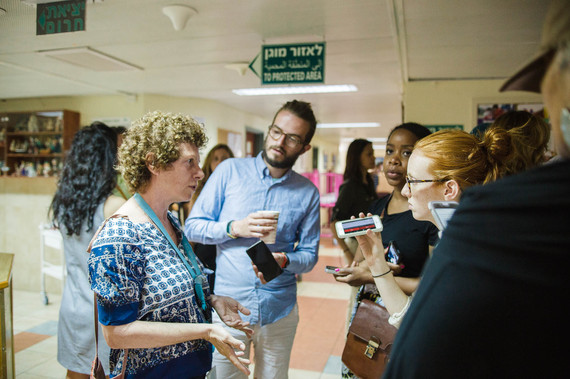 "There is no charge because these people have no money. The government of Israel and the taxpayers of Israel are paying the bills," Futterman told us.
I asked Futterman what she has personally learned from this experience. "It's been a good learning experience. The same way the Syrians have got their ideas about Jews and Israelis we have got our ideas about them," she said. "For us, to meet Syrian human beings on a personal basis, it has been very good. To talk to them and hear about their lives a little bit. To see them as individuals and not as "Syrians". I think the same goes for them about us."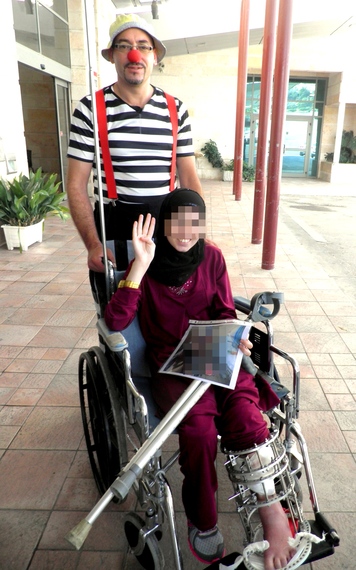 When asked what the toughest challenge for him has been during this trying experience, Issa stammers. "The hardest is working with children because I have children. I want to save the world and I can't. I want him (the three year old boy) to feel safe and many times I don't succeed. You can't miss the causalities. Because every day you have someone new. So you don't have time to miss those who go back. Many times I try to remember but there really is no time."
Correction: This post originally placed the hospital in the Golan Heights. It is in Galilee.
Related
Popular in the Community