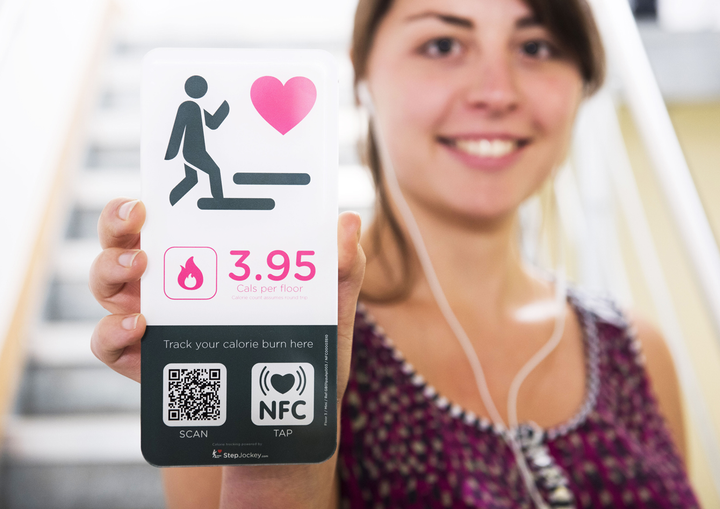 Many hospital workers, whose job it is to help people get well, struggle to keep themselves healthy and fit. Their jobs involve high levels of intensity and pressure, and managing those while trying to make mindful lifestyle choices can be overwhelming.
But hospitals are starting to realize that change doesn't have to be hard. It can start with something as simple as taking the stairs instead of the elevator. 
In Alabama, employees at the Huntsville Hospital System are ditching elevator rides -- and having a good time while they're at it. Last year, the hospital partnered with StepJockey, a British stair-tracking app, to encourage employees to opt for some old-fashioned stair climbing. Signs posted near elevator banks and stairwells inform people how many calories they can burn from climbing or descending, and they can scan their phone at the signs to track their progress as they incorporate more walking into their day.
Inspired by the wellness programs at high-profile firms like Google, the Huntsville team was determined to bring a simple, cost-efficient program to its offices and raise awareness about physical activity in a state where the obesity level ranks among the nation's highest.
"We felt it was important that we create a culture of wellness," Teek Patnaik, who introduced the StepJockey partnership as part of Huntsville's corporate wellness team and now works as a marketing project coordinator for the hospital, told The Huffington Post. "It needed to be serious, but also seriously fun."
Workplace wellness programs are increasingly becoming the standard at many of the country's most recognizable companies. With easy access to nap rooms, mindfulness classes and health screenings, those employees -- often well-compensated -- are encouraged to move around the workspace and take care of themselves in order to increase their productivity.
Many of these benefits, however, have been slow to catch on in other high-stress industries. At hospitals, for example, employee wellness isn't always a priority -- an ironic state of affairs for an industry built around health. Research has shown that nurses who work overnight are at higher risk for cardiovascular disease and lung cancer. Obesity rates are also high among health care workers, and employers have been urged to be more proactive in boosting their workers' attention to diet and exercise.
Some hospitals, like the Cleveland Clinic in Ohio, are finding ways to ensure their employees don't get overwhelmed. The clinic implemented a "Code Lavender" to respond to nurses and physicians facing severe stress and burnout from their daily work. A team of holistic care nurses are dispatched to provide Reiki healing and massage, and healthy snacks and water if someone has had an emotionally draining experience.
When Huntsville launched its partnership with the StepJockey app, it kicked off the initiative with a hospital-wide employee challenge to climb enough steps that would burn the same number of calories as it would take to summit Mount Everest. The teams hit the goal in three weeks -- so fast that the hospital turned it into a roundtrip Everest challenge.
The signs encouraging stair use are now spread across three buildings on Huntsville's campus, and may soon appear in the parking garages. An affiliate hospital, the Helen Keller Hospital in Alabama, recently picked up the program as well.
The signs are key to what Paul Nuki, CEO and cofounder of StepJockey, describes as environmental intervention. Hanging signage around a workplace allows a company to engage even those employees who might not be focused on exercise.
"If you want to get the group who are not interested proactively in health, then you've got to do it visually, with prompts and nudges on the walls," Nuki told HuffPost. "Even if you're still taking the elevator, you're at least getting the health message."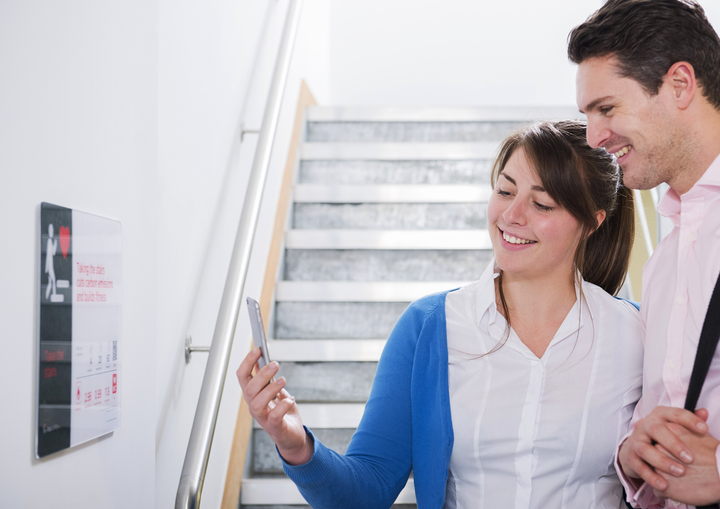 The enthusiasm around the stair-climbing program encouraged Huntsville to spruce up its existing walking trails. Located indoors and outdoors, the paths indicate the number of miles that an individual has walked, but weren't marked very well before.
"You don't have to make drastic changes to adjust to a healthy lifestyle," Patnaik said. "Little adjustments can add up to make a pretty big difference."
As an added incentive, institutions that encourage stair climbing will also cut down their environmental impact. A recent analysis by StepJockey of published studies found that hospitals in England stand to save over $145 million a year in energy costs by swapping elevator rides for taking the stairs. If 15 percent of nurses who work at institutions that fall under the country's National Health Service opted to walk up and down the stairs, those hospitals would also save over 55,000 pounds of carbon dioxide over five years (the equivalent of the annual electricity use of three American homes). 
A 2009 report from researchers at the University of Chicago found that the health sector contributed to 8 percent of carbon emissions in the U.S. Not too surprisingly, hospitals are the biggest cause of that carbon footprint. Temperature control, ventilation and lighting all require enormous amounts of energy, the researchers found.
But as the stair program shows, change can start with something small. Huntsville is the first U.S. hospital to partner with StepJockey, whose corporate clients include Deloitte, Procter and Gamble, KPMG and ESPN.
"Hospitals want to get their own staff moving and send a clear message to their patients that movement exercise is really important, both to prevent disease and also in the recovery of patients," Nuki said. "Huntsville wants to be seen as leading on the front for health."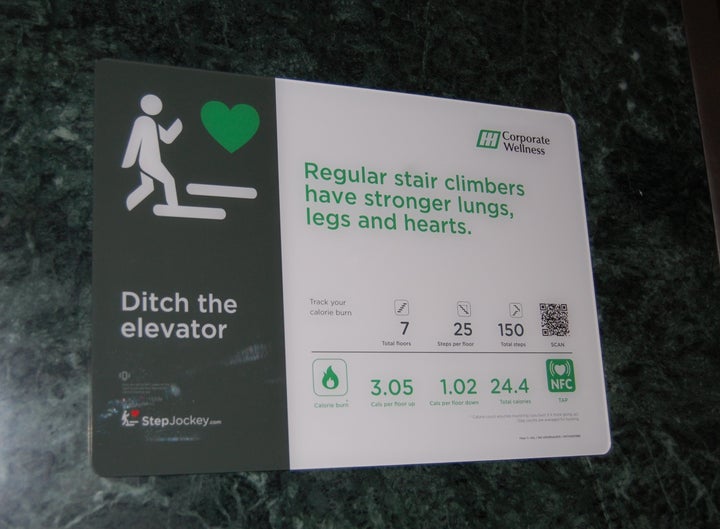 Calling all HuffPost superfans!
Sign up for membership to become a founding member and help shape HuffPost's next chapter