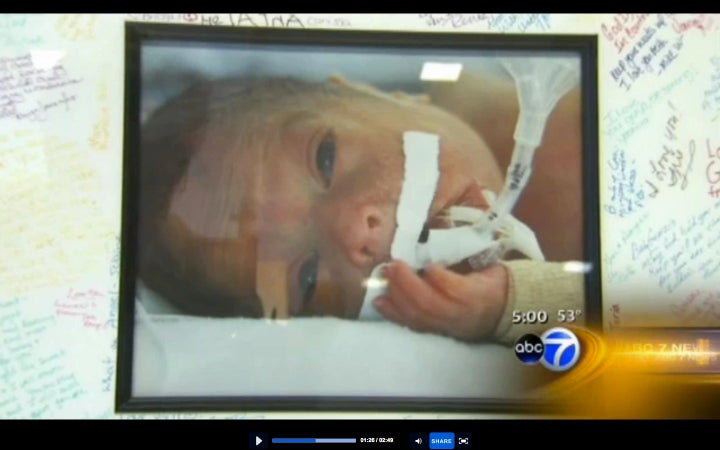 Born last September, baby Genesis Burkett was born into a struggle. He was very premature, delivered at 24 weeks and weighing just one pound, eight ounces at birth; he was born with a heart condition, and had to be fed through IV tubes.
Still, though, his parents say that his prognosis was good, until Advocate Lutheran General hospital in suburban Park Ridge, Illinois gave him a dose of sodium 60 times higher than prescribed. He died at 40 days as a result of hypernatremia, or excessive sodium.
His father Cameron and mother Fritzie have filed a wrongful death suit against the hospital, blaming a series of preventable mistakes for the sodium overdose, according to WLS.
First, the family alleges, a pharmacy technician incorrectly filled Genesis's doctor's prescription for an IV, giving the baby vastly more sodium chloride than requested. Then, the label on the bag -- which accurately represented the amount of sodium -- was covered up by an inaccurate one, the Chicago Tribune reports. Finally, blood tests apparently showed that the baby's sodium levels were high, but doctors assumed the reading was wrong and ordered another round of test. That test was never administered, the suit claims.
"Genesis Burkett should be a happy and healthy 6-month-old boy at home with his family today," Salvi said. "The innocent infant died of malpractice, plain and simple. And we intend on proving it in court."
Fritzie and Cameron had suffered two miscarriages prior to the loss of Genesis, the Tribune reports. "It's just an incredible loss to us," Cameron said to the paper.
Popular in the Community