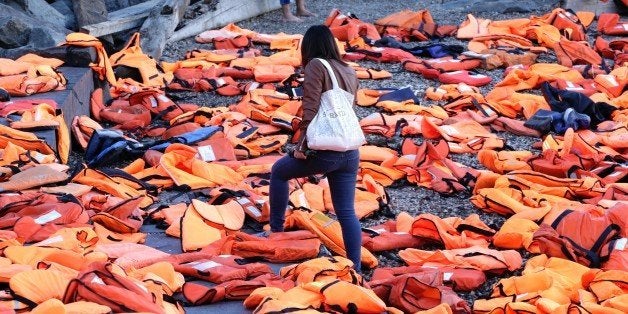 Lebanese woman Shouelly Ahmad el Hajji lives with 14 family members in a house in the Bekaa region in north-east Lebanon, near the border with Syria. For decades her family used a diesel fuel stove to help survive the freezing winters. But the protracted war in Syria saw more than 360,000 refugees cross the border and settle in the region.
The influx put pressure on local resources, pushing up the price of diesel fuel and other goods. Suddenly Shouelly's family, and many other locals, struggled to afford to keep warm. In response, UNDP worked with the Lebanese Government to deliver new stoves that burn environmentally-friendly briquettes, funded by the German Government. Shouelly said her family's joy was "inexpressible" and they could now buy food with the money previously spent on diesel fuel.
As this family's experience shows, it's not just refugees and migrants who need more support as the world struggles to respond to unprecedented movements of people globally. A third group--host communities--are also deeply affected.
A host community might be people living around the edges of a refugee camp. They are often in cities too, since large numbers of refugees and migrants are moving into urban areas.
Over and over, host communities have shown extraordinary generosity, providing what the international community calls a 'global public good' by taking in large numbers of new people.
Yet they have often been left to cope with the negative impacts on their own. As we have seen in Lebanon, the sudden arrival of many new refugees or migrants can put pressure on local services such as electricity and water, increase competition for jobs and livelihoods and strain social cohesion.
Further, many of these host communities are already vulnerable and living in poverty. They're often underserved and falling behind on key development indicators such as infant mortality, life expectancy and access to healthcare. When we urge the world to "leave no one behind" as part of Agenda 2030, this is who we're talking about.
So when the historic UN Summit for Refugees and Migrants is held in New York on 19 September, much of the focus will understandably be on the urgent needs of refugees and migrants.
However, UNDP will argue strongly for greater support for host communities as well. It's not only about offsetting negative impacts, but actually creating benefits for host communities. For example, new arrivals of people can stimulate a local economy through increased demand for housing, food and other commodities, they can meet labour shortages and pay income tax.
This is where development organizations, including the lead UN development agency, the United Nations Development Programme (UNDP), can help in this crisis. Here are five key ways these affected communities can be supported:
1. Creating more sustainable livelihood opportunities for both host communities and refugees through vocational training, developing small and medium enterprises and funding cash-for-work activities. For example, in Lebanon--with the largest refugee population per capita in the world--UNDP has created labour-intensive jobs for host communities and refugees, working on infrastructure improvements such as roads, hospitals and schools.
2. Helping local governments by ensuring basic services continue, such as water, electricity and waste removal. In the town of Šid, in Serbia, UNDP renovated two wells to provide up to 50 percent more water for host and refugee communities. In the central Philippines, UNDP worked with the government of Naga City to mainstream migration into local development planning.
3. Building social cohesion between host and refugee or migrant communities. This could be through conflict mediation, or joint community projects. For example, in northern Ecuador, UNDP has worked with the government of Pichincha province to promote integration and mutual understanding between locals, migrants and refugees, including through an awareness-raising campaign.
4. Strengthening the resilience of host communities so they can cope better with future shocks, including by reducing poverty and reinforcing rule of law, justice and security and peacebuilding.
5. Supporting major new policies and practices adopted by governments, for scaling up or to promote as examples of the innovative thinking needed in this crisis. In a stand out example, the Ugandan Government gives refugees land and invests to develop settlement areas, backed by a soft loan from the World Bank. Together with the UN and the World Bank, the Government is developing a five-year economic development plan which will benefit not just 400,000 refugees but also some 4.7 million Ugandans.
By investing in sustainable development for host communities, refugees and migrants, we're helping to ensure the world achieves the Sustainable Development Goals. And that is crucial for our future. We are also recognizing our shared humanity. And that is crucial for our present. This is why world leaders and the international community must implement the New York Declaration after the Summit, including a commitment to support countries rescuing and receiving large numbers of refugees and migrants. We must act to ensure that people like Shouelly Ahmad el Hajji and her family are not left even further behind in this crisis.
This post is part of a series produced by The Huffington Post to mark the occasion of two critical conferences at the UN on the Refugee and Migrant crisis: the UN Summit for Refugees and Migrants (Sept. 19th, a UN conference) and the Leaders Summit on Refugees (Sept. 20th, hosted by U.S. Pres. Barack Obama, at the UN). To see all the posts in the series, visit here. To follow the conversation on Twitter, see #UN4RefugeesMigrants.
Calling all HuffPost superfans!
Sign up for membership to become a founding member and help shape HuffPost's next chapter