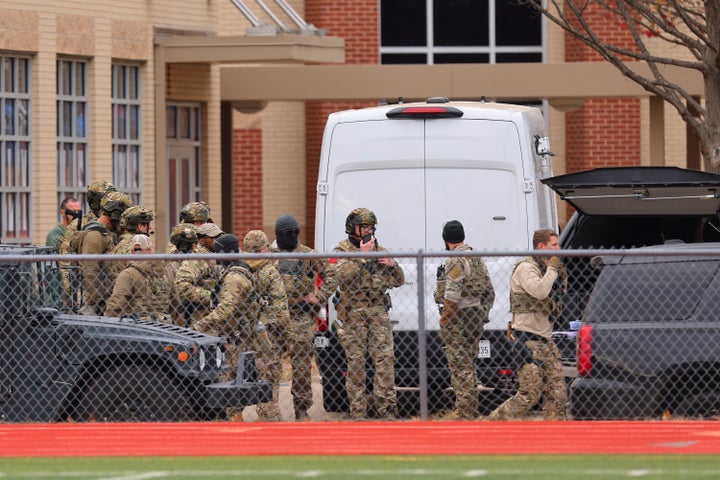 All of the hostages held at a North Texas synagogue amid a tense, 12-hour standoff are safe, Gov. Greg Abbott (R) announced late Saturday.
"Prayers answered," Abbott tweeted. "All hostages are out alive and safe."
It was a welcome conclusion after four hostages, reportedly including a rabbi, were seized by a suspect in the Dallas suburb of Colleyville Saturday morning during a service at Congregation Beth Israel that was being streamed live on Facebook.
Law enforcement confirmed the suspect is dead, and on Sunday identified the man as 44-year-old British national Malik Faisal Akram. There is currently no indication that any other individuals were involved, according to FBI Special Agent in Charge Matt DeSarno.
"We do believe from our engagement with this subject that he was singularly focused on one issue, and it was not specifically related to the Jewish community," DeSarno said at a press conference on Saturday. "We will continue to work to find motive." He said the ongoing investigation will have "global reach."
Colleyville Chief of Police Michael Miller said investigators didn't yet have "any information about why this particular synagogue" was targeted by the suspect.
Journalists on the scene reported sounds of a bang and said the power to the synagogue was cut before the three hostages left the building.
Earlier in the evening, the suspect released a male hostage. None of the hostages were injured. "He did not harm them in any way," DeSarno said at the press conference.
An elite hostage negotiating team of some 70 experts was flown in from Virginia, and about 200 law enforcement personnel were involved in the effort to keep the hostages safe.
The negotiating team "had a high frequency and duration of contact" with the suspect, said DeSarno. "Like many hostage situations, the relationship between the negotiators and the hostage taker ebbed and flowed and sometimes got intense."
A SWAT team initially responded to a call for help at 10:41 a.m. local time on the same block as Congregation Beth Israel. Police quickly evacuated the surrounding area and established a security perimeter, officials said.
Before the livestream of the service was taken offline, viewers could hear an angry man shouting, sometimes about religion, and periodically engaging with law enforcement. But the feed did not show exactly what was happening.
"I'm going to die at the end of this, all right? Are you listening? I am going to die," the man said shortly before the Facebook stream cut off.
Authorities didn't reveal what weapons the suspect had. The Washington Post reported he had a gun and explosives, citing an anonymous police source.
At one point he claimed that convicted terrorist Aafia Siddiqui was his sister, according to ABC, although it was not clear whether he intended to suggest they were biologically related.
A lawyer for Siddiqui's biological brother confirmed in a statement that it was not Muhammad Siddiqui holding people hostage.
The suspect was believed to want Aafia Siddiqui released.
Siddiqui, a Pakistani neuroscientist and MIT graduate, was accused of having ties to al Qaeda and sentenced to 86 years in 2010 for trying to murder American soldiers in Afghanistan. In 2008, she had grabbed a soldier's M4 rifle and used it to shoot at another soldier while being pulled in for questioning; during the attack she "exclaimed her intent and desire to kill Americans," according to the Justice Department. Siddiqui was wounded by gunfire during the incident.
During her trial, Siddiqui expressed hostility toward Jewish people, suggesting at one point that potential jurors undergo genetic testing to confirm they are not Jewish. She is currently imprisoned at a medical facility near Fort Worth.
Colleyville lies between Dallas and Fort Worth in northern Texas.
The Council on American-Islamic Relations numbers among the pro-Pakistan and human rights activists advocating for Siddiqui's release, saying that she has been attacked by other inmates. One person allegedly smashed a mug of hot liquid onto her face, the group said in a press release last summer. CAIR and other supporters of Siddiqui, a mother of three, allege that she has been falsely accused by the U.S. government.
The group condemned Saturday's attack in a statement calling it an "unacceptable act of evil. No cause can justify or excuse this crime," CAIR National Deputy Director Edward Ahmed Mitchell said.
In 2018, Pakistan's senate unanimously passed a resolution calling on the U.S. government to take steps to release Siddiqui, labeling her "Daughter of the Nation."
Terrorist groups have demanded her release, too. In 2014, ISIS offered to exchange Siddiqui for American journalist James Foley, who was later beheaded. ISIS then offered to trade her for American journalist Steven Sotloff before he was similarly executed.
President Joe Biden released a statement on Sunday thanking law enforcement and calling Saturday's hostage incident an "act of terror." He also said he will call the synagogue's rabbi to convey that attacks on places of worship will not be tolerated.
Sanjana Karanth contributed reporting.
Support HuffPost
The Stakes Have Never Been Higher
Popular in the Community