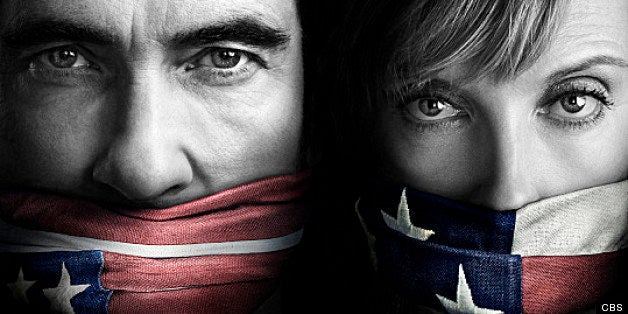 "Hostages" is one of the most ambitious new shows on network TV with a pilot that will leave viewers with a lot of questions. Number one among them: How can the intensity of a hostage situation with the president's life on the line actually drag out for a full season, let alone several seasons?
At the Television Critics Association Summer 2013 press tour, "Hostages" writer, director and executive producer Jeffrey Nachmanoff admitted he had the same question when he was first approached about the concept, saying, "That's a fantastic idea -- are you sure that's a network television show?" But he's since mapped out exactly how the show will unfold over the 15 episodes of Season 1.
Executive producer and writer Rick Eid agreed, saying they're really just focusing on the first season, and then can figure out a second season if and when it becomes a reality. "We're doing 15 [episodes] and we hope to get not only two seasons but a lot more," executive producer Jerry Bruckheimer said, noting that "Hostages" is not a miniseries.
"There's no bulls*** in this show," star Dylan McDermott said when talking about only having to do 15 episodes instead of a full network season of 22 episodes.
McDermott, co-star Toni Collette and the writers confirmed that the first 15 episodes are happening almost in real-time, with the whole season spanning just two weeks, giving them the leeway to do more seasons.
"It's a cat and mouse story," Nachmanoff said, citing Hitchcock as inspiration when saying they want to "give the audience that feeling and ride of suspense."
"He's a good man inside and he's got a lot of qualities that we'll admire." he added of McDermott's character, an FBI agent turned hostage taker who won't stop until the president of the United States is killed. "As I say in the pilot, I'm doing bad things for a good reason," McDermott reiterated. "There is a lot of good and bad in him."
"I'm always drawn to characters who seem real," Collette added, noting that her surgeon character is a woman who's been "toeing the line her whole life" and now she has to face whether or not to cross it. "It's about finding one's strength and living authentically."
"You can tell from the pilot, it's a fairly dysfunctional family," said executive producer Jonathan Littman, noting that even Collette's straight-arrow character Ellen, who's a mom, a wife and a successful surgeon, has some secrets.
Collette's character has many sides to her, although she's not as multi-faceted as her "United States of Tara" leading lady, who had dissociative identity disorder and therefore, many different personalities. "I find this character equally as fascinating," Collette said of Ellen, noting that playing favorites with roles is like naming your favorite child.
And, of course, it wouldn't be a Q&A with Dylan McDermott without a question about the continued confusion between him and Dermot Mulroney, which is only compounded this year by the fact that Mulroney is also doing a hostage drama, NBC's "Crisis.
"Is that true?" Toni Collette asked with a laugh, before McDermott joked, "We always discuss what we're gonna do ... We're trying to add to the confusion as much as we can."
"Hostages" premieres Mon., Sept. 23 at 10 p.m. ET on CBS.
PHOTO GALLERY
TCA Quotables, Out Of Context
Calling all HuffPost superfans!
Sign up for membership to become a founding member and help shape HuffPost's next chapter