"When hosting an exchange student, you learn a lot about your own family; you learn about listening, patience, and other countries. People connect with people. Hosting has taught us tolerance and opened us up so much." -- Jim Johnson, a host father from St. Paul, Minnesota, who hosted a high school exchange student from Ukraine this year.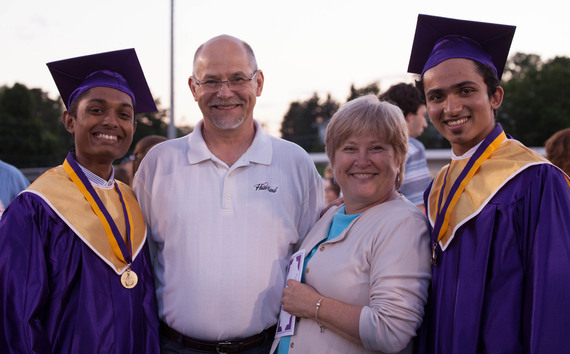 YES program exchange students Mohammad Tuaha, from Pakistan, and Faysal Shakawat, from Bangladesh, celebrate their high school graduation with their host family, Charles and Deb Felak, in Pennsylvania.
Over the past few weeks - as the school year has wrapped up - I have had the pleasure of meeting many of the 2,000 international high school exchange students who came to the United States on programs sponsored by the State Department this year. Their confidence, appreciation for culture, and their dedication to community service make me excited for the future - these students are the future leaders in their countries, and they've left an important lasting mark on communities here in the United States. So now, I want to really encourage more Americans to consider expanding your worlds by bringing one of these amazing students into your homes. Hosting an exchange student is a way to understand another culture and bring new ideas into your community without ever leaving your home.
Students come to study in the United States from over 50 countries and are placed with volunteer host families in every U.S. state. They attend American high schools, learn first-hand about the United States and its culture, teach their peers and host families about their own culture, and participate in community service and leadership activities. Overwhelmingly, both students and host families have an outpouring of positive things to say about the exchange experience.
"When I close my eyes, so many moments come to mind which I simply cannot forget, like the time when these ears were first introduced to the Beatles, or the first time I played a card game with my host family, or tasted the heavenly flavor of Nutella," said Syed "Asad" Ali of Pakistan, who just completed his year abroad in Redding, California. "The gift which YES study abroad offered me is that I was able to interact and make friends with people of different skin color than my own, people who had different ideas than my own, and different religion than my own."
Diana Hopkins and her family from Houston, Texas, hosted a student from Germany this year, and has previously welcomed 15 exchange students. When asked about her experiences, she said: "We enjoy hosting. You have to have an open mind and be patient. Enjoy it, because it can be a really rewarding experience. It is nice to have another perspective and another point of view. It's important to see how the world views America."
When deciding to host an exchange student, the Hopkins family also thought of the benefit to their own son. "It's a way to broaden his horizons. Hosting has given us friends all over the world and a companion for our son. In fact, our son traveled to Europe and visited our former exchange students."
As I have met hosts and talked with students, I have seen that there is no one formula for success. Volunteer host families represent the diversity of the United States itself. They live in rural areas, suburbs, and cities. They include married couples and single people, with and without children, and with children who are both younger and in high school. Host families represent the socioeconomic, ethnic, and geographic diversity of our country.
Hosting an exchange student is a life-changing experience. Over the next few weeks, I will continue to post about the impact of hosting on both students and host families, and how it has opened windows to the world. To learn more about hosting a State Department-sponsored high school scholarship student, visit hosting.state.gov, or sign up for more information at c2cyouth.org.
REAL LIFE. REAL NEWS. REAL VOICES.
Help us tell more of the stories that matter from voices that too often remain unheard.