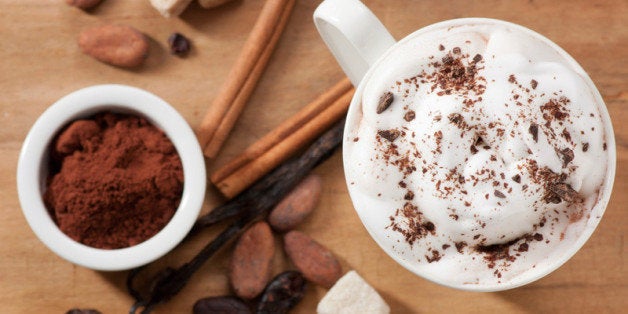 Adding a spoonful of something spicy, sweet or nutty to plain hot cocoa barely takes more time than tearing open a packet of powdered hot-cocoa mix and stirring it into warm milk. Yet, such a small effort transforms the drink into a way-more-special-than-usual morning treat, a spectacular midafternoon pick-me-up or an over-the-top way to end dinner.
Here, we offer a standard recipe for homemade hot chocolate that you can take in 10 different directions. It's easily doubled, tripled or even quadrupled.
Ingredients

1 cup milk
1 Tbsp. unsweetened cocoa powder
1 1/2 Tbsp. sugar
1 tsp. vanilla extract
Mix-in (see suggestions, next page)
Whisk together milk, cocoa powder, vanilla and sugar in a small pot on the stove.
Gently warm mixture but do not boil, and then whisk in the mix-in of your choice (see options, next page), stirring to thin out any clumps.
Pour into a mug and serve with whipped cream and the corresponding topping.
Peanut Butter Hot Chocolate
Mix-in: 1 Tbsp. peanut butter (chunky or smooth)
Topping: Chopped, salted peanuts
Nutella Hot Chocolate
Mix-in: 2 Tbsp. Nutella (omit sugar from the master recipe)
Topping: Shaved milk chocolate
Raspberry Hot Chocolate
Mix-in: 1 Tbsp. raspberry liqueur, such as Chambord; or 1 Tbsp. seedless raspberry jam (if using jam, omit sugar)
Topping: Drizzle of raspberry jam thinned with a splash of boiling water
Ginger Hot Chocolate
Mix-in: 1/4 tsp. ground ginger
Topping: Julienned strips of candied ginger
Minty Hot Chocolate
Mix-in: 1/2 tsp. peppermint extract
Topping: Shaved, dark chocolate; mint sprigs
Mexican Hot Chocolate
Mix-in: 1/2 tsp. cinnamon and a pinch of cayenne pepper
Topping: Dried cinnamon sticks, as stirrers
Cognac Hot Chocolate
Mix-in: 2 Tbsp. Cognac; use 1 tsp. maple syrup in place of sugar
Topping: A pinch of maple flakes
Citrus Hot Chocolate
Mix-in: Peel from 1 orange
Topping: Finely grated orange zest
Coconut Hot Chocolate
Mix-in: Swap 1/2 cup unsweetened coconut milk for half of the milk
Topping: Toasted coconut flakes
Curried Hot Chocolate
Mix-in: 1/4 tsp. curry powder
Topping: Cardamom marshmallows (or plain marshmallows dusted with ground cardamom)
Calling all HuffPost superfans!
Sign up for membership to become a founding member and help shape HuffPost's next chapter
BEFORE YOU GO
PHOTO GALLERY
5 Upgrades To Create The Best Chocolate Chip Cookie Ever