For couples visiting the Windy City, there are a million places to go. Even if you're artsy Alter Natives, there are still dozens of options. But what if you're even edgier than the Museum of Contemporary Art , or even Facets. The for you, you post-hipster, we have a business-hours date idea that no one else will tell you about: the Video Data Bank.

Located on Michigan Avenue in the Loop, at the Video Data Bank you can rent a tiny, private screening room at the country's top video art rental and screening facility. You can casually name drop an obscure late 60's artist who exhibited "de-materialized art" (non-existent art) and lean all about the nothingness. You can watch Baldessari write, "I will not make boring art" dozens of times. Films of Jenny Holzer's LCD screens, a doc about the group that made the Cadillac Ranch (the cars stuck in the ground in Texas), or even knock off an hour or two of Surveying the First Decade: Video Art and Alternative Media in the U.S. 1968-1980.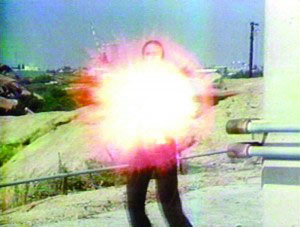 Dara Birnbaum, Technology/Transformation: Wonder Woman. Video, 1976. © 2010 Dara Birnbaum. Video still Courtesy Video Data Bank. http://www.vdb.org/

The intimate screening room is equipped with a large screen television, two comfy leather chairs and a coffee table for your convenience. Bring a blanket, dim the lights and let the place take you away, art hippie.

All the joking aside, it was founded in 1976 by two School of the Art Institute graduate students, Kate Horsfield and Lyn Blumenthal. The Video Data Bank's collection now boasts an extensive array of works, from canonical pieces of video art, such as Richard Serra's Television Delivers People (1973) and Dara Birnbaum's Technology/Transformation: Wonder Woman (1978), to Videofreex's archival activist footage of women's rights and Black Panther protests of the sixties and seventies to recent works of new media by those such as George and Mike Kuchar, Tony Cokes, and Peggy Ahwesh. The co-founders have also conducted in-depth video interviews since the start with artists, such as Lee Krasner, Chuck Close, Sol LeWitt and Agnes Martin, as well as key critics and historians, such as Laura Mulvey, Linda Williams, Michelle Wallace and Benjamin Buchloh. The result is an unprecedented collection of art world interviews from the 1970s through the present day. The earliest of these include those with "Happenings" creator Allan Kaprow, feminist art critic Lucy Lippard and avant-garde filmmaker Stan Brakhage.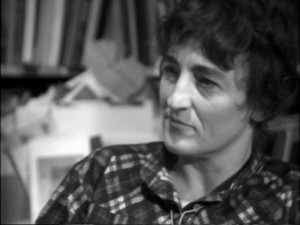 Lucy Lippard. Video still. Courtesy Video Data Bank. http://www.vdb.org/
Booked by two or three hour time slots, the Video Data Bank screening room can be a busy place during the academic year but is generally available all summer long when the art students are on break. At most, one will need to call a few days ahead, but more often than not they will be able to get you in on just one day's notice. Open only Monday through Friday, 9am-5pm.
REAL LIFE. REAL NEWS. REAL VOICES.
Help us tell more of the stories that matter from voices that too often remain unheard.