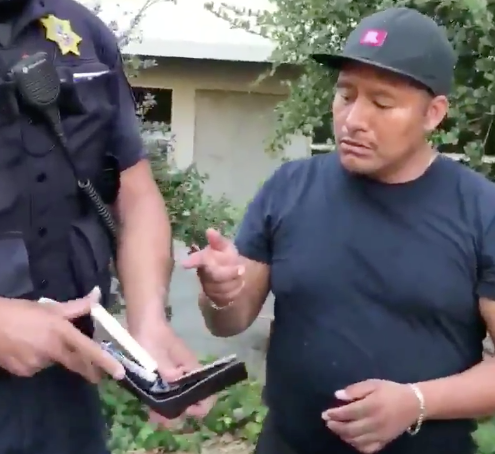 When Beto Matias headed onto the campus of the University of California, Berkeley, earlier this month with a cart full of hot dogs and fixings, he just hoped to make a little money off hungry college football fans. Instead, his day ended in a now viral confrontation with university police, in which he received a ticket for operating without a license. The officer took $60 from Matias' wallet and said a judge would decide whether he got the money back.
In the two weeks since the Sept. 9 incident, strangers on the internet have helped to turn Matias' loss into an opportunity, donating more than $87,000 to a GoFundMe campaign launched by Martin Flores, the bystander who recorded the incident.
The fundraiser page originally said that the money would be used to cover Matias' legal fees and personal losses and that additional funds would go to support any other vendors "robbed of their hard earned living through citations and removal of their carts."
But while other unlicensed vendors were detained on Sept. 9, authorities have acknowledged that only Matias got a ticket. The GoFundMe campaign was later modified to say the money raised would go to help Matias buy a "fully permitted" food truck.
On Saturday, Flores presented Matias with a check for $87,921 at an event outside the UC Berkeley Center for Latino Policy Research. The check was purely symbolic ― the fundraising campaign is still accepting donations, Flores told HuffPost on Monday ― but the show of support for Matias and other street vendors has been very real.
"What was important on Saturday was to show the public the support that was there," said Flores, a Berkeley alumnus who works in the Los Angeles County Superior Court system. "The community came together not knowing this man, and the majority of these donations were humble donations of five, ten dollars. It's almost like they bought an online hot dog that they're never going to eat just to show solidarity."
Berkeley students, members of the local community and other supporters attended the event. Matias and his family grilled hot dogs, said Flores.
"I'm happy that I have the help of the people," Matias told The Daily Californian, in Spanish. "I'm so grateful for the community."
More than 5,500 donors have already contributed to the fundraiser. The campaign is still well short of bringing in the $150,000 needed to buy that fully equipped food truck. GoFundMe assesses a 7.9 percent service charge on its campaigns, and Flores said attorneys advised him that the final donation might be taxed by as much as 30 percent (although the U.S. tax code exempts the recipients of most personal gifts from paying taxes on those gifts). He said he doesn't want to give Matias expectations that are too high.
"I'm hoping that we can continue to garner support where we can make this a reality, and we can all be a part of this food truck," said Flores. "It may have to be that he settles for a trailer, something more affordable. It may be that he has to settle for a used truck."
In the meantime, Flores wants to shine a light on what he says is a broader issue of unnecessarily harsh restrictions serving to criminalize street vendors.
"We've learned that street vendors like hot dog vendors, for example, they would never meet the regulations as they exist now," he said. "So there's gotta be a way to make it a win-win that still respects what's mandated ― and the right reasons why they're mandated ― but at the same time, that finds a way to make this realistic for them."
University officials have so far defended the incident as a routine law enforcement action, carried out in the interest of public safety.
"We have instructed our officers to monitor illegal vending outside our event venues. This action has been motivated at least in part by issues of public health, the interests of local small businesses, and even human trafficking," UC Berkeley Vice Chancellor Scott Biddy said in a statement earlier this month. "In a case such as this, it is typical to collect any suspected illegal funds and enter them into evidence."
Language has been added noting that on Beto Matias' end, the tax status of the GoFundMe donations is not clear yet.