Hot dogs are the fastest-growing item on English menus, growing in popularity and sophistication in much the same way that burgers have done in the U.S. over the past decade.
Last summer hot dogs cracked the list of the Top 20 foods in Britain across all categories (pub, restaurant and hotel) on British researcher Horizons' Menurama survey. The just-released winter survey finds hot dogs not only holding on to that Top 20 slot but also continuing to grow in menu appearances. Since summer, hot dogs have increased their presence by 14 percent. Over the past year hot dogs have increased the number of menus on which they appear by a remarkable 191 percent.
At restaurants (such as The Owl & Pussycat, below), hot dogs are the No. 14 food (in menu presence) putting them ahead of traditional British favorite fish & chips.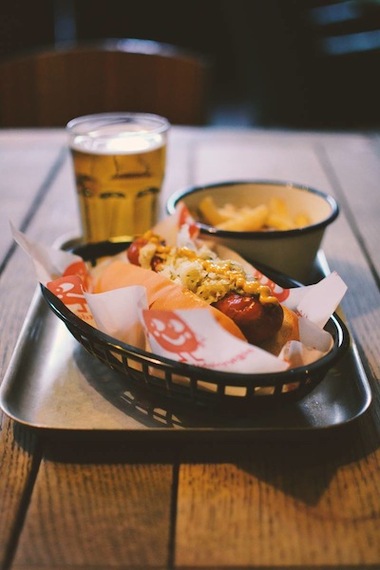 Burgers remain the most common item on British menus, but their growth has slowed. Since summer, burgers are down 2 percent although they are up 6 percent year-on-year according to the biannual Menurama survey, which analyzes menu changes and trends at 115 brands. Pizza, the second-most-often-menued food in the UK, is not faring as well: It has declined 19 percent since summer and is down 21 percent compared with a year ago.
One reason for hot dogs' surge may be that they are priced below other options. According to the Menurama research, hot dogs' average price of £6.12 ($10.21) is lower than that for any other item in the Top 20 for restaurants. Across all segments, hot dogs average £7.14, compared with £9.42 for a burger, £10.02 for pizza, £9.66 for fish & chips and £8.26 for perennial favorite sausage & mash.
During their meteoric rise on British menus, hot dogs have been undergoing just the sort of diversification and experimentation that burgers have enjoyed here. Many of the sames themes of the burger explosion are evident in Britain's love affair with the humble hot dog. Some examples:
• Build Your Own. London's Gourmet Hot Dog Co. lets diners choose a pork/beef, 100 percent beef, piri-piri-spiced chicken, lamb/beef, smoked 100 percent pork or veggie dog to start. Next comes the choice of 12 toppings and 10 sauces (ranging from Fiery Marrakesh to Rocky Mountain Maple).
• Bacon, Bacon, Bacon. MEATmarket is one of many restaurants that offer a bacon-wrapped dog. Theirs is a wrapped, deep-fried pork dog served with mustard, onions, Danish sauce and spicy relish (£8.50).
• Non-Meat Options. Street Kitchen at The Miller in London uses dog names for its fare. The Highland Terrier is a hot-smoked salmon dog served with pickled red cabbage, roasted beetroot, horseradish mayo and fresh dill pickles (£6.50).
• Better for You. Shake Shack has arrived in England to long lines and positive reviews. Its Flat-top Dogs are 100 percent all-natural with no hormones, antibiotics, nitrates or nitrites.
• Trendy Purveyors. Big Apple Hot Dogs is the Pat LaFrieda of London dogs. It operates a street cart but also supplies all-natural dogs to others. Big Apple's motto: "Inspired by New York, made in the heart of London."
• Upscale Ingredients. The Owl & Pussycat in London just this month added a new menu of four hot dogs from Big Apple. The Big Dog boasts a coarsely ground blend of pork and beef seasoned with marjoram, garlic and black pepper before being double-smoked over German beech wood (£5). Bubbledogs in London serves, as the name implies, champagne and hot dogs. The £8 BLT is a bacon-wrapped dog with caramelized lettuce and truffle mayo.
• Pulled Pork as a Topping. London's Revolution Bar serves The Dirty Dog, a creation that teams a premium bockwurst with chipotle pulled pork, mustard, ketchup and crispy onions in a 10-inch brioche roll (£8.95).
• Barbecue Sauce. The Pines in Glasgow, Scotland, serves a dog it calls simply The Gourmet. It's topped with pulled pork, BBQ sauce, melted cheese and battered onion rings. Fayre & Square's All-American Dog is a foot-long sausage with mozzarella, bacon, HP sauce and Texan-Style BBQ sauce (£8.49).
• Regional Foods. Hawksmoor Spitalfields in London describes The Scottie Dog as a "Caledonian take on the classic dawg." The sausage is made with Scottish favorite haggis (sheep organ meat cooked in a sheep's stomach) and lamb with whiskey ketchup, "neep mustard," and "crispy tatties" (£10).
• Brunch Versions. The Flying Dog pub in Edinburgh, Scotland, has come up with Hotdog Hash topped with black pudding and a free-range egg (£6.95).
• International Influences. The Slumdog Millionaire served for £7 at Dogs N Dough in Manchester is topped with Bombay potatoes, tikka masala and raita.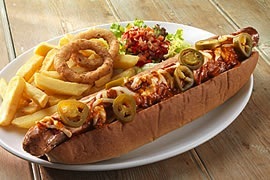 • Serve It Spicy. The Devil Dog (above) served at many of the Fayre & Square pubs is a foot-long sausage topped with fiery ghost chile sauce, jalapeňos and mozzarella (£8.49).
• Beer Cheese! The Burger Dog at Dirty Bones in London is £8.50. The dog is made from a mince of 30-day-aged bavette (bottom sirloin flap) and beef fat with beer cheese in the middle. Mustard and ketchup go on top.
If there's a trick the British are missing with hot dogs it's bun variety. Where are the pretzel buns, the ciabatta, the ramen and the doughnut buns? Apparently there's room for even more growth in hot dogs once the bun craze hits.
Popular in the Community