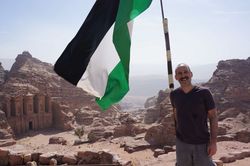 Large parts of the world remain complicated and often dangerous for gays and lesbians, both locals and visitors. The Muslim Gulf States are increasingly striving to join the mainstream travel world by luring Western travelers (hello, Louvre Abu Dhabi) while simultaneously looking for new ways to exclude gays (a medical test? Really, Kuwait?) Seventy-six countries still criminalize homosexuality, and in five, capital punishment remains a theoretical, sometimes actual punishment.
Then you have Israel, especially the gay bubble of Tel Aviv. Argue about its policies (and we do), but there is no denying it is the Middle East's shining beacon of gay acceptance.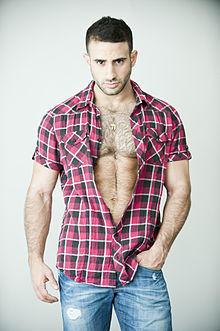 Tel Aviv's mayor promoted a gay tourism campaign that essentially boiled down to "Israeli guys are hot. Come check them out!" At ManAboutWorld we did. And they are. Want visual proof? Check out Eliad Cohen, the face (and body) of gay Tel Aviv.
Jordan makes almost everyone's bucket list for the lost city of Petra. And while you can easily see Petra in a day trip from Israel or Amman, it's best combined with an overnight or two in Wadi Rum, the very desert traversed by Lawrence of Arabia. Here you can explore otherworldly desert landscapes by jeep, camel, microlight or foot, and spend the night in a tent, laughing, singing and dancing as a guest of Bedouins who have lived in this valley for generations. Their traditions of hospitality live on in a welcome that is genuine, warm and accepting.
While Jordan doesn't exactly wave a rainbow flag to attract gay visitors, it is one of the most friendly to queer travelers in the Muslim world, and one of the few where consenting homosexual acts are legal.
The instability of this region scares away many visitors, but we always feel safe traveling the well-touristed areas of Israel and Jordan.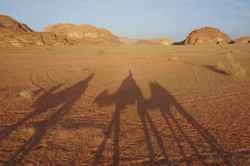 These two historic and amazingly beautiful destinations are highly dependent on tourism, and they need our pink dollars, now more than ever.
If they're on your bucket list, now is the time to plan a trip, and you'll find all the planning advice you need in the current issue of ManAboutWorld Magazine, available in the App Store.
Photo Credits:
Petra: © Billy Kolber
Eliad Cohen (cc) Wikipedia
Wadi Rum: © Billy Kolber