Hot Rumour, an au courant LA-based pop-rock trio, want you to scream along with their British-infused space rock insta-hits, and dance while you're doing it. Comprised of brothers Aaron and Josh Ficchi, on guitar and percussion respectively, and Frankie Siragusa, an established Angeleno producer who's worked with acts like Reggie Watts and members of the Decemberists, these dudes are out of the gate strong with polished tracks that are both radio and Coachella 2017-ready.
The track above, "Run to Me," is the lead single off the group's upcoming debut EP, MMXVI, out April 29th. It's the most hybrid tune on the album, expertly mixing rough wailing and guitar playing--seemingly inspired by bands like Muse--with dance-rock and synthpop sounds fans of current hitmakers like Walk the Moon, Saint Motel, fun., Bleachers, and Nate Ruess are sure to love. "Call 'Em Out," while slightly more on the Muse-side of things, also features fragments of Rumour's underlying dance-rock tendencies.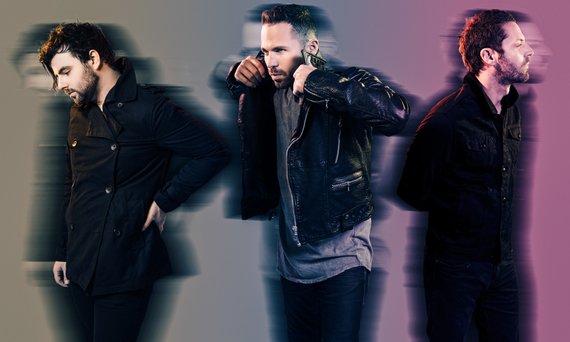 The rest of the EP is decidedly on the baroque pop-rock end of the alternative spectrum, feeling at times like a debut EP from Panic! At the Disco, Fall Out Boy, The Killers, or (of course) Muse might in 2016. "Psycho" and "All Going to Hell" almost eerily mirror Muse tracks, sounding maybe too much like the Devon-based rockers, especially when the "Running, running away..." refrain kicks in toward the end of "Hell."
While the band's expert musicianship is obvious throughout the entire album, it's in moments found on tracks like "Run to Me," more so than the Muse-heavy tunes that line the second half of the EP, where Hot Rumour's future chart-dominating potential is clear. Mixing British alt. rock with dancey synth vibes is something all future music festival-goers can get behind--it would be excellent to hear much more of this distinctively fused point-of-view on Rumour's future works.
And while you wait, enjoy the band's cover of "Nothing Compares 2 U," recently reposted in honor of Prince.
Related
Popular in the Community