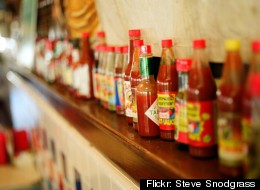 We've said it before, we'll say it again: we love hot sauce.
Hot sauce can be the difference between a totally under-seasoned snooze-fest and a flavor bomb going off inside your head. Hot sauce makes chicken wings worth eating, boiled peanuts delicious and does not skip a meal in our houses. Whether you like them vinegary, garlicky, peppery or just plain fiery, everyone has a favorite. We want to know which hot sauce HuffPost Taste's readers think is the best of all. It's time for the Hot Sauce Deathmatch.
Here's how the Hot Sauce Deathmatch voting will go down:
Round One voting opens today (September 18th) -- vote right now!
Wednesday, September 19th at 12:00am Eastern, Round Two begins.
Thursday, September 20th at 12:00am Eastern, you'll be able to vote in Round Three.
Friday morning, September 21st, we'll announce who makes it off the island last.
*This is one of those times that we wished we could have more than eight bracket spots. If we missed your favorite hot sauce, don't forget to let us (and everyone else) know in the comments!